William Cullen and Elizabeth Cullen (nee Prest)
William Cullen was born on Boxing Day (1823) and died on Christmas Eve (1897). Born in Greenstreet, he was the first child of Edward Cullen and Margaret Prest. In 1841 he was living with his parents.
On June 5th, 1849 William married Elizabeth Prest, of Dover. He was 25 and she was 24. Elizabeth was the daughter of a William Chalk Prest, a Calais Lace Maker whose family was from Dover. She was also William's cousin as William Chalk Prest was his mother's brother.

The witnesses appear to be William's sister Jane Cullen and her future husband, Jabez Whitehead. They married six months later.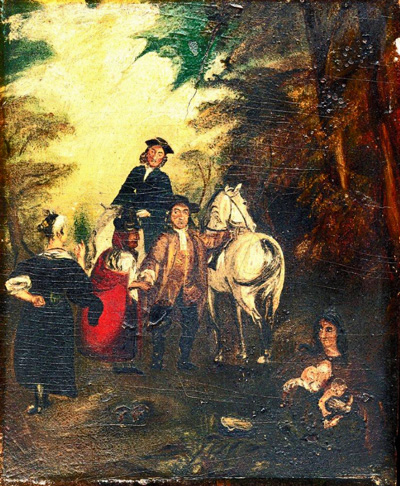 William was listed at the time of the marriage as an Ornamental Painter, probably having learnt this trade from working in the family's coach detailing business.
He had a natural talent from an early age. The back of the picture to the left is inscribed "This picture was painted by William Cullen of Sittingbourne when a lad of 13 years of age. Came into the possession of his son Alexander who left it to his son Edward Henry the grandson of the painter of it." It is now in the possession of a great great grandson Garry Cullen of Vancouver, B.C.
Family stories tell of William having been employed in painting the ceiling of St George's Chapel at Windsor Castle
Census Records
The family lived in Greenstreet until sometime between the 1851 census and the 1861. By 1861, they had moved to 20, High Street, Sittingbourne. William worked as a Plumber and Painter. They are still living there in 1871, running the same business. By then, Alexander Hugh (now 16) had left home although his brothers Adolph (age 14) and William (age 15) were still there. Also living there are William's in-laws William C. Prest, a retired lace manufacturer aged 69 and born in Dover and his wife Elizabeth, aged 68, born in Barnstable, Devon. She is listed as a lunatic, the insensitive Victorian term usually used for people suffering from Alzheimer's and similar conditions.
In 1881 the couple are living at 47 High Street, Sittingbourne. Only their son Adolph is living at home. Both he and his father are listed as painters. In 1891, the couple are living alone but still at the same address with the same occupation.
William Cullen died on Christmas Eve in 1897.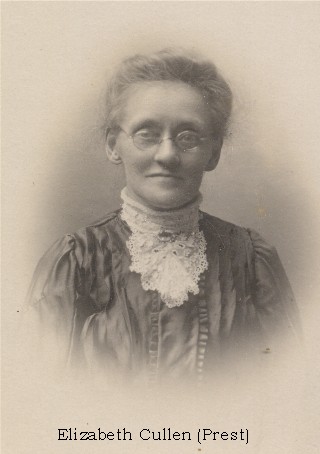 Elizabeth Cullen survived her husband by about a decade. By the 1901 census, she had returned to Greenstreet where she was living with her son Adolphus and his wife Amelia. They were still carrying on the Painting and Plumbing business. Elizabeth lived to attend her granddaughter Emma Lucy Cullen's wedding in 1905. We believe she died in 1907.