Alexander William Cullen
Known to the family as Will, and in later life as Bill, Alexander William was the second youngest of the surviving children of Alexander Hugh Mac Cullen and Janet Day. He was born on October 8th, 1886, while the family was living in Plaistow, West Ham, in London. At the time of the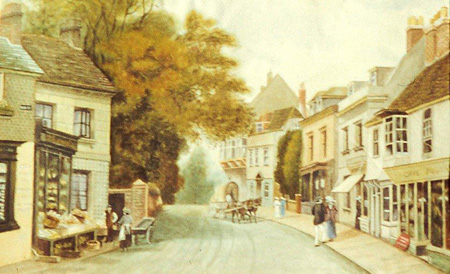 1901 census, Will was living with his family at 1 St. Micheal's Place, Hastings where his father was working as a greengrocer. By then, Will, age 14 was apprenticed in the Carriage Trade, probably as a detail painter. Like generations of Cullens before him, he had a fine artistic eye, as the painting to the right shows.
Travel to Winnipeg, Canada
Will left England for North America in March 1910 aboard the S.S. Dominion, sailing from Liverpool. He apparently left to join his younger brother Edward who emigrated to Winnipeg, Manitoba, Canada in 1907. The 1916 Canadian census has Will, his wife Alice, and Edward all living together at 787 Leighton Street, Winnipeg.
Marriage to Alice Rose Taylor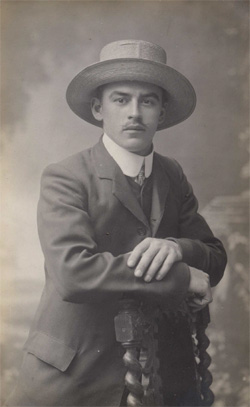 Will met his future wife, Alice Rose Taylor, in England, but they actually married in Canada. She was a year younger than Will, having been born in Beckton, Essex, on Jan 17, 1888. She was the eldest child and daughter of Loftus George Taylor and his wife Edith Rose Emma Brown of 57 Windsor Terrace, East Ham, London. At age 24, she sailed from Bristol in England to Quebec City, arriving on July 17, 1912. Her name on the passenger list is endorsed "TO BE MARRIED A. Cullen, decorator". They married on July 27, 1912 in Winnipeg, Manitoba, Canada.
In 1920, Will and Alice returned to England for a visit. There is a border record showing them crossing the US boarder at Island Pond, Vermont on Nov. 21, 1919 listed as part of a party for the White Star Megantic, which suggests they traveled through the US to get to Montreal. They returned to Canada aboard the S.S. Adriatic, leaving Southampton on January 28th, 1920 arriving in New York on Feb 8th.
Settling in Glendale, California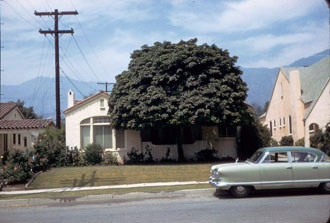 Will and Alice, known by then as Bill and Artie, left Canada for the United States on May 17, 1923. They crossed the border at Noyes, Minnesota travelling on the Great Northern Railway. They appear to have settled right away in Glendale, in the Los Angeles area of California. In the 1930 census, Will is described as a sign painter for the General Petroleum Co. The 1940 census finds them at the same address; 468 Hawthorne Street, Glendale.
Both Will and Alice applied for U.S. Naturalization in 1939.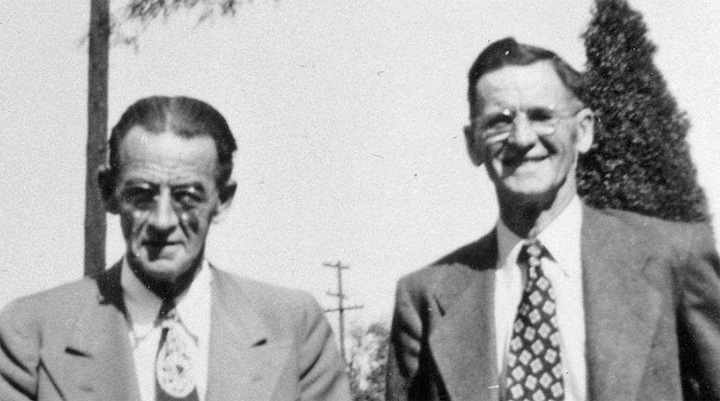 Brothers Bill and Ed Cullen kept in touch with each other, as can be seen from this above picture of the two of them visiting together, probably in the late 1940's.
Will died in Glendale on October 17, 1949. He is buried in the Grandview Memorial Park Cemetry in Glendale, in Section M, Tier 35, Grave No. 57. After his death Alice moved at least once since by 1957 she is living at 827 Glendale Road in Glendale.
We know that Alice returned to England at least once for a three month visit. In June, 1959, at age 71 she sailed from Montreal, Canada to Aberdeen, Scotland, aboard the S.S. United States. She gave the address in the U.K. where she would stay as 21 Danson Road, Welling, Kent, South-East of London. Alice died in Glendale, California on June 6, 1981, at age 93.