Richard Cullen and Elizabeth Younge
Early Family

Richard Cullen was born in Linsted in 1762, the son of Robert and Anne Cullen. He was baptised in the local church on May 9th, 1762. The baptismal records from Lynsted suggest Richard was the fifth out of seven children. His siblings were:
Mary, born 1752 who, in 1771 married John Wilborne;
John, born 1753;
Robert, born 1755;
William, born 1760 who, in 1790 married Elizabeth Friar;
Thomas, born 1765 who in 1792 married Sarah Broad; and
Hetebeller, born 1767, who in 1785 married Justinian Champion.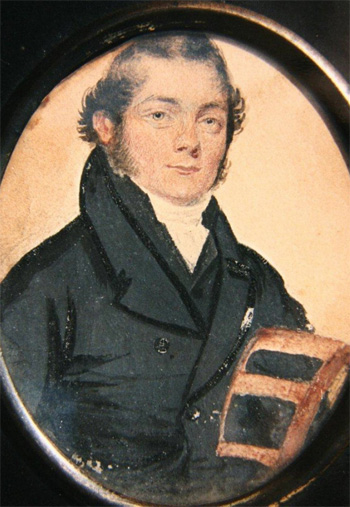 The fact that Richard was the fourth son rebuts any suggestion that he was "Lord Richard Cullen". If there was a peerage to be had from his ancestry, by the laws of primogeniture, that title would have fallen to his older brothers.
Marriage to Elizabeth Younge
Elizabeth Younge came from Strood, near Rochester, in Kent, just across the Medway towards London. Richard and Elizabeth were married at the Parish Church in Strood on April 29th, 1782, but the banns were read in Linsted on the customary three preceding Sundays, on the 7th, 14th, and 21st.
We are fortunate to have, thanks to Gary Cullen of Vancouver via Auntie Belle Cullen, the portrait of Richard Cullen, painted by him, that is shown to the right. Richard, like several of those who followed, appears to have been a skilled artist.
Richard devoted his live to the fruit orchards around Greenstreet as all references to him describe him as a fruiterer. The family home appears to have always been on Greenstreet itself; part of the main road from London to Canterbury, and the dividing line between the Parishes of Lynstead and Tyneham.

Children
The baptism records from Lynstead church tell us that over a period of 18 years, Richard and Elizabeth had 16 children, several of whom died as infants or in young adulthood. Some of those deaths are recorded on the gravestones transcribed below; some are from the parish records.
Henry, born 1782, died on July 19, 1788;
William, born 1784, who later married a Sarah;
Richard, born 1785 who later married a Mary Ann;
Thomas, born in 1796;
Justinian (Jesse), born in 1787 who died in 1806;
Stephen, born in 1789;
Rebecca, born in 1790 who later married Solomon Barton;
Samuel, born in 1791 who later married a Susanna;
Eleanor, born in 1793 who died in 1798;
Sophia, born in 1794 who died in 1816;
Charles, born in 1795 who died in 1799;
William Robert, born in 1797;
Frances, born in 1798 who also died in 1798;
Frederick, born in 1799;
Edward, born in 1800 who married Margaret Prest on October 29, 1821.
Gravestones in the Lynstead Churchyard
Richard and Elizabeth and several of their children are memorialized on two gravestones in the Lynstead churchyard. They are inscribed:
In the memory of ROBERT. Son of RICHARD and ELIZABETH CULLEN who died on the 27th of July 1815 aged 2...years. Also SOPHIA their daughter died the 25th October 181...in the 22nd year of her life. In bloom of years as you have seen - He left his friends to mourn for me - Grieve not dear friends for my decease - for Christ has made my peace. In bloom of ... my happy spirit led ...near twenty when remembered with the dead. Adieu, dear friends, short was my stay, - just looked around and called away.
In the memory of - 2 sons and 2 daughters of RICHARD ...and ELIZABETH CULLEN of this parish. HENRY, died 19th July 1788 aged 6 years. ELEANOR died 22 Sept. 1793 aged 6 months. FRANCES died 4th Oct. 1798 aged 8 months. CHARLES died 10th March 1799 aged 4 years. Also JESSE, son of the above RICH. and ELIZABETH CULLEN, who was kill'd in the fall of a girder while at work 20th Sept. 1806 aged 19 years. Fear not thy soul, be not dismay'd - for Christ the....has paid. By sudden death I'm snatch'd away - and hope thro' Christ to wash my sins away. Forgive me Lord my ...... and make me happy...
[On the East side of the above] In memory of ELIZABETH wife of RICHARD CULLEN who died December 2nd, 1828 aged 68 years. Also the above RICHARD CULLEN who died August 16th, 1850- Aged 88 years.
Census Records
The first, 1841 census, lists Richard Cullen, fruiterer, aged 80, as living in Greenstreet. His son, Richard (age 55) and his wife Mary (age 38) are living further down the street.
Richard's Will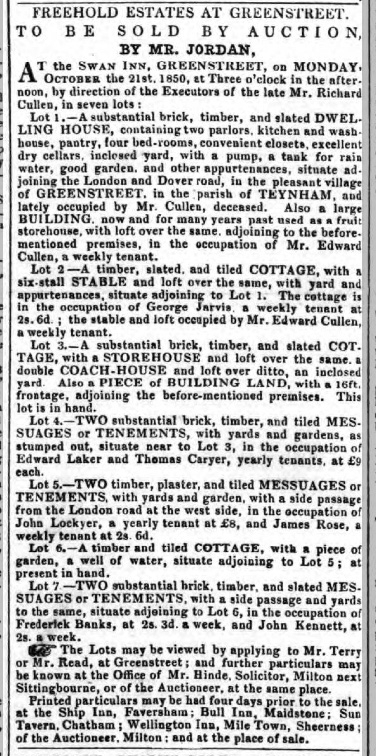 Elizabeth Cullen died on December 2nd, 1828 in Lynstead. Richard Cullen lived to be 88. He died on August 16th, 1850. Both are buried in the Lynstead churchyard. Soon after Richard's death, his real property was advertised for sale; the advertisment to the right ives a good description of his proerties, which were quite extensive.
Richard Cullen left a long and detailed will. This will also led to inquiries from the son that had emigrated to the United States, the December 1851 reply to which provides information about the family at the time.
In answer to the letter received, as one of the Executors of the Late Mr. R. CULLEN of Green-Street I beg to say that I will give as true account of his State and Effects as possible; and as well, if you will bear with me, a brief account of your Late Father.
Having been resident in the Village all my life, was always well acquainted with the Family and from the tenor of your letter, I am led to suppose that you consider the Half Brother you speak of is not his legal Heir; but such I assure you he is, as your Father was married in this country to his Mother and had by him two sons.
The younger, which came out to him some time after, is, we hear, since dead; of which you may be acquainted.
But your Father, having some doubts of his wife's fidelity and becoming involved in a contraband connection with others of his family, he was imprisoned in this Country for eighteen months and, in consequence of his previous suspicions, he abstained from all intercourse with his Wife during the time, and the event fully justified his previous suspicion. For she became pregnant during the time he was imprisoned and was confined of another son a few weeks before he obtained his liberty.; which child died a few days before he came home. But he, having always kept the secret in his own breast from all his family, her guilty connection, was in question none to them until he returned home and made it known to them; And when confronted with them, she Acknowledged her guilty intercourse with an H. Driver residing under the same roof.
She was immediately discarded by the family and by him also and has never been seen in our Neighbourhood since; but is still supposed to be alive, even at this time.
She had therefore, morally speaking, forfeited all protection of your Late Father; But not so in the eye of the Law of this country.
He himself also left the neighbourhood at once and as you know, came out to AMERICA.
Such is, I assure you, in the eyes of a Lawyer, the true state of the case as regards him.
The late Mr. Cullen's effects are by him left, to be converted into money and divided amongst his Family according to the instructions of his will, and anyone so named, being deceased before him, the part so belonging to their Heirs Lawfully begotten of his body.
These are the express words of the will.
Consequently, it makes your Half Brother his lawful Heir, unless it could be proved that his mother were dead before his marriage took place with your Mother.
The proceeds of his effects will amount to about Two Hundred pounds, to each of the claimants. But your Father's portion is subject to a draw back of Ninety Pounds, for money he had, prior to his Father's death.
The property is not yet all sold, as there is a great depression in property at present. But it will be, as soon as it ends, and the affairs are brought to a close.
We have never received any communications from your Half Brother nor from your Uncle FREDERICK, who I suppose is living somewhere near you.
Your Uncle SAMUEL is in a very poor state of health. The rest, I believe, are mostly fairly well.
If any further information, you may at any time wish, we shall be happy to give you, either by writing me or Mr. John Bend of this place, acting as Executors.
With every kind wish for yourself and the rest of the family, I remain, dear Sir,
Wm. Terry