My mother was born Pamela Nancy Tizzard, a twin along with Dudley Frank Tizzard. They were the only children of Raymond Frank Tizzard and Dorothy Mabel Killick whose marriage certificate is below.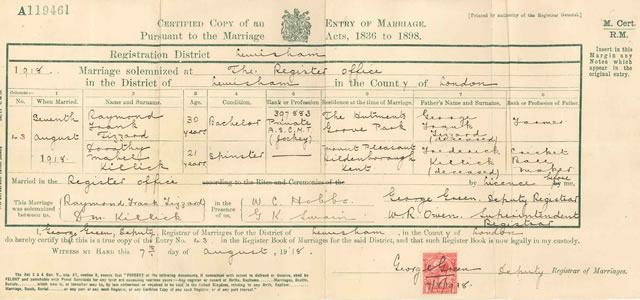 This page describes our research into the Tizzard branch of the family. We include a .pdf copy of our Tizzard tree.
In summary, we have traced this Tizzard line back five generations from Pamela and Dudley:
Parents: Raymond Frank Tizzard (1888-1942) and Dorothy Killick (1900-1991)
Grandparents: George Frank Tizzard (1865-1890) and Annie Power (1862-1925)
Great Grandparents: George Alfred Tizzard(1834-1875) and Sarah Ann Langdon (1843-1901)
Great Great Grandparents: Robert Tizzard (1789-1847) and Elizabeth Teape Hoare (1793-1876)
Great Great Great Grandparents: Robert Tizzard and Ann Carpenter
Raymond Frank Tizzard and Dorothy Killick
Raymond Frank Tizzard (always known as Frank) was born on June 12, 1888 at Colyton in Devon. His early life was marked by deaths in the family. His older brother George Alfred, born in 1887 died before he was two. His younger sister Helen Minnie was born in 1890 and died after 6 months. His father, George Frank, also died in 1890, one day before Frank's second birthday.
At the time of the 1891 census, he was living with his widowed mother at the Bakery, Northleigh, near Honiton, in Devon. Also living there was William Swain, a baker's assistant, and a servant Samuel Lettern. His mother Annie later married William Swain (probably in 1892 although we can find no listing of an actual marriage) and she had a number of children with him.
The family apparently left the bakery in Northleigh and moved around the area before they moved into Sidmouth where, at the time of the 1901 census, they lived at 4 Richmond Terrace. Annie and William Swain gave young Frank (listed as Raymond F. Swain, step-son) five siblings: Gladys K (b. 1894 in Musbury), Norman E. (b. 1895 in Musbury), Norah W (b. 1897 in Musbury), Elsie M (b. 1899 in Kilmington) and Herbert W. (b. 1901 in Killmington).
On the 1911 census, Frank, aged 23 and once again listed as Tizzard, is boarding with a Mr. & Mrs. Pratt at 1 Mill Street, Sidmouth, working as a groom. Prior to the First World War, Frank Tizzard became a jockey and travelled to South Africa in that capacity. He returned to Southampton, England on May 26th, 1914 aboard the Armadale Castle.
Frank lived in Sidmouth on his return and continued racing. A report on July 28, 1914in the Western Times records his sucess at Tipton St. John. He achieved the distinction of obtaining one first prize, two second prizes, and one third having had to ride with some of the crack horses in Devon. His mounts were "Little Joe" (well known in Devon) and "Dandy"
During the war he was assigned to loading horses for the war in North Devon, where he was injured. The story goes that he was thought by the Army doctor to be dead and was left without further medical attention. However, a family of Romanies found him and nursed him back to health. He kept in contact with that family throughout the remainder of his life.
Right after the war he married Dorothy Killick who, despite the marriage certificate, was in fact only 18, having been born in 1900. They had twins on the night of September 22nd and 23rd, 1919, Pamela being born just before midnight and Dudley right after. Because of his wartime injuries, Frank could no longer work as a jockey, so he took a job as chauffeur and trainer at Finkley House, near Smannell in Hampshire. He lived there until he died.
| | |
| --- | --- |
| Raymond Frank Tizzard is standing to the left in his chauffeur's uniform. The rest of the people in the photograph are members of the Oldfield family, who owned Finkley House, except the Vicar of Smannel who had presumably been on hand to baptize the baby | |
Dorothy and Frank separated in the 1930's and she went to live in London. He remained at South Lodge, Finkley until his death of Pancreatic Cancer on January 24th, 1942. He left an estate of £666 7s 5d.
Frank Tizzard's Five Generation Pedigree Tree (.pdf file)
George Frank Tizzard and Annie Power
George Frank Tizzard was born on April 19th, 1865 in Colyton, Devon. He died on June 11th, 1890 just over 25 years old.
At age 5, in 1871 he is living with his parents at Purlbridge Mill, Farwood Tything, in the parish of Colyton. He was the oldest of four siblings. His father worked as a Miller and Maltser. By the 1881 census, he was working as an apprentice to George Russell, a baker and confectioner in nearby Sidmouth.
George Frank Tizzard married Annie Power, the daughter of a local farmer and avid huntsman, Amos Power. She was born on November 10th, 1862. They married on Jan 12th, 1887 in Branscome, Devon.
George Frank died on June 11th, 1890. He is listed in the estate documents as a baker and left an estate of £221.
The couple had three children; Raymond Frank plus two others, both of whom died in infancy. George Alfred was born on May 23rd, 1887 at Blackacre Farm and died on March 5th, 1889 at Northleigh, Devon. Helen Minnie was born on January 20th, 1890 in Northleigh and died on July 21st, 1890.
As described above, Annie Power - Tizzard remarried soon after her first husband's untimely death. She died in 1925.
George Alfred Tizzard and Sarah Ann Langdon
George Frank Tizzard's parents were George Alfred Tizzard, born on June 4th, 1834 in Charmouth, Dorset, and Sarah Ann Langdon, born in about 1843 in Hennock, near, Chudleigh in Devon.
George Alfred was born in Charmouth, where his father was a miller. He went into the trade and by 1851, at age 17, he was working at Purlbridge Mill, just West of Colyton in Devon (shown to the left - note the millwheels used as paving stones just in front of the door).
It appears that, when George Alfred's father Robert died, his mother, Elizabeth took over as Miller at Purlbridge and that she, along with daughter Elizabeth and son George, ran the mill together for almost 30 years. Some of the other children also worked in the mill until they left home. George certainly worked there until his death in August, 1875. His mother, Elizabeth, once George married, moved up the hill to a nearby farm named Blackacre.
George Alfred married Sarah Ann Langdon in April, 1864. Until then, she was living with her parents on a farm in the Colyton area. The couple had five children, of whom George Frank was the eldest. The others were: Edward Langdon Tizzard (1866), Maude Annie Langdon Tizzard (1869), Colin Tizzard (1871) and Eva Mira (or Myra) Tizzard (1873).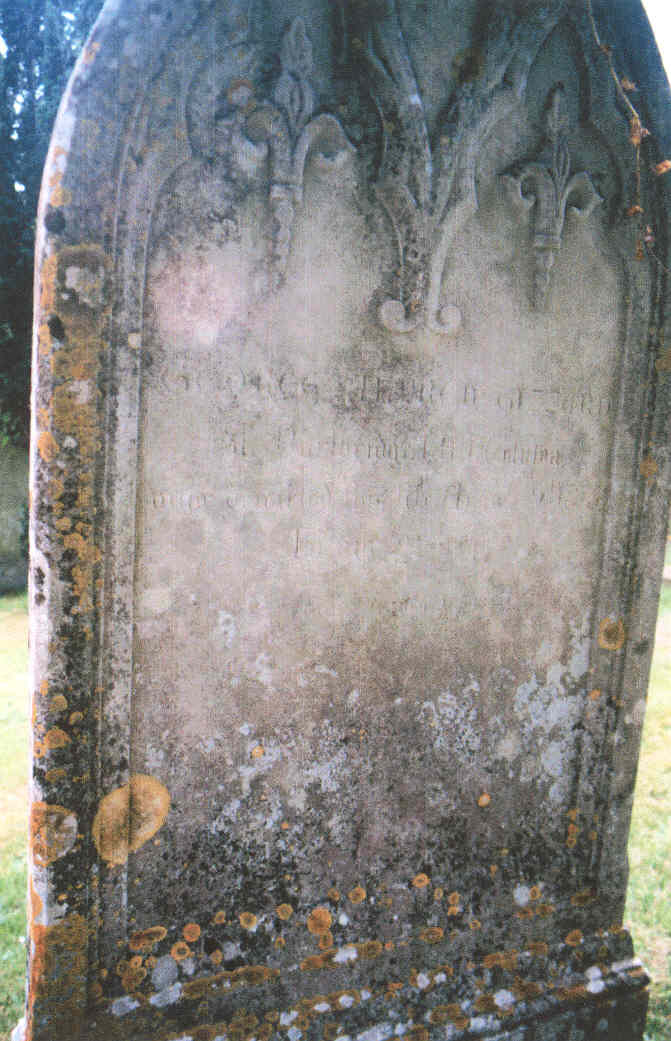 George Alfred Tizzard died at age 42, leaving Sarah Ann with a young family. He is buried in Colyton Cemetery. His tombstone, to the left, reads: George Alfred Tizzard of Purlbridge Mill, Colyton, Who Departed this Life August 9th, 1875 in his 42nd year.
After George Alfred died, Sarah Ann married a pub keeper named Charles Dare, (born 1850 in nearby Offwell). They were married in 1878 in Exeter. They had a son, Charles B. Dare (1881) a daughter Elsie (1883) and a son Paul (1886). In 1881 they lived at London Road, Colyton. By 1891 they had moved to Smallridge Farm, Axminster, Devon where Charles is shown as a farmer.
Robert Tizzard and Elizabeth Teape Hoare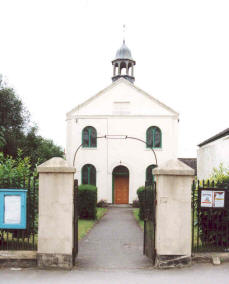 George Alfred Tizzard's parents were Robert Tizzard, born June 4th, 1789 in Seaton and Beer, Devon and Elizabeth Teape Hoare, born October 14th, 1793. They were married in Colyton Parish Church on March 29th, 1814 (witnesses John Hale, Mary Tett and Eliza Tett).
The couple went to live in Charmouth in Dorset where Robert worked as a Miller. They became dissenters and belonged to the Independent Methodist Church, Charmouth. Their six children were all baptised in this church, which is still standing and pictured to the right. The couple appears to have lived in Charmouth for about 20 years from 1821-1841.
George Alfred was the fifth child. The other five were John (1821), William Teape (1823), Jane Teape (1825) Sarah Elizabeth (1832) and Agnes Maria (1837).
Robert and Elizabeth left Charmouth and returned to Devon in 1841. The account of this comes from an obscure source; a complaint that Robert's vote (apparently for the Liberal candidate) in the national election was inappropriately counted because he had ceased to be a resident. Robert's landlord at the time, for a house in Charmouth Street, Mr. J. W. Cook, gave evidence about Robert and his family before a Select Committee of the House of Commons on May 16th, 1842.
Cook testified that Robert finally left Charmouth for Purlbridge on September 29th, 1841. He had gone backwards and forwards several times, leaving his wife Elizabeth and their boys in Charmouth until he finally gave up possession of the house. Tizzard had been a quarterly tenant and was in arrears for 6 month's rent. However, Cook had been renovating the house and Tizzard had been hauling some building materials - stone and lime - for him with his horse and cart. Robert's vote was counted; however, Sir Robert Peel's Tories still beat Lord Melbourne's Whigs by 367 seats to 271.
The 1841 census shows father Robert living at Purlbridge Mill in Devon and working as a Miller, along with Jane Hoore age 40 and William Hoore aged 35. The same census shows mother Elizabeth and the children still living in Charmouth Street, Charmouth. The children still at home were John, 19, William, 18, Sarah, 9, George, 7 and Agnes, 4.
Robert Tizzard and Ann Carpenter
Robert Tizzard's father was also a Robert Tizzard, born in Seaton and Beer, Devon. His mother was Ann Carpenter. They were married on September 13th, 1781 in Harpford, Devon. The marriage certificate tells us that Ann was from Harpford and that Robert was of the Parish of Ottery St. Mary, which is just a couple of miles North of Harpford. There were several Carpenter families living in the area and we have not been able to confirm Ann's parents. Similarly, we have been unable to trace Robert's parents or place of birth. He does not show up in the records for Ottery St. Mary.