John Day (Jack) Cullen
John Day Cullen, know throughout his life as Jack, was the oldest surviving son of Alexander Hugh Mac Cullen and his wife Janet Day. More than others in the family, he tended to use the name MacCullen rather than just Cullen. He was born in Newington, near Sittingbourne, in Kent on June 6th, 1883 and baptised at the Parish Church in Bobbing, Kent, on June 24, 1883.
Soon after Jack's birth, the family moved north of the river to Plaistow, Essex. He is there, at 137 High Street, Plaistow, on the 1891 census, attending school at age 7.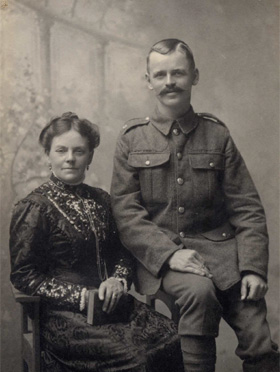 By the time of the 1901 census, Jack was living with his parents at 1 St. Michael's Place, Hastings, Sussex. He was 16 by then and going to work.
In 1904, he married Emily May Payne. Jack and Emily had a very large family; eleven children - seven boys and four girls.
By 1915, the family was living at Mill House, Brabourne Lees, Kent, which is halfway between Ashford and Folkstone. His training was as a carpenter.
Military Service
Jack was originally in the Royal Navy, but had been invalided out before the war. Once WWI began, he enlisted once again, just shy of age 25, at Ashford. He started out as a Sapper and was promoted to Corporal on April 1, 1916. He was demobbed on March 16, 1919. He was posted to the Royal Engineers Tank Corps Newark, in Nottinghamshire.
His family - wife plus sons Ronald, Edward and William plus daughter Ivy lived nearby at Lords Cottages, Farndon, Nottingham. On January 15, 1918, he was transfered to Worgret Camp, Wareham, near Poole, in Dorset. At the end of December, 1918, he suffered from a serious case of influensa which he picked up while on active service in France. He returned to his camp in England and was then transfered to Chelsea Barracks in London were his leave was extended throughout January, 1919. After he returned to his base at Newark, he was granted a furlough until Mid March, but at the same time he signed a declaration that he was not claiming to suffer from any disability..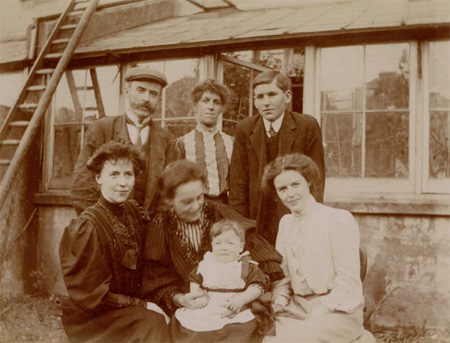 Jack died at just over 40 years old in Hythe, Kent, on November 23, 1923. His mother's notes say that he died, "after much suffering, patiently borne".