Isabella Janet Cullen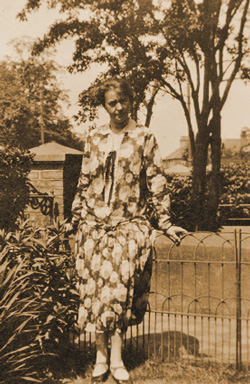 Of all the Cullens, the one who deserves the most credit for preserving the family's history is "Auntie Belle"; Isabella Janet Cullen. Belle was born in Sittingbourne, Kent on January 23, 1879. She remained single all her life and took a very active interest in all her relatives, both on the Cullen side and on the Sims side, her sister Emma Lucy (who she always called "Girlie") having married Monty Sims. She was an amateur photographer who left a very generous pictorial record of the family.
Nursing Training
Belle was a natural born nurse. In her early 20's she lived with her aging grandmother attending to her needs. When her own mother was widowed, she went to live with her and nursed her through her later years. Either during World War I or shortly thereafter, Belle took formal nursing training at the University College Hospital, London.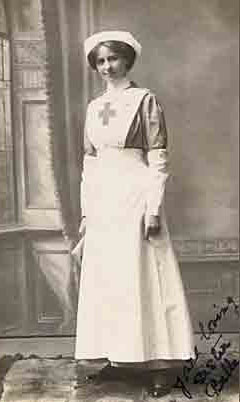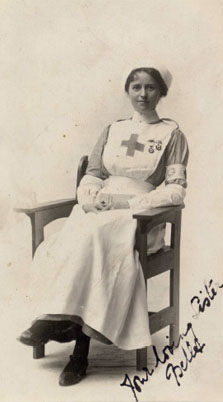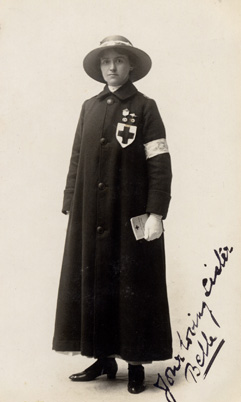 Census Records
In 1881 and 1891, Belle is living with her parents. In 1881, the family lived on Newington Street, Newington in Milton, Kent. In 1891 they lived at 137 High Street, Plaistow, West Ham, Essex.
By 1901, at 22, Belle had moved back to Greenstreet to live with her widowed grandmother Elizabeth, along with her Uncle Adolphus and Aunt Amelia. By the last published census, in 1911, Belle was living at 25 Wickham Avenue, Bexhill-on-Sea. She worked from home as a dressmaker and had an assistant, Lillian Smith, and a general servant, Bertha Armstrong.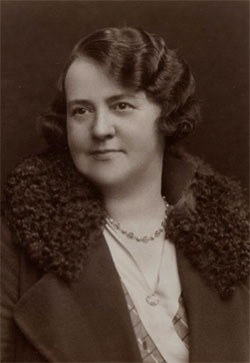 In about 1939, Belle lived at The Study, Woodville Road, Bexhill.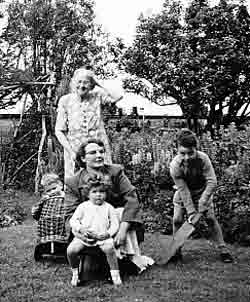 During WWII, Belle spent some of the time living with her sister Emma Lucy Sims in Sidcup. She had a room in the basement. She would spend many hours telling members of the family about the family's past. After the war she visited with family members and always remembered the birthdays of her various grand nieces and nephews. She gave each one a childrens bible duly inscribed. In the picture above (circa 1956) she is in the garden at the Nazeing house of nephew Jack and Pam Sims with grand niece Jacky, and grand nephews Richard, in Belle's wheelie basket, and Andrew pretending he had some idea of how to play cricket.
Death and Will
Auntie Belle died at home on March 7th, 1957. She left a detailed will, dividing her property among her many relatives. The estate amounted to about £3,600. She left the following specific bequests that identify many of her relatives.
(a) To Mrs. Daisy Minnie Boyce, Room 9 Willowdale Mansions, Willowvale Road, Durban, Natal, South Africa, the sum of £300.

(b) To my nephew Donald Montague Sims of Coronal, 118 Main Road, Sidcup, Kent, the sum of £300.

(c) To my nephew Jack Dennis Montague Sims of Harefield, Uxbridge, Mx. the sum of £100.

(d) To my niece Mrs. Francis Muriel De Vale Lake, Box 477, Princeton, B.C. Canada, the sum of £100

(e) To my niece Mrs. Patricia Doreen Jeavrons of Sycamore House, 7 Sycamore Drive, Lochenvar, Salisbury, S. Rhodesia, the sum of £100.

(f) To my niece Mrs. Alison Veronica Isabel Smith of 69 Bluff Road, Governor, Durban, Natal, S. Africa the sum of £100.

(g) To [one of the executors] Florence Amy Speyer my diamond brooch.

(h) To her daughter Mrs. Mary Florence Isabel Smyth my diamond buckle which was given to me by my grandmother.

(i) To my sister-in-law Mrs. Emily Cullen (wife of John Day Cullen) the sum of £20.

(j) To her son and my god-son Ronald Charles Day Cullen the sum of £10.

(k) To each of her remaining children the sum of £5.

(l) To my god-so Richard John Lusandi (eldest son of Mrs. Daisy Emma Isabel Lusandi) the sum of £5.

(m) To Miss Oliver (who at the date of my will is living with me and looking after me) the sum of £25.

(n) To Lt. Col. Clapp M.B.E. of Bexhill or other the Treasurer or Hon. Treasurer for the time being of St. Andrews Church, Wickham Avenue, Bexhill aforesaid the sum of £25 in the hope that he will devote the said gift towards the building of the new Church Hall.

The residue of the estate went to Belle's brother, Edward Henry Mac Cullen of 463c 57th Avenue South Vancouver, B.C. Canada.