Alexander Hugh Mac Cullen and Janet Day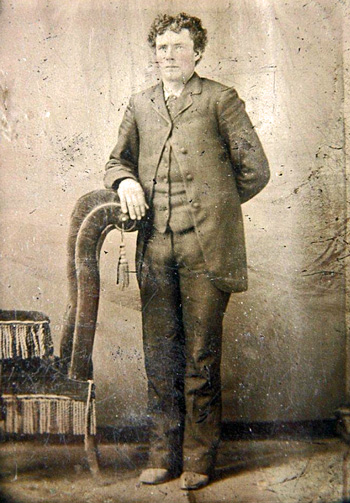 Alexander Hugh Mac Cullen was born in Greenstreet, Tynham, Kent on March 12th, 1854, the son of William and Elizabeth Cullen.
He went to school in the Greenstreet area. By the time he was sixteen, he had left home and was working as a Draper's Apprentice at 4 Broadway in Barking, Essex. His family continued to live in the Greenstreet area, although by 1871 they had moved to nearby Sittingbourne. His parents and younger brothers, Adolph (age 14) and William (age 15), where there at 20 High Street.
The old tintype photograph to the right must have been taken when Alexander Hugh was in his early 20's (circa 1875).
Marriage to Janet Day
Alexander Hugh and Janet Day married on April 10th, 1877 in Milton Regis next Sittingbourne.
Janet was the second daughter of William and Elizabeth Day from St. Leonards near Hastings, in Sussex. Janet had three brothers and two sisters (a third sister died in infancy). Her father was a greengrocer and then became a butler. However, he died when he was only 41, leaving his widow, Elizabeth with a large and young family to care for. Janet was only six at the time. Elizabeth took work as a charwoman to look after her family. When she was 15, Janet was enrolled in a local Industrial School, also indicative of the poor family finances.
At the time of their marriage, Alexander Hugh was working as a plumber. Soon after they were married they moved to Newington Street, Newington in Milton, Kent, just East of Sittingbourne and very close to his family in Greenstreet.
Children
The couple had a total of 10 children, but four died at birth or in their first year; the first, Alfred Edward, born in 1878, died after only three weeks. The last three were Dorothy, Alice, and an unnamed son. The oldest surviving child; Isabelle was born in Sittingbourne in 1879, and the next, Emma Lucy was born in 1880 in Newington. .
In the 1881 Census, the young family - Alexander Hugh, wife Janet and daughters Isabella J and Emma L. are living at Newington Street, Newington in Milton, Kent. He is described as a plumber. Also present is a niece, Minnie Warrick born in Tunbridge Wells, Kent and listed as a scholar, age 12.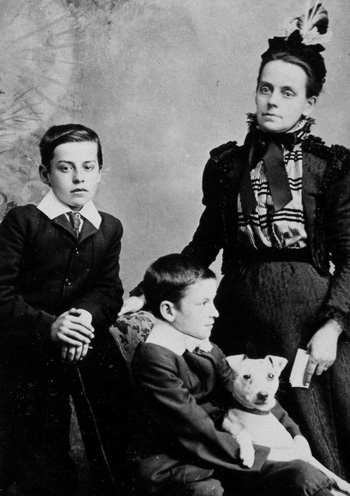 John was born in Newington in 1883 but the next year, 1884, Daisy was born in Plaistow, so the family must have moved in 1883 or 1884. In the 1891 Census, the family - Alexander Hugh, wife Janet, and children Isabella, Ermina (probably a misspelling of Emma), John, Daisy, Alexander and Edward - are all living at 137 High Street, Plaistow, West Ham, Essex. Alexander Hugh is working at this time as a painter.
The picture to the left, showing the two youngest sons Bill and Edward with their mother, must have been taken about 1896.
In the 1901 Census, the family - Alexander Hugh, wife Janet, and children Emma, John, Daisy, Alexander William ("Bill") and Edward have moved to Hastings, the area where Janet grew up. They lived at 1 St. Michael's Place, Hastings, Sussex, a location that could honestly claim a sea view. Alexander (now 47) is shown as a greengrocer working on his own account. This had been Janet's father's occupation before he died.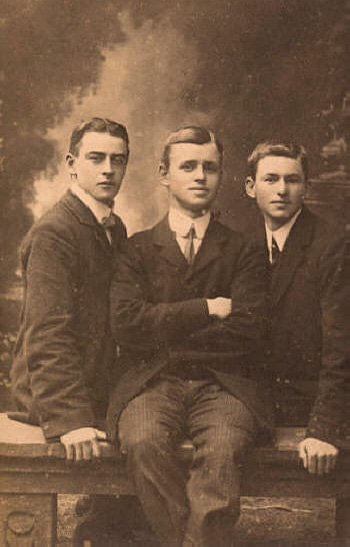 The Cullen Children - John, Alexander William ("Bill"), and Edward - Emma, Isabella and Daisy
Later Years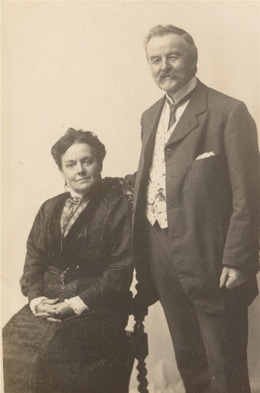 Janet and Alexander Hugh celebrated their 40th wedding anniversary on April 10th, 1914. The photograph to the right was taken on that occasion.
Once Alexander Hugh became ill, Janet made a living for the family running an apartment house at 27 Wilton Road, Bexhill-on-Sea. Alexander Hugh died in Bexhill, Sussex on July 20, 1917. He was recorded in the 1911 census as an invalid and family records say he died after a long illness.
Janet died on July 23, 1933, still at 27 Wilton Road. In her last years, her eldest daughter Belle, who was a professional nurse, moved in to care for her at that address. When she died, Janet left Belle the apartment house "in view of her giving up an excellent post to come and care for me for the rest of my days".