Emma Lucy Sims
Emma Lucy Sims was born Emma Lucy Cullen, one of the six children of Alexander Hugh Mac Cullen and Janet Cullen (nee Day). She was born on July 31, 1880, in Newington in the orchard area of Kent.
Emma Lucy's Confirmation Certificate.
By 1901, the Cullen family had retired to St. Leonard's by the Sea, near Hastings, on the South coast. This had been her mother's home town. There she met Montague ("Monty" or "Mont") Sims. They married in 1905.
Her son Donald described her as calm whatever the circmstances. She, more than Monty, provided the guiding influence in his life. She would never raise her voice in anger, yet she was obeyed without question by her children and by Monty, if she issued an edict, as she sometimes did.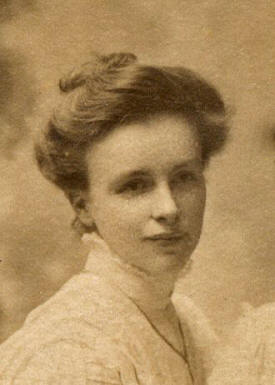 Emma Lucy Cullen as a Young Woman
Donald described her as quiet and relaxed, modest, utterly unassertive, but firm and determined if need be. Emma Lucy had a prodigous memory and an astonishing mathamatical abilty.
Emma Lucy read a great deal and could remember what she had read and where. She was a competent pianist, and would play the family baby grand, mostly to acccompany the boys in singing.
She was deeply but quietly religious, never parading her beliefs. Her faith that she would join Monty in the afterlife sustained her after his death.
Emma Lucy Cullen in middle age
Life had been difficult for her since 1928 when Leonard died. Monty never quite recovered from that loss and she had to remind him on occsssion that he still had a wife and three boys and that life must go on. The stock market crash and the depression left the family in difficult financial circumstances and Monty had to struggle and move around to find work, much of which was less rewarding than running his own garage. The family had to get by on less money and things like University fees for the boys were out of reach.
By 1939 war was threatening. Jack signed up, having been in the Territorial Army. Donald was called upon for the agricultural effort, given his training as a land manager. Sydney, an engineer, became involved in munitions. Jack married in 1939 and Donald followed soon after that same year. Monty became sick with lung cancer and died in 1940. In 1941 Sydney married.
Emma Lucy survived Monty by almost eleven years. She maintained the household during the rest of the war years. Daughter-in-law Pam Sims lived with the family during part of that time after her husband Jack was sent abroad and then taken captive in Singapore. Sydney's wife Joan also lived there for some of the time. Sister Belle also lived with the family during some of the war years, often passing on an oral family history during the evening hours.
Once the war was over, life began to return to a more normal state. Jack proved to be alive, and was liberated from a Japanese camp on the Burma Railway. Emma Lucy went with his wife Pamela to meet him at Paddington Station after the long sea journey home.
By 1949, Emma Lucy had moved to Bexhill-on-Sea (30 Windsor Road) to be with or near her sister Belle. Sisters Emma Lucy and Isabelle ("Belle") were lifetime friends and confidants. Belle was a professional nurse and never married. When their mother grew infirm, Belle moved down to St. Leonards to care for her. Belle was the family historian and an avid photographer. Much of the family history and photographic record is a result of "Auntie Belle's" attentions.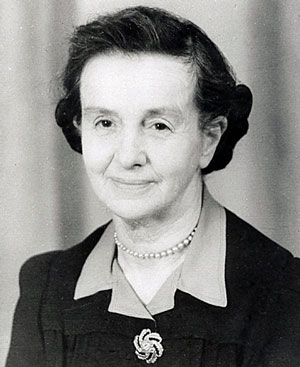 Emma Lucy Cullen in her senior years
Emma Lucy passed away on July 8th, 1951, just before her seventy first birthday. Her death certificate shows that she died of a cerebral hemorrhage and arterio sclerosis. At the time, she was living at 122 Victoria Road, Portslade by the Sea, Sussex.
Will
Emma Lucy Sims left one of those detailed wills, of the type family historians love, describing her relatives:
I GIVE the following legacies free of duty: My two big armchairs, one each to my sons Donald Montague Sims and Sydney Montague Sims..

My table silver to my son Jack Dennis Montague Sims..

My rocking chairs to my daughter-in-law Pamela Nancy Sims..

My emerald ring to my granddaughter Janet Wendy Montague Sims on the understanding that my sister Isabelle Janet Cullen be allowed to wear it during her lifetime.. I ALSO GIVE my silver mirror and brush to my granddaughter Janet Wendy Montague Sims..

My gold locket and chain to my granddaughter Hazel Barbera Sims..

My gold wrist watch to my granddaughter Nonie Margaret Sims AND my other gold watch with brooch to my granddaughter Jill Carolyn Sims..

My wedding ring to my son Jack's wife the said Pamela Nancy Sims

My late husband's Maundy money to my son the said Donald Montague Sims..

I GIVE whatever money there is in the Co-operative Society and such of my clothes and shoes as are suitable to my sister the said Isabel Janet Cullen..

I GIVE the sum of Ten pounds free of duty to my nephew and Godson William Henry Leonard Cullen of 2 Marine Avenue Hollington St. Leonards-on-Sea Sussex..

ANY money remaining on my bank account  after payment of my just debts and the Ten pounds bequeathed above  to be divided equally between my grandchildren including any grandchildren by adoption to be put into the Post Office Savings Bank for them until they leave school..

The rest of my jewellry is to be divided between my daughters-in-law..

I GIVE the remainder of my estate both real and personal whatsoever and wheresoever to be divided between my three sons.