James John Sims
Early Years
James John Sims was the third son to James and Jane (nee Castleman) Sims. He was born on June 6th, 1813 in Woolwich. It is likely that he had an older sister who died in infancy, and he had brothers Ebenezer Edwin, born in 1806 and Henry, born in 1810. We know nothing of substance about Henry.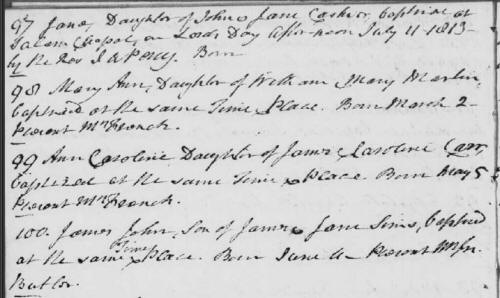 He was baptised five days later at the Salem Independent Chapel on Powis Street, Woolwich. We know nothing of his infancy or early adulthood, except that,like his elder brother Ebenezer, he trained as a bricklayer .
Marriage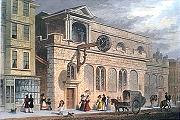 St. Dunstans in the West Church
On May 12th, 1836, 23 year old James John married Elizabeth Chammings at St. Dunstan in the West Church, London. Elizabeth, born in 1815, was the daughter of John and Mary (nee Buckingham) Chammings of the small farming village of Broadwood Kelly, in Devon.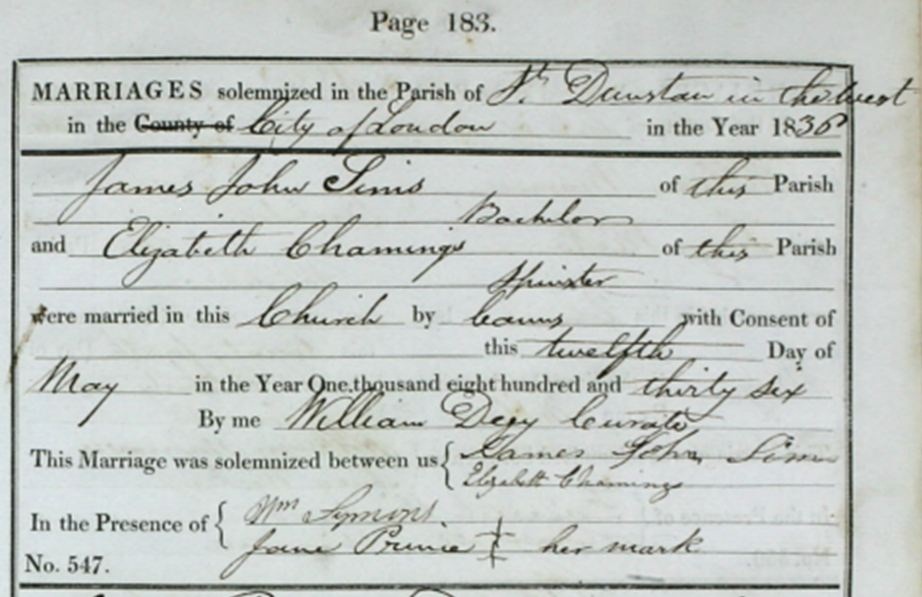 James John Sims and Elizabeth Chammings Marriage Certificate.
In 1841 the family is listed on the census return living at 16 Coleman Street, Woolwich, in the Woolwich Docks area. James' occupation is listed as bricklayer. In a directory published in 1843 he is listed as a builder.
Children
After they were married, the couple had seven children in quick succession. They were:
Mary Jane Sims, born February 15th, 1837
Elizabeth Buckingham Sims, born May 12th, 1839
Susannah Sims, born in 1841
Ebenezer Edwin Sims, born on July 13th, 1843,
Emily Sims, born in 1845
Ellen Sims, born in 1848
James John Sims, born in 1850
We believe, shortly after her husband died, in 1851, Elizabeth gave birth to a daughter Jessy, in the Exeter area.
We have been unable to locate Mary Jane and Elizabeth on the 1841 census. It may be that a relative or friend was looking after then for the period just after Susannah was born.
Early Death
James John Sims appears to have died early in 1851, at age 37, leaving his widow to raise a large family alone. Elizabeth is listed as a widow on the census for that year.
A James John Sims is recorded in the register of burials of the Union Chapel in Woolwich as having been buried on April 30th, 1853 in the old ground. We believe this was the infant son born in 1850 rather than the father.
Sometime after her husband's death, Elizabeth took the younger children and moved back to Devon. We do not know if this was before she remarried or as a consequence of her remarriage.
Elizabeth Sims' Second Marriage
Elizabeth Sims married Joseph Dunn on December 15th, 1860 at St. Dunstans in the West Church. The witnesses were her eldest daughter Mary Jane Sims and her son-in-law, Joseph Rothery, (husband of her daughter Elizabeth).

Marriage Register for Elizabeth Sims and Joseph Dunn
At first, Joseph and Elizabeth lived in Bideford, where he was a Corn Merchant. By 1871, they were farming at Parkham on a farm called Bankhole.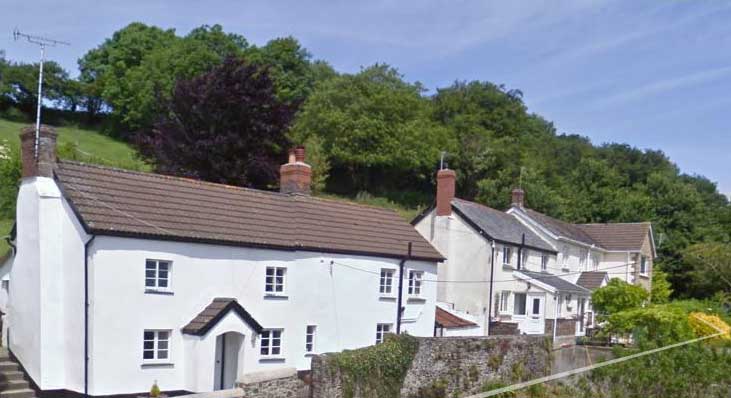 Bankhole Farm, Parkham, Devon
They were still at Bankhole farm in 1881. Daughter Jessy had married Samuel Baghole and they had three young children.
Elizabeth Buckingham Chammings - Sims - Dunn died in mid 1887, in the Bideford area. Husband Joseph married again shortly thereafter, to another Elizabeth; Elizabeth Scott.
Census Records
1841 Census -

James John and his wife Elizabeth are living with their newborn daughter, Susannah, at 16 Coleman Street, Woolwich, Kent

James Sims
Head
28
Bricklayer
Kent
Elizabeth Sims
14
Not Kent
Sarah Graves
38
Kent
Susannah Sims
3 wks
Kent
William Weele
68
Inf
Not Kent,
1851 Census

James John has just died. Elizabeth is living with her six children at 3 Chapel Street, Woolwich, Kent

Elizabeth Sims
Head
Widow
36
Devon, Broadwood
Mary Jane Sims
Daughter
14
Scholar
Devon, Broadwood
Elizabeth Sims
Daughter
11
Scholar
Devon, Broadwood
Ebenezer Sims
Daughter (error:Son)
7
Scholar
Devon, Broadwood
Emily Sims
Daughter
5
Scholar
Kent, Woolwich
James John Sims
Son
14m
Inft.
Kent, Woolwich
Rebecca Lever
Servant
25
General Servant
Kent, Woolwich
Ellen Sims
Daughter
3
Scholar
Kent, Woolwich
1861 Census-

Elizabeth, remarried to Joseph Dunn, is living in Woodland Terrace, Bideford, Devon with the younger children Emily, Ellen and Jesse (James John).

Joseph Dunn
Head
Married
45
Corn Merchant
Parkham, Devon
Elizabeth Dunn
Wife
Married
45
Broadwood Kelly, Devon
Emily Sims
Wife's daughter
Unm
16
Kent, Woolwich
Ellen Sims
Wife's Daughter
Unm
14
Kent, Woolwich
Jessy Sims
Wife's son
Unm
11
Kent, Woolwich
Julia Dunn
Visitor
Unm
16
Parkham, Devon
1871 Census - Elizabeth Dunn is living with her husband in Parkham, Devon where he is farming.
Joseph Dunn
Head
Married
54
Farmer 36 acres
Parkham, Devon
Elizabeth Dunn
Wife
Married
54
Farmer's wife
Broadwood Kelly, Devon
Jessy Smith (Sims?)
Boarder
Unm
21
London
Titus Tythecott
Servant
Unm
13
Farm Servant
Alwington, Devon
1881 Census - Elizabeth Dunn is living with her husband Joseph at Bankhole, Parkham, Devon. Daughter Jessy, now married, lives next door.
Joseph Dunn
Head
Married
64
Corn Merchant
Broadwood Kelly, Devon
Elizabeth Dunn
Wife
Married
64
Parkham, Devon