Ebenezer William Sims
Ebenezer William Sims was the oldest of three known children of John and Jane Sims of Woolwich, Kent. He was born on Friday, September 17, 1806 and baptised on Tuesday December 30, 1806.

Record of Ebenezer William Sims' Baptism at the Salem Independent Chapel, Powis Street, Woolwich, Kent.
Ebenezer had two known siblings, Henry, born in 1810, and James John, born in 1813.
Marriage and Children in England
On November 6, 1825, at 20 years old, Ebenezer married 17 year old Frances Warren at St. Dunstan in the East Church, London. The witnesses were Joseph Chapman and Rosemond Clifford. Francis was born on December 30, 1808, the daughter of William Warren and Francis Rose who had married in Plumstead on January 18, 1808.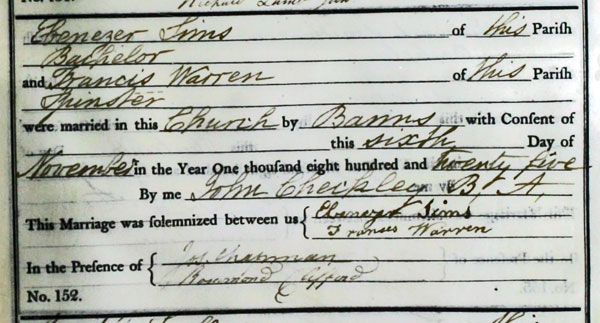 Marriage Record for Ebenezer Sims and Francis Warren
Ebenezer, like his brother James John, became a bricklayer. The couple first lived on St. Mary Street, and then on King Street, both in the Woolwich docks area near the Woolwich Arsenal.
Ebenezer and Francis had three children in England, all christened in St. Mary Magdalene, Woolwich, Kent.
Emily Jane was born on May 17, 1826 and baptised on August 13.
Mary Ann was born on June 20, 1829 and baptised on July 10.
William Henry was born on February 20 and baptised on March 16.
Emigration to Australia
Ebenezer decided to take his family off to what was then Van Diemans' Land, now Tasmania. Unlike many unfortunate souls who had their passage paid by the Queen, his fare was paid because of his skill as a bricklayer. Rather than head off to Australia to be put in prison, he was probably encouraged to go out to build the prisons.
A "bounty letter" concerning the trip reads:
Downing Street 15th Oct 1832:
To Lieut Governor Arthur. Sir, I am directed by Viscount Goderich to request that you will cause to be paid to the commander of the ship "William", the sum of 20 pounds on account of Ebenezer Sims, who is proceeding to Van Diemens Land on board of that vessel. Ebenezer Sims is a bricklayer and plasterer aged 25 years, and he will be accompanied to the colony by the following family - wife, aged 23 years; Emily Sims, aged 6 years; Mary Sims, aged 3 years, William Sims, aged 6 months.
I have the honour to be Sir, your most obedient humble servant R. W. Hay
The Hobart Town Courier of March 15, 1833 reported: Arrived on Saturday [March 8th, 1833] the ship William, 384 tons, Capt. David Boag, from Liverpool 6th November, with a general cargo. Ebenezer Sims is shown on the passenger list as part of a party of five and as having been paid £20. The ship was owned by Smith and Son and had two guns. The voyage took 132 days and experienced some heavy weather, and the death, on January 2, during the voyage, of Captain Boag.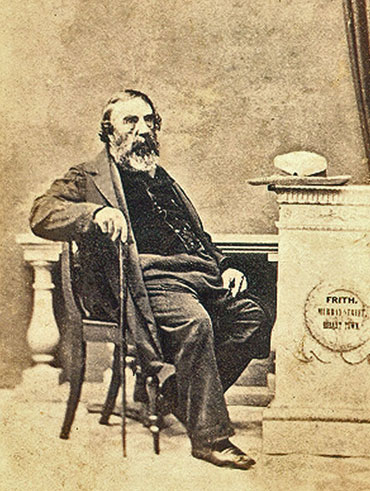 Ebenezer William Sims
The Hobart census records for 1842 list Ebenezer as living at 162 Bathurst Street in Hobart. It shows eight members of the family, including Ebenezer, living in the household. They list themselves as Wesleyan Methodists.
Hobart Alderman
Once established in Hobart, Ebenezer stood for election to the Hobart Town Council. He appears to have been an emancipationist; that is he favoured giving those who had come to Tasmania as convicts but been released the right to vote.
He served on the council at the time of the Crimean War, an event of considerable interest in the young colony. Patriotic funds were raised in support of the war effort. In late 1855 it was learnt that Sabastopol had fallen, something seen as a great victory for the British Empire. Celebrations were planned with various entertainments. Alderman Sims is recorded as having favoured the holding of boat races and of giving the people the opportunity of "jumping in sacks". It is not recorded whether he went so far as to suggest the equally entertaining sport of egg and spoon racing, but it is comforting to know that a Sims was responsible for introducing one important piece of English culture - the sack race - into the antipodes.
In 1855 the Hobart Electoral Role shows Ebenezer William Sims living, as a freeholder, on Argyle Street at the Argyle Street Public House. The establishment was at some point called the "New Market Inn" and perhaps also the "Commercial Inn" or the "Mogul Tavern".
Ebenezer ran for aldermanic office again in 1859, but came in seventh among nine candidates polling 279 votes.
Children born in Australia
Ebenezer and Francis had additional children once they arrived in Tasmania. Ebenezer's will refers to his twelve children, but to the last two - George and Amy - born after his wife's death, as being "his reputed children". They were:
Ebenezer, born 1835, died 1885.
Francis Phyllis, born 1837 and married John Weber. She died in 1902.
James John, born 1840, married Phyllis Francis Jones and died in 1910.
Eleazer Edward, born 1842, married Sarah Ann Stearne.
Helen Warren, born 1845, married William Joseph Scott.
Alfred Thomas, born 1847, married Harriet Stewart and died in 1905.
Ermina Castleman, born in 1850 and died in 1875.
George, born in 1852.
Amy, born in 1854 and died around 1932.
Francis and Ebenezer's Deaths
Francis Warren died on May 22, 1850, in Hobart. When Ebenezer died 16 years later, he left a will in which he divided his property amongst his 12 children, encouraging them to continue to be affectionate and honourable towards each other. When he made his will in 1863 he was living on South Street, New Town. By the time of his death, on January 23, 1866, he was living on Scott Street, New Town, although between the two he also had a house on Liverpool Street.

Hobart Mercury, Thursday January 26th, 1866
In a codicil to the will he directed his trustees to allow his housekeeper, Emily Lilley, to occupy his cottage on Queen Street in Hobart until all his property was sold. Emily Threader Lilley is thought to have been the mother of the two chidren born after Francis Warren's death; George and Amy. She was born in Kent around 1816, the daughter of John Threader and Susan Winter.
Much research has been done on the Sims family descended from Ebenezer William Sims and Francis Warren. In particular much has been done by Marion Kelso, a descendent of Alfred Thomas Sims.