Robert and Sarah Sims
We do not know the date of Robert Sims' birth, and, while we suspect his parents were Thomas and Christian Sims of Guston, we cannot be sure; he is our brickwall.
We do know that Robert Sims and Sarah Baker were married in 1884 in Dover at the Church of St. Mary the Virgin. Both were single.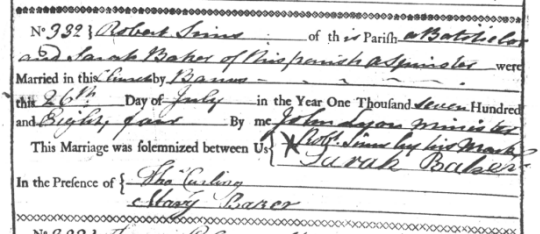 They had three children as recorded in the baptism records of St. Mary the Virgin:
James, baptised May 6th, 1785

Elizabeth, baptised March 14th, 1787

Robert, baptised February 15th, 1789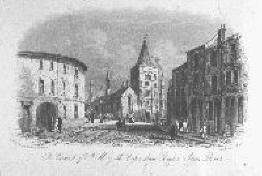 St. Mary the Virgin, Dover
James, the oldest, is our direct line ancestor.
His younger brother Robert died in 1829 and was buried in the Parish of St. Mary the Virgin on Jan 4th, 1829. He was listed on his burial record as living at Albion Place, Dover. Albion Place no longer exists, but it was once a spacious court opening on Chapel Place, in the centre of Dover. This may yet prove significant since later records show other Sims' living in Albion Place.

Dover Burial Record for Robert and Sarah's Son Robert
We have no definitive record of Elizabeth, although there are several possible marriages. The most likely we have found is a marriage between Elizabeth Sims and Thomas Bolton on Christmas Day, 1803 in Plumpstead, where her brother James settled.
Burial Record from Dover for Robert Sims, Mariner
It appears that Robert died just before or very soon after Robert was born (we have his baptismal date, not his birth date), leaving Sarah Sims a widow with three young children. There is a burial record for a Robert Sims, Mariner buried Jan 13th, 1789.
We know Robert died before 1793, because in that year Sarah Sims, widow, married a widower named John Eastes, by Bishop's licence. We are almost certain this is our Sarah, since Mary Baker and Thomas Curling are the witnesses on the marriage certificate and they also witnessed her earlier marriage to Robert Sims. A 1972 Dover Directory lists a John Eastes as a Baker.

Bishop's Marriage Licence for John Eastes and Sarah Sims