James Sims and Jane Castleman
Our working assumption is that the James Sims described below is indeed the James Sims of Dover; son of Robert and Sarah Sims. We have yet to find firm proof of that proposition, although various signs point in that direction. There were, however Sims and Castleman families on the North Kent side of the Thames and we continue to research all the possibilities.
We do know that this James Sims, whether the son of Robert and Sarah, or of some other family, is indeed the direct ancestor of all those described who follow. It is the Dover to Woolwich connection that is our "weakest link in the chain".
James Sims married Jane Castleman at the parish church in Plumstead, Kent, on February 14th, 1801.

The marriage record for the wedding of James Sims and Jane Castleman at St. James, Plumstead on February 14th, 1801.
Children
The couple had three children that we know of, all baptized at the Salem Chapel - Independent on Powis Street in Woolwich, Kent.
Ebenezer Sims, born October 17th,1806
Henry Sims, born May 9th, 1810
James John Sims, born June 6th, 1813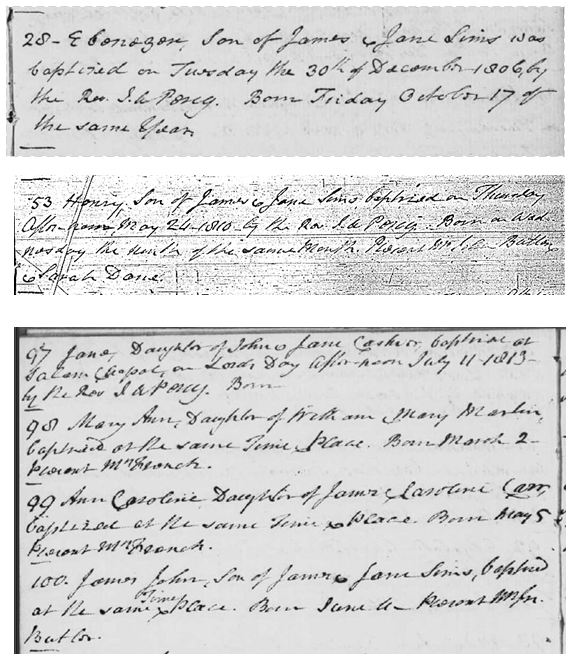 James' occupation, in 1843, is listed as a builder. Sons Ebenezer and James John were both bricklayers and builders, so they followed in their father's footsteps.
James Sims died in 1851. We do not have a record of Jane Sims' death.