Ebenezer Edwin Sims
Ebenezer Edwin Sims was born on July 13th, 1843. His birth certificate lists his place of birth as Samuel Street in the Woolwich Dockyard area. However, on some census returns he is shown as having been born in his mother's home town of Broadwood Kelly, Devon.
His father, James John Sims, died in 1850 when Ebanezer was only seven. Ebanezer died, aged 59, on September 19th, 1902 in Hastings, Sussex. His life thus spanned vitually the entire Victorian era.
Ebanezer married twice. His first wife, Constance Willes, died at a young age. He then married Mary Ann Montague,the daughter of neighbours. She survived him by many years.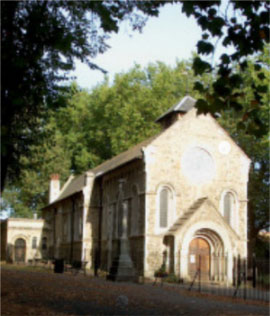 St. Pancras Old Church
Marriage to Constance Willis
Ebanezer Sims married Constance Willis, the daughter of George and Sophia Willes of 16 Plumstead Place, Plumstead, Kent, at St. Pancras Old Church in London on August 10th, 1864.
Ebanezer is recorded as a Government Clerk living in Euston Square and Constance lived on Grafton Street, Euston.

The marriage of Ebanezer Sims to Constance Willis
Ebanezer and Constance had two children, Emily Constance, born in Welling, Kent in 1868 and George T. A., born in Woolwich, Kent in 1871.
By 1869, Constance had developed a heart condition. Two years later, on November 18, 1871, at age 28, she died. Her death certificate lists the cause of death as dilation and hypertrophy of the heart (2 years) plus anemia (one month). She died at 1 Osborne Villas, Witworth Place, West Plumstead. She was buried at Plumstead Parish Church on November 24th, 1871.
Constance left a simple will leaving her property to her husband, which included a fifth of her late father's estate and some shares, in her name, in the Woolwich, Plumstead and Charlton Gas Company.
Marriage to Mary Ann Montague
On April 10th, 1873, Ebanezer remarried. The bride, Mary Ann Montague was 26 years old and lived just a few doors away at 34 Brewer Street, Woolwich,the daughter of Henry Montague and Mary Ann Pallet. Mary Ann was born in 1847 and grew up in Woolwich. Father Henry was a publican.
Ebanezer and Mary Ann had five children. First, there was Fred Leonard Montague Sims, born in 1875. Next came Amy Alice Montague Sims born November 10th, 1877. Next came Montague Sydney Sims, born May 17th, 1880. Monty was followed by brother Harry Montague Sims, born in 1882 who passed away the next year in 1883. The next child was Nellie Montague Sims, born in 1886. The youngest child was Emma Winifred Montague Sims, born in 1888.
Three of the children, Emily Constance, Amy Montague and Montague Sidney, were all christened at the same time at the Plumpstead Parish Church. Emily by that point was 22, and the younger two, Amy and Monty, 12 and 10. This suggests that, while Constance and Ebanezer were non-conformists, Mary Ann was not.
Woolwich Arsenal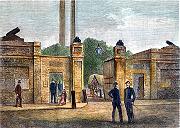 Entrance to the Royal Woolwich Arsenal; circa 1880
The census records document Ebenazer's career at the Woolwich Arsenal. He was a civilian, employed in successively more senior positions in the munitions factory. He was a clerk writer in 1871, a clerk foreman in 1881 and a principal foreman in 1891. Ebanezer retired from the Woolwich Arsenal in 1896, at age 53.
Retirement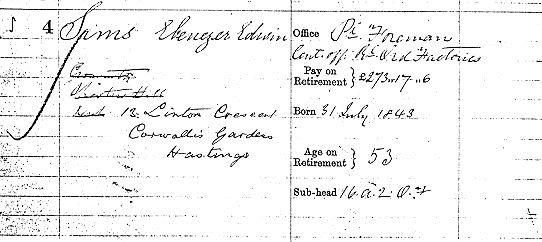 ARMY SUPERANNUATION ALLOWANCES - Pension Record for Ebenezer Sims from the Woolwich Arsenal.
Ebanezer's Army Superannuation Records show that he earned £273. 17/6 per year upon retirement, entitling him to a pension of £164. 5/- per year, paid quarterly. His last payment was on October 28th, 1902, just after his death.
Will and Death
Ebanezer left a very simple will dated February 9th, 1900 witnessed by his next door neighbour and by his daughter Amy. It listed his address as 13 Linton Crescent, Hastings, Suffolk. It appointed Mary Ann as his executrix and left all his property to her. He died two years later on September 19th, 1902. The gross value of his estate amounted to £412. 3/-.
Census Records
We have an almost complete census record of Ebanezer's life, with the exception of 1861. Part of that census for the Woolwich area was destroyed, so this may explain why the family cannot be found.
1851 Census -Ebanezer is living with his widowed mother, four sisters and his younger brother at.3 Chapel Street, Woolwich, Kent
Elizabeth Sims
Head
Widow
36
Devon, Broadwood
Mary Jane Sims
Daughter
14
Scholar
Devon, Broadwood
Elizabeth Sims
Daughter
11
Scholar
Devon, Broadwood
Ebanezer Sims
Daughter (error:Son)
7
Scholar
Devon, Broadwood
Emily Sims
Daughter
5
Scholar
Kent, Woolwich
James John
Son
14m
Inft.
Kent, Woolwich
Rebecca Lever
Servant
25
General Servant
Kent, Woolwich
Ellen Sims
Daughter
3
Scholar
Kent, Woolwich
1861 Census- No information; census records believed destroyed
1871 Census -

Ebanezer is living with wife Constance and young children Emily and George at

31 Brewer Street, Woolwich, Kent
Ebanezer Sims
Head
Married
27
Clerk employed as writer in War Dept.
Kent, Woolwich
Constance Sims
Wife
Married
27
Kent, Woolwich
Emily Sims
Daughter
3
Kent, East Wickham
George T Sims
Son
9m
Kent, Woolwich
Francis Booker
Visitor
Nurse
Middlesex, Southall
1881 Census - Ebanezer is living with his second wife, Mary Anne and five children at 6 Tavistock Place, Plumstead, Kent
Ebanezer Sims
Head
Married
37
Clerk Foreman of Writers War Dept. (C S Off)
Kent, Woolwich
Mary A Sims
Wife
Married
34
Kent, Woolwich
Emily C Sims
Daughter
Single
13
Scholar
Kent, Welling
George T A Sims
Son
Single
10
Scholar
Kent, Woolwich
Fred L M Sims
Son
Single
6
Scholar
Kent, Plumstead
Amy A M Sims
Daughter
Single
3
Kent, Greenwich
Montague S Sims
Son
0
Kent, Greenwich
Jessy Hussey
Servant
Single
17
General Servant (Domestic)
Kent New Charlton

1891 Census

- 105 Herbert Road, Plumstead, Kent
Ebanezer E Sims
Head
Married
47
Principal Foreman Royal Ordinance Factories
Kent Woolwich
Mary Ann Sims
Wife
Married
43
Kent Woolwich
Emily C Sims
Daughter
Single
23
Kent East Wickham
George T Sims
Son
Single
20
Kent Woolwich
Fred L M Sims
Son
Single
16
Kent Plumstead
Amy A M Sims
Daughter
13
Kent Greenwich
Montage S Sims
Son
10
Kent Greenwich
Nellie M Sims
Daughter
5
Kent Plumstead
Winifred M Sims
Daughter
3
Kent Plumstead
Elanor Sams
Servant
16
Kent Blackheath
1901 Census - Ebanezer and Mary Ann are now retired and only the daughters remain at home.
Ebenezer E. Sims
Head
Married
57
Clerk Royal Ordinance Factories Retired
Kent, Woolwich
Mary A Sims
Wife
Married
54
Kent, Woolwich
Emily C Sims
Daughter
Single
33
Kent, Welling
Amy M Sims
Daughter
Single
23
Telephone Clerk
Kent, Greenwich
Nellie M Sims
Daughter
Single
15
Kent, Plumstead
Emma W M Sims
Daughter
13
Kent, Plumstead