The Cullens of Kent
For hundreds of years, travellers have left London on the road to Canterbury in Kent. Chaucer's group of pilgrims passed that way in Canterbury Tales. Four hundred years later Dickens had Mr. Pickwick follow the same route. Half way along the road, past Rochester, sitting between Sittingbourne and Faversham lies Greenstreet, a small farming community straddling the parishes Tynham (once Tenham) to the North and Lynstead (once Linsted) to the South. For several generations this was home to one branch of the Cullen family from Kent.
Our research so far spans the period from about 1730 forward.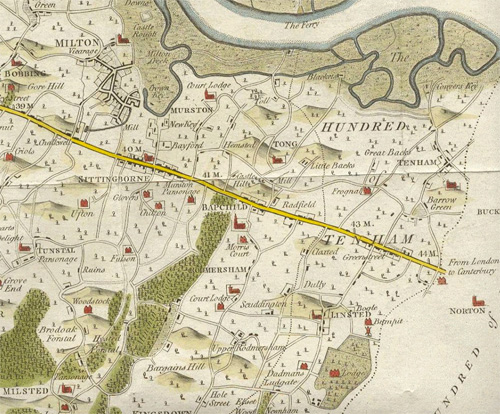 The author's paternal grandmother was born Isabel Lucy Cullen. She married Montague Sydney Sims. These pages trace her antecedents and other relatives from this branch of the Cullens. The Cullens were primarily fruiterers; the area was famous for its apple and cherry orchards. Some became builders - plumbers and glaziers. Others, drawing on their natural talent for art, went into the coach painting business.
There are many other Cullens from Kent, particularly from in and around Dover and Canterbury. As we are able to push back our research we may be able to link some of these folks together.
Many Cullens hail from Ireland. As far as we can trace this line back, Kent has always been home.
Some members of this branch of the Cullen family left England for America. An extensive family history has been compiled of that branch of the family. We provide a link to that work but keep our focus on those who stayed in England. The author of that work asserts that the line stems from a Lord Richard Cullen. Burke's Peerage as well as this author have been unable to verify any such claim to nobility. Certainly Richard Cullen existed; he was the author's 4th great grandfather. He may have suggested to others he had such a claim. However, as far as we have been able to ascertain, while he may have been "lord of all he surveyed"; a few acres of fruit orchards, he was no more than that.
Other Web Pages of Interest
The US descendents of Richard Cullen of Greenstreet
Credits
Thanks for preserving the information in the Cullen pages must go, first of all, and posthumously, to Isabella Cullen - Auntie Belle, an amateur photographer and notorious raconteur. Her foresight in recording and passing on this family's history is responsible of much of what is on these pages. Also, thanks must go to two cousins, Heather Galley (nee Sims) and Gary Cullen each of whom became the custodian of a share of Auntie Belle's mementos. Each had the good sense to preserve these records and willingly shared them for use on these pages.