Jane Cullen and Jabez Whitehead
Jane Cullen was the eldest daughter of Edward Cullen and Margaret Cullen (nee Prest). Jane was baptised at Tynham Parish Church on July 9th, 1825.

Jane was raised by her parents in Greenstreet, but by age 20 she had gone into service. On the 1841 census she is living at 2 Church Lane, Lee, Kent and working as a female servant for a William and Anna Clark. Lee is a small village on the South East outskirts of London.
Marriage to Jabez Whitehead
On November 27, 1850, Jane married Jabez Whitehead at St. Saviours Church, Southwark. Their address at the time was 87 Union Street, Borough of Southwark, which is very close to the present day Borough Market. Jabez was born around 1825 in Chatham, Kent, the son of Anne and William Whitehead, a Carpenter and Builder.

Where they Lived from the Census Records
At the time of the 1851 census, the young couple were visiting with Jane's parents in Greenstreet. Jabez is listed then as a draper. The oldest six children were all born in Brompton. However, Brompton too is part of the Medway towns of Gillingham, Chatham and Rochester.
By 1861, the family was well established living on the High Street in the Medway town of Gillingham. Jabez, by then 36, is listed as a Draper and Registrar. He was the official Registrar of Births, Marriages and Deaths until late in life when Jane took over the office. Children Albert (9), Agnes (8), Walter (5), twins Catherine and Ernest (4), Louise (1), and Ada (4 months) are all living at home. The household included a Draper's Assistant and a Draper's Apprentice, a Nurse, a Nursemaid and a General Servant.
In 1871, the family is recorded at High Street, Chatham. It is difficult to tell if this is the same house, since Gillingham and Chatham are right next to each other. Jabez, now 45, is listed as an auctioneer and Registrar of B D M's. Albert (19) is working as a Draper's Assistant and Walter (15) is working as a Draper's apprentice. Twin Ernest is working as a clerk while his twin sister Catherine is still in school. Louise, Ada, Percy and Sidney are all attending school while Arthur (4) is at home. The family had one domestic servant. Agnes was no longer living at home.
The 1881 Census gives a more specific address; 138A High Street, Chatham, Kent. Jabez is still listed as an Auctioneer and Registrar, and for the first time Jane is also listed as a Registrar. Albert (29) is still living at home and working as a upholsterer. Catherine Kate, age 23, is still at home and so is Arthur (14). All the others had, by then moved away from home, as described below.
By 1891, the business and the family appear to have moved down the road to 203 High Street. Jabez (66) has no listed occupation while Jane (65) is listed as a Registrar B D & M. Catherine (32) and Sidney (26) are still single and living at home. Sidney is working as an upholsterer. There is another family of Whiteheads living next door apparently running a drapery business. Chatham High Street, as it was about 15 years later (1905) is shown below.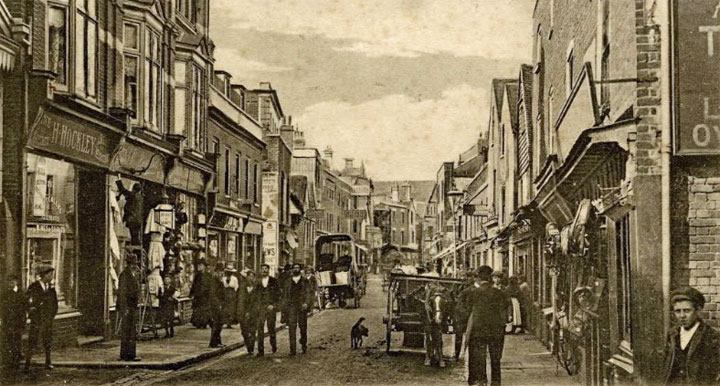 One of Jabez' tasks, as Registrar of Births, Deaths and Marriages was to act as vaccination officer to ensure that parents registered the vaccination of their young children. There are several newspaper accounts of his prosecuting those who failed to do so. Newspaper reports suggest that in his business he acted as an insurance agent as well as an auctioner, .
Jabez died on December 1st, 1898. He left Jane an estate of £1081. By the 1901 census, Jane had moved to 23 The Paddock in Chatham where she still maintained a domestic servant. At the time of the census, Lizzie Whitehead was visiting. Jane died in 1906.
Children
The couple had 10 children over the course of their marriage, all born in the Chatham - Brompton - Medway area of Kent. Several of their children went on to have large families. What follows is just a brief description of each child's life experience.
Albert Jabez Whitehead
Albert was the oldest child, born in Brompton in 1852. He married Elizabeth Sarah Miller in 1882. They carried on a family business in the Chatham High Street as House Furnishers and Upholsterers. The couple had six children; Marie Elizabeth (1883-1973), Florence Amy (1884), Albert James (1887), Walter John (1888), Jessie Gertrude (1891) and Reginald (1892). Albert died on December 21st, 1919 leaving an estate of £23,066. Elizabeth Sarah died on October 26th, 1932 when she was living at Rosslyn Priestfields, Rochester leaving an estate of £8,787.
Agnes Jane Whitehead
Agnes, the second oldest child, was born in Chatham in 1853. At age 19, she married Thomas Reed in St. Pancras, London. He worked most of his life as a Hatter' Traveller. The couple had five children. Ethel was born in 1874 when the family lived in Penge. Stuart was born in Chatham in 1877 and died on the Isle of Wight when he was only eleven years old. Maurice was born in 1878 in Chatham and became a ship's steward, eventually emigrating to Seattle, Washington, U.S.A. where he married Lulu Risdon. Evelyn was born in 1882 in Penge. She was single and living with her family in Southend on Sea in 1911. She appears to have died in 1921. The youngest was Constance Bilkie who was born in Aston, Middlesex in 1883. She too lived with her family in southend in 1911 and worked as a clerk for a coal merchant.
Walter Edward Whitehead
While in Chicago, Walter worked as a salesman at 115 State Street, which is in the centre of Chicago's shopping district. It is now a Macy's store, but at the time it was the flagship store of Marshall Field and Company and the largest department store in the world. It was the store where Harry Selfridge learned his trade.
Ernest William Whitehead
Catherine Colebrand Whitehead
Catherine, "Kate" remained single. She lived with her famly for the early part of her life. In 1901, she was living with cousins William and Josephine Harvey in Paddington. In 1911, she was visiting the home of an Arthur Lambe in Prittlewell, Southend-on-Sea. This was very close to where her sister Agnes Jane Reed was living at the time. Kate died in the Brentwood district of Essex in late 1914.
Louise Margaret Whitehead
Ada Amelia Whitehead
Percy Louis Whitehead
Percy left England in about 1885 to go to America. He became a naturalized American in Chicago in 1888. On Feb 10, 1891, he married Harrriet E. Ely in Cook County, Illinois (Chicago). They had at least two children, Ely, born about 1894 and Persis, born about 1901. Percy worked for a candy manufacturer. Percy returned to England in 1932 for a visit, aboard the President Harding. In 1940 he was a widower, living with his son Ely, a Naval Surgeon, in San Diago, California. He died three years later on May 28th, 1943 in San Diago.
Sidney Alfred Whitehead
Arthur Charles Whitehead
Arthur died in 1889, at age 27, in the Bromley area of Kent.