Winnifred Brinsmead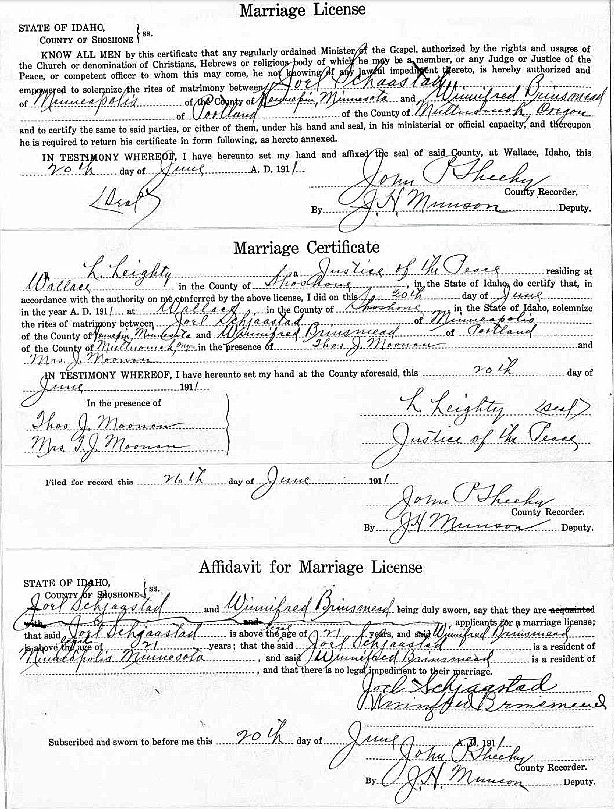 Marriage documents for Winnifred Brinsmead's marriage to Joel Schjaastad on June 20, 1911.
A 27 year old Winnifred Brinsmead appears on the 1910 census as a lodger in Juneau, Alaska. According to the census entry, she was born in Iowa in March of 1882. It records her father as from Scotland and her mother from England.
William and Arthur Brinsmead lived in Iowa at the time, but we have nothing beyond that to connect her to either of them or the larger Brinsmead family. There were several Brinsmade's from the early American line living in Iowa as well, but they clearly used the modern American spelling for the name.
She is probably the Winnifred Brinsmead who married a Joel Schjaastad on June 20, 1911 in Wallace, Shoshone County, Idaho. The marriage documents to the right tell us that at the time of her marriage she lived in Portland, Oregon.
We have been unable to locate any further reference to Winnifred either before the 1910 census or after the 1911 wedding under the name Brinsmead or Schjaastad. She remains the mystery Brinsmead.