Henry R. (Harry) Brinsmead
Born in Australia
Henry R. Brinsmead, known as Harry, was born in Geelong, Australia on June 2, 1882. He was the son of William Brinsmead and Carolyn Radford and thus a grandson of the original Geelong settlers, Henry and Betsy Brinsmead. Before leaving for America, Harry spent some time in New Zealand. He can be found on the electoral roll of Waipawa for 1905, working as a labourer in Dannevirke.
Migration to America
In 1906, Henry emigrated from Australia to San Francisco, California. Leaving Sydney on July 23, 1906, he travelled on the ship Ventura to San Francisco, stopping along the way in Auckland, New Zealand and Pago Pago, American Samoa. He travelled steerage and is listed on the ship's manifest as a manager.
Four years after his arrival in the US, Henry was working as a buttermaker in a dairy in San Francisco. He was lodging with the Schade family at 1327 Laguna Street, which is downtown on Cathedral Hill.
In 1914 or thereabouts, Harry married Lena Frisch, born Jan 30, 1892. Lena already lived in Reno, Washoe County, Nevada and the couple settled there.
Lena Frisch was the daughter of Charles J. and Barbara Frisch. Charles was originally from Switzerland and Barbara from Germany. Lena had four sisters and five brothers. Charles was one of the original settlers of Reno and for many years was the propriotor of the Pyramid House Hotel on the corner of Commercial Row and Lake Street. Charles' career itself was colourful. He once hit a patron on the head with a beer mallet. The man died and Charles was charged with his murder, despite the obvious provocation. Charles died in February, 1927.
Business in Reno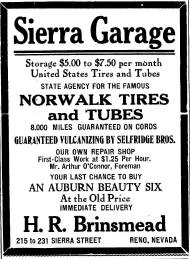 Harry quickly entered into business in Reno. He opened or took over a photography studio as well as opening the Sierra Garage. Oakland Studios, soon becoming Brinsmead Studios, were located in the Cheney Block at 139 N. Virginia, Reno, where Harry and Lena also lived. In February, 1915 Harry announced that he had aquired new equipment to take photographs at night and to allow him to take portraits of people in their own homes. He brought in two experienced photographers from California for the business.
Harry's 1918 draft registration card lists him as a self-employed photographer. He is described as tall, of medium build, with blue eyes and brown hair.
It is not clear exactly when the garage opened, but in 1919 the Sierra Garage aquired the territorial rights to sell Norwalk Tires, which came with whitewalls and extra heavy duty rubber.
On March 6, 1920, Harry and Lena had a son, Robert Henry Brinsmead, whose life is featured below. Harry and his family visited Australia at least once. They left San Francisco on the S.S. Sonoma and arrived in Sydney, Australia on Dec 14, 1920. Harry and Lena travelled with son Robert, just nine months old, and Louise H. Frisch, Lena's sister.
Divorce and Remarriage
Lena and Harry Brinsmead were divorced in Reno in October, 1931. After they seperated, Lena went into business taking over the Modern Beauty Parlor. The 1940 Reno directory lists Lena R ("widow of H.R." perhaps suggesting some residual animosity) as working in a beauty shop at 239 N Virginia, with a residence at 247 Court. In the 1950 directory Lena R. (Mrs.) is still at the beauty shop at 239 North Virginia and living at 247 Court. Lena died, in Reno, in November, 1977.
Harry then married Florence Emma Childs, who was born on January 11, 1886 in Minnisota. She had two children from a former marriage; Lt. Col Arthur M. Capper and Mrs. Margaret Nichol. Florence and Harry continued to run the photography business. The 1940 Reno directory lists Harry R. Brinsmead (wife Florence) as a photographer at 219 W 2nd.
Henry's Death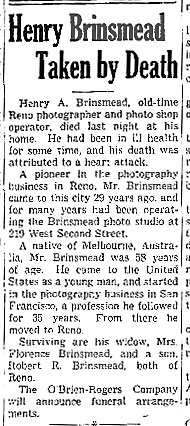 Henry Radford Brinsmead died at his home in Reno on September 9, 1940 of a heart attack that followed a period of ill health. He was 58 at the time and still operating the photo studio with his second wife Florence.
After Harry's death, Florence remained in Reno. The 1950 Reno directory lists Florence E. (widow of H.R.) living at 1350 Locust. In July, 1955 she left to make her home near her daughter in Midland, Texas. Florence died, of cancer, in Roby, Fisher County, Texas on June 8, 1962.
Robert H. Brinsmead
Son Robert H. Brinsmead was born in Reno on March 6th, 1920. He graduated from Reno High School. He then went to Castle Heights Military School in Tennessee followed by the University of Nevada. He worked for the Pacific Telegraph and Telephone Co. as a lineman.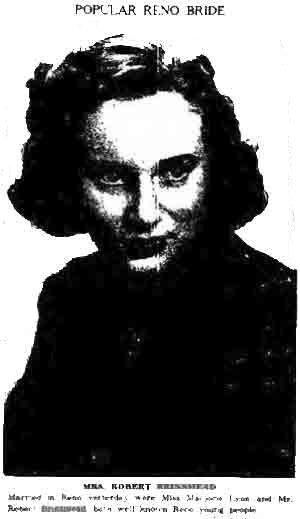 Robert Brinsmead and Marjorie Lyon's Wedding
In June, 1941, Robert married the former Marjorie Mae Lyon of Woodland, California. The service took place at Trinity Episcopal Church. The took their honeymoon at Lake Tahoe. Marjorie's parents were originally from Reno but had moved to California. Marjorie had attended the Universtiy of Nevada where she and Robert appear to have met. At the time of their wedding, Robert was employed at the US Army Air Depot and therefore their first home was in Sacremento, California.
Robert enlisted in the US army in Sacramento on May 6, 1942 as a private in the Air Corps. He graduated from the army airforce's advanced flying school at Napier Field, Alabama in July 1943.
He rose to become a 2nd Lieutenant, flying the huge B29 Superfortress bombers. In 1945 he flew "The City of Reno" in bombing raids over Tokyo. In all, Robert Brinsmead served 44 months in the military, being discharded as a 1st Lieutenant in January, 1946. His service in the South Pacific earned him the Distinguished Flying Cross, the Air Medal with two clusters and the Asiatic-Pacific Ribbon.
After the war, the couple settled in Reno. In the 1950 Reno directory, Robert and Marjorie are living at 3205 Arlington Ave. and she is listed as a clerk at B.E.Whitby & Co. In 1953, they had a son, William Brinsmead, who still lives in Reno, after recently retiring from a career with the University of Nevada. Robert worked for Bell Tel.
Help with this page has come from William Brinsmead, who, until the advent of www.brinsmead.net, knew of no other Brinsmeads. William, who still lives in Reno, has been a long time supporter of this family history website.