William Brinsmead leaves for America
Life in London
The largest contingent of Brinsmeads in America stem from the decision of William Brinsmead to leave London with two of his sons, William and Arthur. They left London after some family tragedies, and William Senior did not fare well in New York.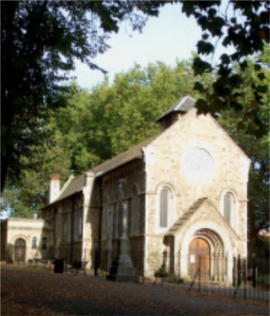 St Pancras Old Church - Picture by Brian Husland
William Senior's father, Henry Brinsmead, was born in Weare Giffard, Devon, the son of Henry and Elizabeth Brinsmead. He was an older brother of John Brinsmead. Henry moved to London where he entered the piano trade. Younger brother John followed, and for a year they worked as partners. They split, somewhat acrimoniously, and each went their separate way, each making "Brinsmead" pianos. There can be no doubt that John was the more vigorous entrepreneur.
The elder brother Henry had four children; three by his first wife Charlotte Hancock (Mary Ann, Henry and William) and one by his second wife Mary Ann Gladstains (Alice). Charlotte died in 1858 when their son William was 18.
Son William, born 1840, married Mary Ann Williams at St. Pancras Old Church in 1866. Together they had six children: Henry, born 1868, William, born 1869, Arthur, born 1871, Ella Mary, born 1873, John Charles, born 1876, and George, born 1879.
The tragedies began when Mary Ann and George died in 1880, as a result of complications of childbirth and the devastating London smog during that year. William Senior was left with five young children ages 12 - 4.
In the 1870's, in order to secure sole use of the name Brinsmead in connection with the sale of pianos, the partnership of John Brinsmead & Sons purchased the interests of Henry Brinsmead. As a condition of the purchase, they obtained a commitment that he would no longer manufacture or market pianos using the family name. This left Henry, and more significantly perhaps his son William, with no realistic ability to practice his craft. Henry and his wife retired to the South Coast.
Emigration to New York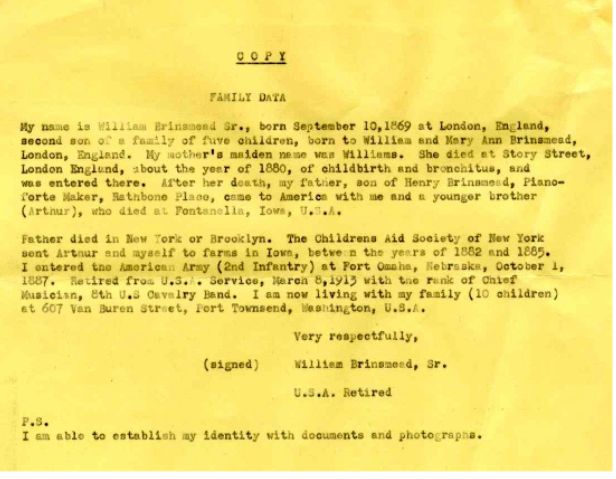 William decided to leave England for America. He took the two young boys, William and Arthur, with him. The other three children, to be found in the 1881 census, are living with their Grandparents, Henry and Mary Ann Brinsmead in Holdenhurst, Hampshire.
According to William Snr.'s death certificate, by December, 1881 he had been in the United States and New York City for a total of eleven months. So far searches of the Port of New York passanger arrivals lists have not revealed the date of their arrival or the ship on which they sailed. That research continues. At the time, the trip from England to America took about a week.
The Port of New York passenger arrivals do show that Henry Brinsmead, age 13, travelled on his own to New York a couple of months later. He sailed on the Victoriafrom London, arriving on April 8th, 1881. Beyond the fact of his arrival and the fact he returned to England at some point, we have no details of what he did while he was there.
Most of what we know about William Snr., William Jnr. and Arthur's time in New York comes from William Snr.'s death certificate. He listed his occupation as a Piano Tuner. His residence just before going into hospital was 207 Bowry which was a cheap lodging house at the time that also housed a photography studio. Soon after it became home base for Tammany Hall political boss "Big Tim" Sullivan. The Bowry is a famous section of the southern portion of Manhatten Island. By the early 1880's it was a rough and tumble part of the city where according to one account "the mansions and shops had given way to low-brow concert halls, brothels, German beer gardens, pawn shops, and flophouses". However, it was also home to establishments like the YMCA and the Bowery Mission and Young Mens' Home.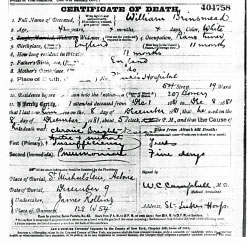 William Brinsmead Snr.'s death certificate. Click for a full size copy.
Brian Huseland, a great-grandson of William, wrote to the Children's Aid Society of New York to find out what records they had about William and Arthur or their father. They had no significant information about William Senior. They were able to say that he attended at their New York Headquarters on November 15th, 1881. At the time he was living at 121 3rd Avenue, New York. That is just a few blocks North of the Bowery Street address given two weeks later. He signed consents to have the boys sent on the "Orphan Trains" to families in middle America. The stories of their early lives are told on another page.
Premature Death
William Snr. died at 44 year's old, at St. Luke's Hospital on December 8, 1881, having been admitted to the hospital one week earlier. He died primarily from what was then called "Bright's Disease" a serious, sometimes inherited, kidney disease. Secondary causes of death were aortic and mitral insufficiency and pneumonia. He was buried at St. Michael's Avenue Cemetry in Astoria, New York, on December 9th, 1881.
William Senior's Other Children
With the exception of young Henry's trip in april, 1881, William's three other children remained in England after father William and sons William and Arthur left for America. Initially, the three of them stayed with their grandparents in Hampshire. They were:
Henry Brinsmead, born 1868. Henry stayed in England and married Rose Phoebe Martin in 1892. Phoebe died in 1897 and Henry remarried, to Elizabeth Harriet Harpham in 1898.
Ella Mary Brinsmead, born 1873 eventually went out to America. In 1891, at age 17, she was located at the Brixton Orphanage in Lambeth, Surrey, England. By 1895 she had arrived in Munroe, Iowa. In 1906, Ella married L. Lewis Baker in Page County, Indiana. She died in the US in 1957. Ella's life is described on another page.
John Charles Brinsmead, born 1876 emigrated from England. In 1906 he was living in the small prairie village of Antler, Saskatchewan, Canada. We have been unable to discover what became of him after that. John Charles in described on another page.