Thomas Brinsmead of Hawaii
Birth in England
Thomas Brinsmead of Hawaii has been one of the hardest appearances to sort out in the Brinsmead family tree. Part of the difficulty is the shear number of Thomas Brinsmeads; Thomas being by far the most common name in the family.
Thomas Henry Brinsmead was born in 1875, the son of Thomas Edward Brinsmead and his wife Mary Ann Stanley. Thomas Edward Brinsmead worked for John Brinsmead and Sons, although was fired by the Company in the 1890's which led to him starting his own firm. This in turn resulted in a decade long legal dispute. It was a big family, Thomas Henry having at least 10 siblings.
In 1896 Thomas Henry Brinsmead married an Annie King in St Pancras Regn. District (Jan 1/4, 1896 1(b) 204). However, Thomas Henry is not to be found in the 1901 English Census records. Annie Brinsmead is living with his parents at 19 Weedington Road, St. Pancras. She is listed as their daughter-in-law. Also living there are two grandchildren, Frank Brinsmead (age 4) and Beatrice A. [Annie] Brinsmead (age 3) but these are believed to be the children of Edward George Stanley Brinsmead.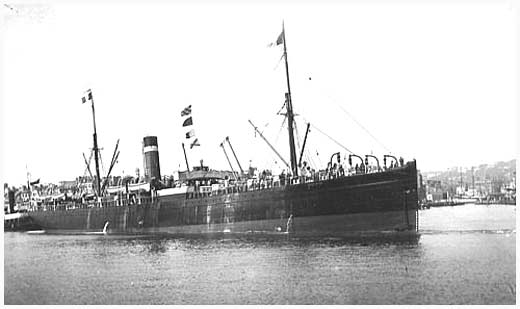 S.S. Sardinian.
Three Years in Canada
Records show that Thomas left England in 1905 for Canada and the United States. What he was doing in the intervening five years remains a mystery.
The next record of Thomas Henry Brinsmead is of his attempted entry into the United States at Buffalo, New York. His application shows that he arrived in Quebec City, Canada on August 26, 1905 on the S.S. Sardinian, a ship which for many years brought immigrants to Canada from Liverpool in England.
Thomas Henry is described as a carpenter, 31 years old, 5' 5" tall with brown hair and brown eyes. He lists his residence as Hamilton, Ontario. With only $4.00 to his name, he was rejected at the boarder as "Likely to become public charge".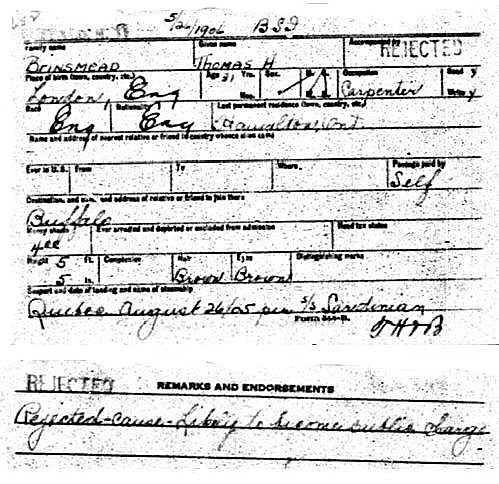 Thomas Brinsmead's attempt to enter the USA from Eastern Canada
He made a second attempt to enter the US at Black Rock, New York. He listed himself as married. He still had his $4.00. which led to his once again being rejected for the same reason.
After that Thomas appears to have travelled across Canada. He was recorded at one point as working as a surveyor (presumably a tree surveyor in the logging industry) in Fernie, British Columbia.
On December 5th, 1909, at Victoria, British Columbia, he boarded the S.S. Makura, sailing for Honolulu. He lists his age as 32 and says he is married. What is conclusive of his identity is his having listed, as his nearest relative, Mrs. A. Brinsmead of Weedington N.W. London (which is his mother, and his parent's address).
Life and Marriage in Hawaii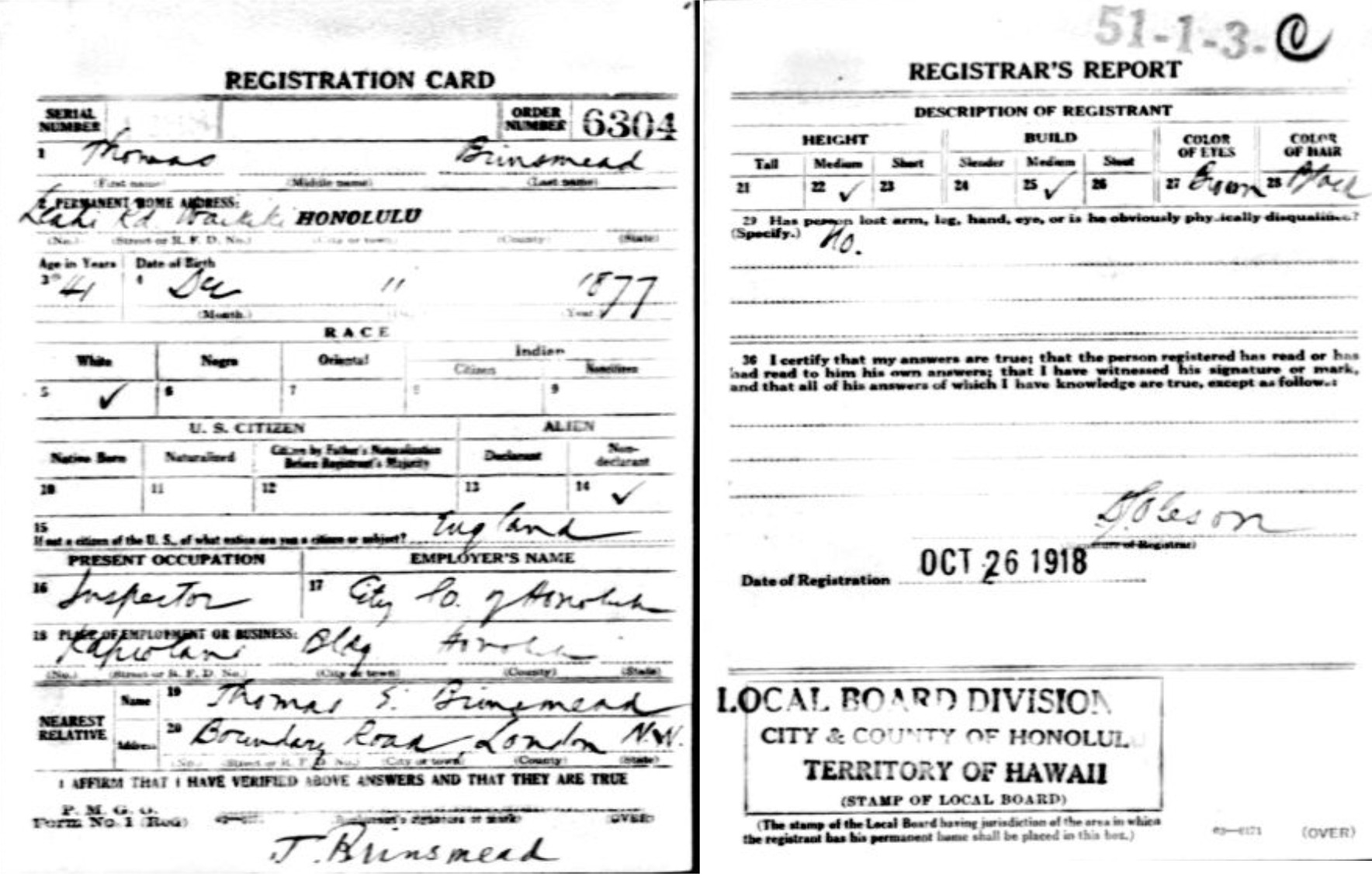 Thomas Brinsmead's WWI US Draft Registration Card
The Hawaiian directories show no listings for Thomas from his arrival in Honolulu on December 11th, 1909, up until 1918. Thomas completed his WWI draft registration on October 26, 1918. At the time, he was employed as an Inspector with the City of Honolulu.
The 1920-21 Polk's Directory lists Thomas Brinsmead, foreman, Pac. Eng. Co. That same directory contains no entry for him thereafter.
The 1930 Census lists Thomas Brinsmead age 51 living at Iao Valley Road, Wailuku Village, Maui, Hawaii Territory. He is married to an Hawaiian, Mary Ann Brinsmead age 35 and has two step-children living at home; Ah Min Brinsmead (18) and Leitani (probably Leilani) Brinsmead (13). He is listed as a carpenter in the housing industry. His year of immigration is listed as 1901 and he is shown as a naturalized US Citizen. No record of his naturalization papers have been found.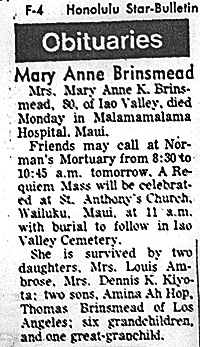 Honolulu Star Bulletin June 4, 1970.
The 1940 Census, taken on April 16, 1940, tells us that Thomas, listed more accurately at age 66, is living "Below Kama Ditch" still in Wailuku Village, Maui. This census says that he had 13 years of education but was not a US Citizen. He is living, without apparent income and probably retired, with his wife Mary Ann and two children; Thomas Jnr., age 11 and Joan, age 7.
We do not know exactly when Mary Anne and Thomas married. Her maiden name appears to have been Waapa. They had at least one child together; Thomas Jr., born in late 1930, after the census was taken. Mary Anne's obituary shows she had four children in total; listed then as Mrs. Louise (Leilani) Ambrose, Mrs. Dennis K. Keyota, and sons Thomas Jr. and Amina Ah Hop.
Leilani Valley Brinsmead married a Louis Medeiros Ambrose on April 29th, 1939. He died in August, 1967 and she died in December, 1983; both in Keihi, Maui, Hawaii. They left surviving children living in Hawaii.
Mary Ann Brinsmead's Grave
No record of Thomas' death has been located.
Mary Anne Brinsmead, Thomas Henry's wife, was born 26 January 1890 in Hawaii, and she died in June 1970 in Honolulu, Hawaii. A picture of her grave (left) makes no specific reference to her husband.
Thomas Brinsmead Jr.
Thomas Brinsmead Jr. was born October 13th, 1930 and died on June 14th, 1998. His social security number had been issued in Hawaii, but he died in Carson, Los Angeles, California. He is known to have lived at 25209 B, Carson, California and 24409 Neptune Ave., Carson, Long Beach, California.
On December 31, 1964, Thomas Brinsmead Jr. married Nancy Santos in Nevada, USA. What we know of her is set out in her obituaries published following her death on July 17, 2004 at Hale Makua, Kahului, Hawaii. She was born in Hana, Hawaii on August 9th, 1915. She was therefore 49 years old when she married Thomas Jr. Her brother's name was In Ho Park so presumably her maiden name was Park and she was earlier married to a man named Santos. She was survived by two children: as son, Joseph M. "Brodie" (Martha) Santos Jnr. and a daughter, Ardis "Ardie" Ostrow. She had nine grandchildren, 19 great-grandchildren and two great-great- grandchildren.
Nancy Santos worked as a nurse in the Hana Community Health Centre on the island of Maui. She was retired at the time of her death having reached the age of 88. She obviously maintained connections on the mainland since her internment took place at the Green Hills Cemetery in Rancho Palos Verdes, California. Her obituaries make no mention of Thomas Jr. or her marriage, beyond her use of the surname.