The Family of William and Andrea Brinsmead
Top row, left to right: Ruth, Melba, Ellen, Johnny, Lillian, Bill. Bottom row: Arthur, Betty, Andrea, Henry ("Bud"), William and Violet.
A Family of Ten Children
Over eighteen years, William and Andrea had a total of eleven children, but one, Robert George died before he was one. This family photograph, provided by Lee Brinsmead, was taken about 1921-22.
By the time of the 1930 census, several of the children had married and moved away. WWII followed by Korea dispersed them further. However, many lived out their lives in the Washington State area where they grew up once the transfers due to William's army life was over.
Lillian
Lillian (Brinsmead) Bristol
Lillian married Fred Leon Bristol, born on May 6th, 1885 in Columbia County, Wisconsin. In 1900, at age 15, Fred was enrolled in the Industrial School for boys in Lancing, Michigan. He registered for the WWI draft at Missoula, Montana. There he is listed as a Machinist and Musician. His next of kin is Mrs. F.L. Bristol of Missoula.
We have no details of when they were married. He was eighteen years her senior. In 1937-43 Fred was working as an insurance broker. Fred's WWII draft card shows him as living at 201 Olympic Place, Seattle and working at Carmac Shipyards. They took a vacation to Hawaii, sailing from San Francisco on September 8th, 1950 and returning home by air to Seattle on September 23rd. In 1951, Fred was working as a machinist for the Johnson Manufacturing Co. and living at 2555 27th Ave, Seattle. Fred was a member of the Freemasons. Fred died in Seattle on Jan 9th, 1967 and his remains were interred at the Evergreen Washeli Memorial Park in Seattle. Lillian died on November 9th, 1983 and her remains are interred close to Fred's. It appears that Lillian may have been an active member of the Seattle Genealogical Society.
Ellen Mary

Ellen Mary (Brinsmead) Clark
Ellen Mary Brinsmead was born at Jefferson Barracks, Jefferson County, Missouri on January 5th, 1905. On April 9th, 1932 she married Allen Arthur Clark at Trinity Parish Church in Seattle.
Arthur was born in Vancouver, British Columbia on Feb. 25th, 1907, but as a boy he lived on his parent's farm in the small south-eastern Saskatchewan community of Coalfields and then in Moose Jaw, Saskatchewan. From there he went to Vancouver and south to the US where he arrived on February 2, 1920, at age 13. He signed his immigration and naturalization papers in Seattle in 1927.
In 1935, the couple lived in Mount Vernon, Washington. In 1940 they were living at 3106 West Chesnut, Yakima, Washington and Arthur was employed as a salesman for a biscuit company.
The couple had two daughters; Diane Andrea who married John Bagley and now lives in Salem, Oregon, and Marily Kathleen who married James Wright. Both daughters have children and grandchildren. Diane Bagley has been very helpful keeping the family tree up to date.
Ruth Mabel
Ruth Mabel (Brinsmead) Chamberlin
Ruth Mabel Brinsmead was born in the Philippines, at Fort McKinley, on September 9th, 1906. She married John Peter Chamberlin on October 12th, 1928 at Port Townsend, Washington State. He was the son of Matthew and Margaret Chamberlin of St. Paul. Matthew was a gospel missionary of English extraction and Margaret was Irish. Ruth and John moved to his home state of Minnesota. On the 1930 census, Ruth is listed as living in St. Paul, Minnesota, with her in-laws, along with her new baby Alycemae, just two months old.
The couple went on to have five children: Alycemae Bernice (m. Macker, died 2002), William Matthew (died 2008), Joan Ruth (m. Wayne Douglas Moldenauer, died 1992), John James, and Andrea Margaret (m. Harvey Criss then m. Leslie Phillips).
John Chamberlin served in the US Army Air Force probably starting in Germany and then certainly serving in Korea. He enlisted on March 5th, 1949. Ruth and children William (18) Joan (15) John (13) and Andrea (5) visited Germany in 1950. John died on December 9th 1970 and Ruth on June 7th 1986. Ruth and John are both interred in the Fort Snelling National Cemetery in South Minneapolis.
Alycemae married Roger Warren Maker. They appear not to have had children. They moved to the Sacramento area of California were Alycemae died in 2002 and Roger died in 2013. William married a lady named Carol and the couple had a son and a daughter. They divorced in Minnesota in 1991and William died in Ramsey, Minnesota in 2008.
Joan married Wayne Douglas Moldenhauer and the couple raised a family of two boys and two girls in the Ramsey are of Minnesota We are indebted to a couple of family historians in their families. Joan and Wayne divorced in 1989 and Joan passed away three years later in 1992. Nothing is know of John Chamberlin. Andrea moved to Texas. She married Harvey Criss in 1968 and had a daughter. She later married Leslie Melvin Phillips (in 1977) and had another daughter.
Melba Andrea
Melba Brinsmead
Melba was born on Feb. 7th, 1908 at Fort Robinson, Nebraska. She lived with her parents into the 1920's then moved out to live with her sister Lillian in Seattle at least up until the time of the 1930 census. She worked as a stenographer in an office. We have little detail of her life.
In June 1936, Melba, then still single, visited Hawaii. She left from Vancouver on June 17th on the Niagara and arrived in Honolulu on June 24th. She left to return home on July 3rd on the Aorangi travelling via Victoria and Vancouver. Her address in Seattle at the time was 4720 - 9th Ave.
After that, she is known to have married a Glenn Langdon. We have not been able to find out what became of Glenn. However, on March 4th, 1947 we know she married Nels Johnson in Tacoma, Washington. He was born in 1894, so was 14 years her senior. They had a daughter Lane. Lane married Michael Copper and had nine children. Nels Johnson died in 1971 in Seattle. Melba died on June 19th, 1996 in Kirkland, King County, Washington State. Her remains are interred, like many of her family, in the Evergreen Washeli Memorial Park.
Lane and Michael Cooper and many of their children still live in Washington State. Their children are believed to be Lisa m. Joseph Hughes, Deborah m. John Laughlin, Theresa, m. Joe Bannick, John Anthony m. Jacky O'Rourke,Andrea m. Rick Lund, Joe m. Deborah Silvis (Joe is a designer living in Pittsburgh), Jeff m. Mary, Jim m. Heather Madsen and Jeremy.
William Absalom
William Absalom Brinsmead
William (Bill) Absalom Brinsmead was born on August 23, 1909 at Fort Robinson, Nebraska. In 1929 he married Gloria Eaton, born on July 26th, 1911 in Chewlah, Washington, the daughter of Charles and Bertha Eaton. Gloria worked as a florist for many years. In 1932 William was working as a papermaker for National Paper Products in Port Townsend. By 1935, the couple lived at 2413 Harrison Street, Everett, Snohomish, Washington. Bill was listed as a warehouseman. Still at the same address, in 1937, he was listed as a salesman and in 1941 as a driver both with Union Oil. By 1959 they are living at 6533 32nd Ave. NE and Bill is listed as a jig maker for Boeing. Bill died in a car accident in 1963.
Gloria then married Otto Gilbertson who died in 1997. When Gloria died in 2002, at Snohomish, Washington, she was buried next to William at the Evergreen Cemetery, Washelli.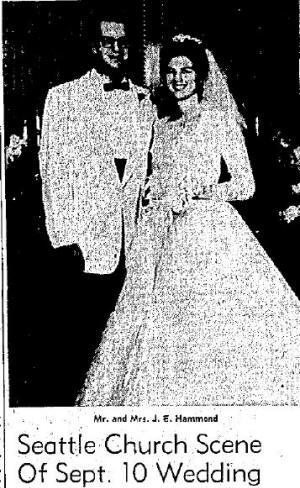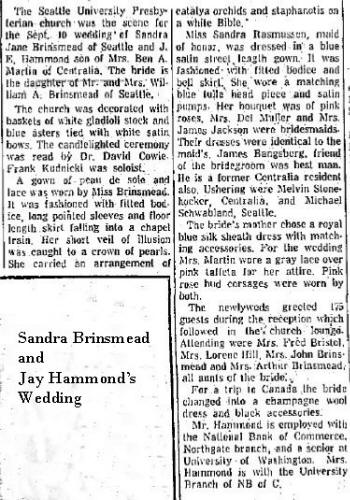 The couple had three daughters, Doreen, Barbara and Sandra. Sandra married Jesse (Jay) Edward Hammond, and they had two daughters.
Doreen married a Pennington, a Hill and then a Nerison. Doreen died in Snohomish, Washington on November 19th, 1984, survived by a daughter, Linda Sogren. Barbara married a Tarp, a Jackson and a Calkins. Barbara passed away on December 18th, 1985 and was survived by a son Richard and a daughter Deborah. Deborah (now Deaton) lives in Linn, Oregon and has two married boys.
John Charles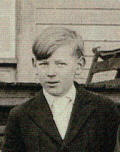 John Charles Brinsmead
John Charles Brinsmead has his own "Brinsmead Biography" page. He was born in 1910 at Fort Robinson, Nebraska. On June 10, 1941 he married Blanche Missiaen, originally from Winnipeg, Manitoba, Canada. The couple had three children; Alice Ann, who married Paul Hegna; Andrea, who married Robert Mowad, and John who married Diana Hammond.
John Charles served in World War One in the US Army and then returned to active duty for the Korean war. He died in active service in Korea on September 27th, 1950. Blanche Brinsmead died on September 16th, 2000 in Seattle.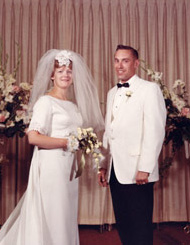 Alice Brinsmead and Paul Hegna Wedding in 1968
After high school, Alice attended Western Washington University. She married Paul Hegna on July 23, 1968, and the couple settled in Newcastle where they raised three children; Sherry, Teresa, and Karyn. Alice Ann passed away on November 4th, 2009.
Andrea married Robert Moawad on June 6, 1964. The couple had two boys, Robert and Trevor. Robert Moawad was one of the authors in the original and highly successful book "Chicken Soup for the Soul" and has written several other books as well. He was successful in endeavours in sports, education and entertainment. He was the CEO of the Edge Learning Institute. Robert died on January 13, 2007 after a long illness. Andrea trained in education and speech therapy and works as a realtor in Bellvue Washington.
John Brinsmead married Diana Lee Hammond on February 24, 1968 in Seattle. They had two daughters, Lisa and Vicky. John and Diane live in Issaqah, Washington.
Arthur
Arthur Brinsmead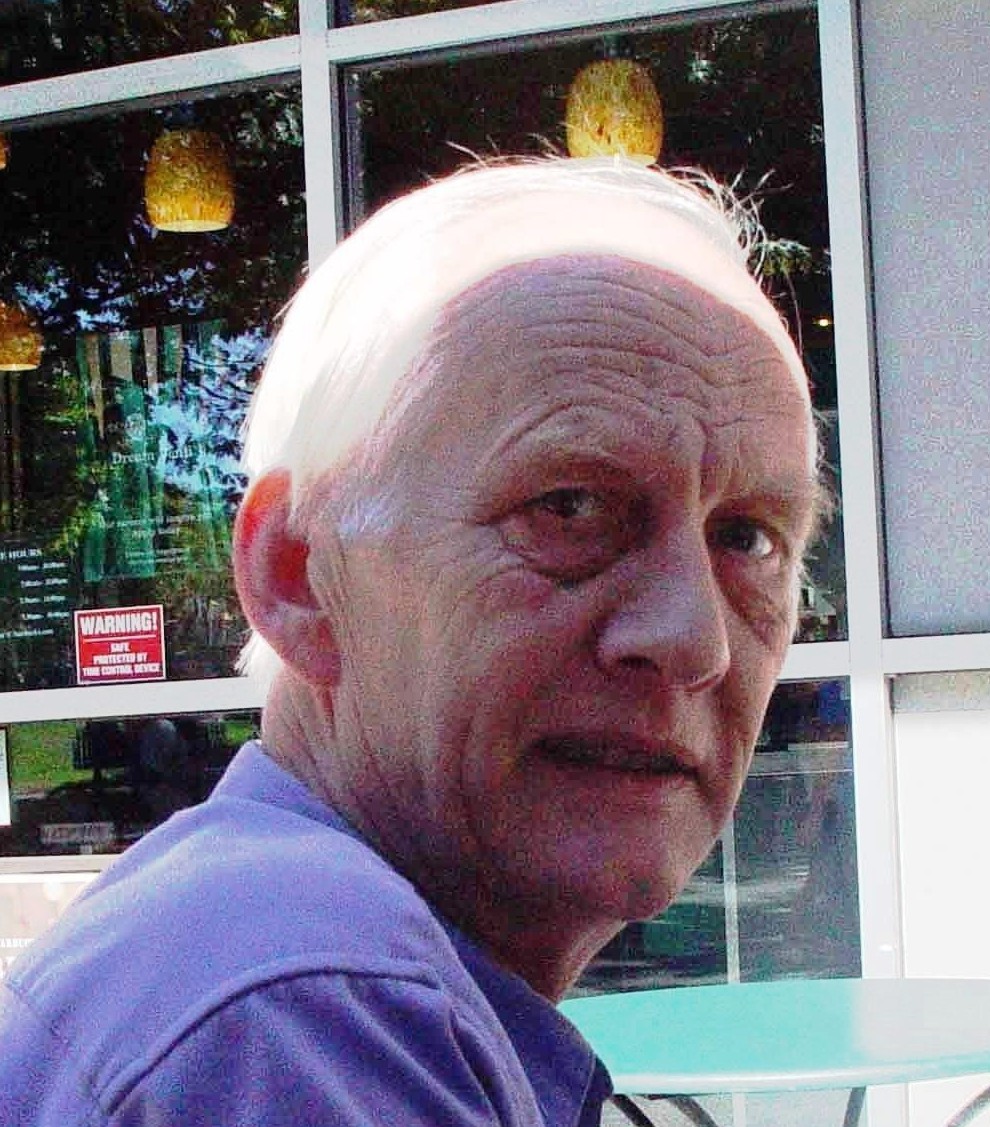 Arthur was born on July 26th, 1913 at Port Townsend, Washington State. On November 25th, 1945 he married Margaret Arneman. The couple had two children, Lee Arthur (m. Sharon) and Joy (m. Larry Sirianni). Margaret died on October 27th, 1972. Arthur lived until July 27th, 1997. Larry and Joy live in Hawaii. Lee (right) and Sharon live in Seattle. Lee has been very generous in sharing his family pictures and other records.
Violet Louise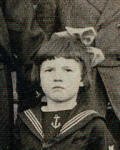 Violet Louise (Brinsmead) Seaman
Violet Louise was born on December 11th, 1914. She was living with her parents in Port Townsend, Washington State at the time of the 1930 census. She subsequently married Denver E. Seaman who was born on April 19th, 1913. The couple lived in Portland, Oregon. They are not known to have had any children. Denver died in Portland on June 18th, 1988. Violet died on January 9th, 1999 in Henderson, Clark County, Nevada.
Clara Elizabeth (Betty)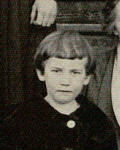 Claire Elizabeth Brinsmead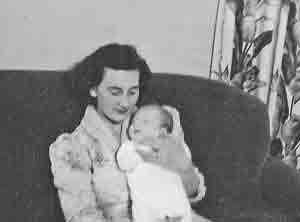 Betty Fournier (Brinsmead) with Alan Fournier as a baby
Clara Elizabeth was born in Port Townsend, Washington State on July 7th, 1917. She was living with her family there at the time of the 1930 census. On November 19th, 1938, she married Albert Simpson Fournier in Seattle. Albert was born in Chicago, Illinois on September 30th, 1914. In 1940, Clare was working as a bookkeeper in an auto freight company. They had two children, Alan Michael Fournier and April Ann Fournier They lived at 8340 30th Ave NW, Seattle. Albert Fournier died in Seattle on September 14, 1991. Clara moved to California to be near her son and daughter in law and died seven years later, 80 years old, on February 22, 1998 at Thousand Oakes, Simi Valley, Ventura, California.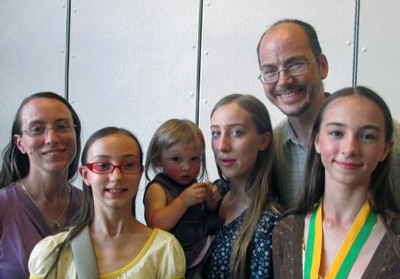 Brian and Jennifer Huseland and family, 2014
Of particular significance to this web site is that Betty's grandson, Brian Anthony Huseland, (along with cousins George Brinsmead and Diane Bagley) did much of the research on the children of William and Andrea Brinsmead. In addition, while Brian and his young family were working for an outreach church mission in England, he did a great deal of research about William's predecessors and the circumstances surrounding their arrival in the USA. Brian is responsible or much of the information we are now able to include about the US Brinsmeads within this larger family history.
B
Henry (Bud)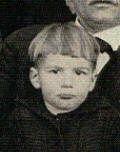 Henry (Bud) Brinsmead
The youngest of the surviving Brinsmead children, Henry "Bud" Brinsmead was born in Port Townsend, Washington State, on July 12th, 1919.
In 1940, at age 21, he was working as a waiter and living with his brother John in Seattle. On September 5, 1942 Henry married Eva Mae Agren in Seattle. She died the next year, on September 17, 1943 and is buried in the Washeli Evergreen Cemetery in Seattle.
In April, 1944 Henry married Eva's younger sister, Gloria Mary Agren. They had been high school class mates in Port Townsend, Washington. On December 15th, 1945 Henry enlisted in the US Army, as a Master Sergeant, for an initial term of three years, to serve in the Hawaii Department. However, this may have been a reenlistment as he appears to have served earlier than that. His enlistment papers show that at that point he had a year of college and, as a civilian, had worked as a sheet metal worker.
The couple's first son Mark had just been born later followed by daughters Cindra Mae, Vicki Sue, Patti Lynn and Jana Gail . By 1948 Henry was back in civvy street and working as a teacher at Poloma College. He reenlisted in the Army on January 20, 1951.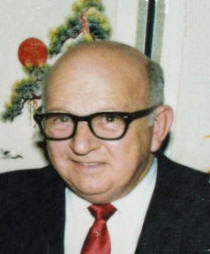 Henry's postings took the family up and down the East and West coasts of the USA as well as to Japan and Germany. The family left Washington State for Yokohama on April 15, 1953 and returned to Seattle on the USNS H.B. Freeman in October, 1954. When his older brother John died in active service during the Korean War, Henry went to Korea to pick up his remains, two years after he was reported missing.
Henry left the military on July 31, 1960 retiring with the rank of Major-General. That year the family settled permanently in the Carmel Valley. A return to the Carmel Valley had always been Gloria's dream. Henry owned The Smokehouse Restaurant and Gloria worked as executive secretary for the language school in Monterey.
Henry and Gloria divorced in 1968 and each remarried; Henry married Jae Choon. Henry and Jae had son George, another Brinsmead to whom this web site is heavily indebted for his research and continuous support. Henry and Jae moved to Monterey. in 1975. Jae was a devout member of the Korean Young Nak Presbyterian Church in Monterey. She died in Monterey. on April 11, 2011.
Gloria married a Henry M. Trippe on Dec. 31st, 1969 in Reno, Nevada.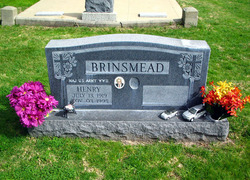 Mark married Michelle Wallace and they have two children. Vikki married Ronald Mumford and had three children. Ronald died in 1992. Patti married Rick Stemple and a son. Jana married Robert Carver. George married Debra Shen and have a daughter.
Henry died in Monterey. on November 3rd, 1995. He is interred in the Monterey. Cemetery Many of the family still lives in the beautiful Monterey. - Carmel - Big Sur area of California. Cindra Brinsmead is an accomplished professional artist. Her works can be seen on her website or at the art gallery at 425 Cannery Row in Monterey.