The First Hundred Years after Thomas and Agnes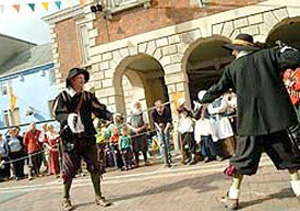 Civil War re-enactment in Great Torrington
The hundred years after Thomas and Agnes Brinsmead died, in 1626 and 1627 respectively, were tumultuous times for England, as the Civil War developed and then dissipated. This was particularly so in the Great Torrington area, since Torrington was the site of the very significant "Battle of Great Torrington" when, on February 16, 1646, Sir Thomas Fairfax's parliamentary forces defeated the royalists, ending the royalist resistance in England's South-West. Great Torrington still holds pageants, re-enactments, and an annual torch-lit procession focused on this event.
St. Giles in the Wood cannot but have been involved in these events; it is only a couple of miles to the East of where the battle took place. One of the tragedies of the battle occurred when a stray spark from the battle ignited a Royalist magazine - 80 barrels of gunpowder - stored in the Church. The explosion killed all the prisoners being held inside and destroyed the Church itself. Unfortunately for historians, the Church also housed most of the local records, seriously hampering the ability to trace family roots in the town. This is particularly unfortunate because we know from the Muster rolls that Brinsmeads lived in Great Torrington before Thomas and Agnes.
Robert and Christian Brinsmead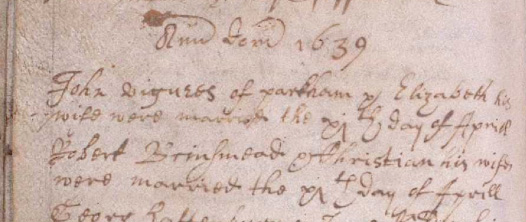 The St. Giles in the Wood marriage register for 1639 showing the marriage of Robert Brinsmead to Christian [Chockshead]
---

The St. Giles in the Wood burial register for 1645 showing the burial of Robert Brinsmead on July 22nd.
The only child of Thomas and Agnes Brinsmead we know of is their son Robert. We know neither Agnes' maiden name, nor Robert's date of birth. Agnes left a will, but it was destroyed when the Exeter repository was bombed in World War Two. There appears never to have been a transcription.
We do know that Robert married Christian Chocks head (Cockshead) on April 4th, 1639. We were able to confirm her last name from the marriage liscence issued to the couple by the Bishop of Exeter. Christian appears to have had a noble ancestry, explained on another page.
In their five years together, the couple had two children. The first was Thomas who was born in 1640 but died in 1641, both in St. Giles. The second child was Henry who was born in 1642. The couple apparently had no other children, in large part because Robert died in 1645.
We have no reason to believe Robert died as a result of the Battle of Torrington from the year before, but it is one possibility. Christian survived Robert for forty years, which, along with the fact his children were born in 1640 and 1642, suggests that he probably died before he reached forty years old.
Thus, Christian Brinsmead was left a young widow (although we do not know her birth date) with the task of raising young Henry who was only three when his father died. Christian died in 1685 and by that time Henry would have been forty three. Christian left a will buyt it too was destroyed in WW2.
The St. Giles in the Wood Poor Tax Records
As in all parishes, the inhabitants of St. Giles in the Wood were taxed amounts necessary for the care of the poor. We are lucky in that not only has the tax register been preserved in excellent condition, but the various trustees responsible had excellent handwriting. These annual records tell us who paid in and who received support. They thus give a fairly clear picture of who lived in the village from year to year. For 1639, Robert Brinsmead is shown as an owner and assessed while in 1648 and 1659 Robert's widow Christian is listed.
Henry Brinsmead and Mary Sims

---

---

Parish records for Henry's marriage in 1690, his burial in 1700 and his widow, Mary's re-marriage in 1702.
On August 5th, 1690, five years after his mother Christian died, and at age 48, Henry Brinsmead married Mary Sims. We have little information about Mary. While there was a Sims family in the village, we have found no baptism record. It may be that she was a young widow. She survived Henry by 42 years which suggests she was significantly younger than Henry. The couple had four children. The first was Christian Brinsmead born in 1691 who died in 1692. In 1693 the couple had another daughter also called Christian. In 1696 they had a son Robert and in 1698 a son Henry.
Henry, (the father) died in 1700. Again, a young mother was left a widow with three young children, ages 7, 4 and 2. Mary soon remarried, in 1702, to Archelus Copp.
Three Weddings - all to Voddens
Henry and Mary's three children all grew up in St. Giles in the Woods. All three married, remarkably, all three to members of the Vodden family. The Voddens had lived in St. Giles in the Wood much longer than the Brinsmeads.

John Yodden [Vodden] and Christian Barinsmate [Brinsmead] wedding in Bideford in 1717
The first to marry was Christian, on December 27, 1717. She married John Vodden, not in St. Giles, but in nearby Bideford. We intend to add more details on the Voddens shortly thanks to Linda Vodden who has researched the family and succeeded in locating the Christian Brinsmead and John Vodden marriage record. We will also be adding John and Christian Vodden's children and descendents to the tree. The next was Robert, who married Grace Vodden on October 14th, 1719 in St. Giles in the Wood. Henry was the third. He married Elizabeth Vodden on October 23rd, 1726 also in St. Giles in the Wood.
Henry's marriage to Elizabeth was short lived since she died on September 23rd, 1727, perhaps in childbirth as was so common in those days. Henry then married Francis Clarke, a daughter of another long-standing St. Giles in the Wood family.
The first one hundred years in St. Giles in the Woods were sparse in terms of the expansion of the Brinsmead family. Robert died young and his only surviving son Henry married late. It was only with the marriages from 1717-1733 that the family began to expand. More details on just when and how can be found in the series Devon Brinsmeads Decade by Decade.