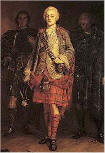 In 1745 the Jacobite rebellion "the Forty-five" broke out in Scotland in 1745. Bonnie Prince Charlie, the Young Pretender, reached as far south as Derby before having to retreat.

This decade is the most difficult one in sorting out the Brinsmead's Devon family tree. The church records from St. Giles in the Wood record the following entries for this decade. Some of the records for this period are hard to read and others come from the Bishop's transcript.
1740 Thomas, son of Henry and Francis, his wife.
1741 Henry Brinsmead buried August 26th.
1742 Mary Brinsmead buried October 14th.
1743 Mary, daughter of Henry Brinsmead and Ann baptised March 5th, 1743
1746 name illegible, daughter of Henry and Ann (Weare Giffard) his wife was baptised date illegible.
1747 Elizabeth, daughter of Henry Brinsmead and Anne, his wife, was baptised April 15th.
1749 Ann, daughter of Henry Brinsmead of St. Giles and Ann, his wife, was baptised March 15th.
We have worked on the following assumptions.
That Henry Brinsmead, buried on August 26, 1741 was old Henry the husband of Francis and father of Thomas not young Henry, the son of Robert and Grace. We chose this because Henry and Francis had no further children. A Henry married an Ann soon after; while we know of no marriage record, they had several children. Also young Henry was a more likely age to have fathered these children.
That the Mary Brinsmead buried October 14 was Mary the daughter of Henry and Francis.
That Henry Brinsmead, the son of Robert and Grace married an Ann, perhaps of Weare Giffard (as suggested on one of their children's baptism record, although this may be our transcription error). They must have married on or before 1743 since they had four children over the balance of the decade.
If these assumptions are correct, by 1750 the family looked like this:
Christine (age 57 if still alive)
Robert and Grace's line
Robert (age 54) and Grace (age 49)
Grace (age 27)
Robert (age 23)
Margaret (age 17)
Mary (age 31) and John Copp (not traced further)
Henry (age 30) and Ann
Mary (age 7)
Unknown daughter (age 6)
Elizabeth (age 3)
Ann (age 1)
Henry and Francis' line
Francis (Henry's widow)
Francis (age 16)
Henry (age 14)
Thomas (age 10)
Elsewhere in the village, in 1748, Henry Rolle, the owner of Stevenstone and the principal local land owner, was created a Baron, adopting the title Lord Rolle, Baron of Stevenstone.