Brinsmead Migrations to Australia and New Zealand
New Zealand
Australia
Coming Soon
Reuben and Louisa Brinsmead
Henry and Jemima Brinsmead
CJ and Laura Brinsmead
The Barker Family
John Brinsmead from Exeter
More Australian Brinsmeads
William Brinsmead from Exeter
Probably the most elusive of the Australian Brinsmeads is the William Brinsmead who was born in Exeter in 1828. This William was the son of Hugh Brinsmead and his wife Mary Ann Rowe. Hugh was born in St. Giles in the Wood, and moved to Exeter where he set up business as a builder. William was baptized on January 23, 1828 at St. David's Church, Exeter, the sixth of seven children. He had an elder brother John who, we know, went to Australia and later married Catherine Lochhead.
In 1851, William was still in England, staying with his older brother Thomas and his wife Mary Ann at 2 St. Ann Place, Tower Hamlets, in London's East End.
William is believed also to have emigrated to Australia. John's descendent, Greg Brinsmead, has an extract from the Melbourne newspaper, "The Argus". It ran a "Missing Friends" column which included an entry dated 9-8-1853 " John Rowe Brinsmead will hear of his Brother William at Mr. Farringtons 22 Little Lonsdale St, West Melbourne." Given this date, he is probably the William Brinsmeade, Age 25 shown as arriving in July 1853 on the Roxburgh Castle (Fiche B-45-4 - Victoria Shipping Index)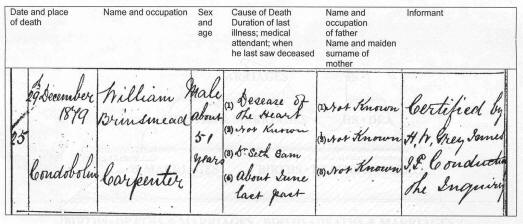 Death Certificate for William Brinsmead who died in Condobolin, New South Wales on December 29th, 1879.
We cannot be certain, but we believe William in fact came to Australia and is the man who died in Condobolin, New South Wales, at "about age 51" on December 29th, 1879. The age is correct and, as William's father was a building contractor, his occupation as a carpenter would seem to fit. Condobolin is in the Australian outback, 288 miles West of Sydney.
Just where William was between his arrival in Australia in 1853 and his death in 1879, we do not know. The newspapers of the time yield no clues.