Victor Brinsmead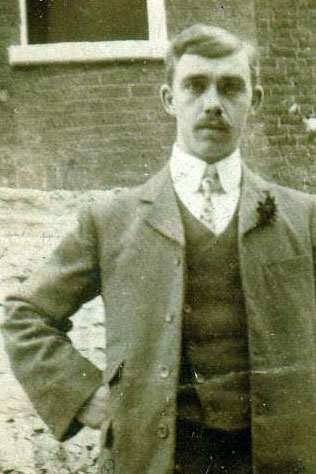 Victor Brinsmead, in London, circa 1906.
Victor Brinsmead was born in St. Pancras, London in 1887. He was the second youngest of eleven children born to Thomas Edward Brinsmead and Mary Ann Stanley. He grew up living at 19 Weedington Crescent, Kentish Town, London, not far from where his father worked at the John Brinsmead and Sons factory. When Victor was about 6, his father and elder brothers became involved in a bitter and unpleasant fight with the John Brinsmead family, first over their summary dismissal from the firm for making pianos in their spare time, but later over the use of the Brinsmead name. The court battles lasted for about a decade.
In 1901, Victor was working as an errand boy. He started studying law, but gave this up after seeing, and becoming disillusioned by, the goings on in the various law suits. Instead, he followed his brother Frank, who ran a bakery, into the baking and pastry trade. At one point, Victor went to sea as a baker, working on a transatlantic cable-laying ship.
On April 11th, 1907, Victor married Elizabeth (Eliza) Cook at the Church of St. Mary Magdalene, Holloway Road, Islington, London. They were each 23 at the time, and lived at 396 Liverpool Road.
Elizabeth came from Yorkshire and apparently had two brothers. Family legend is that she was connected to the same family as James Cook. She was born a mere one pound and remained a small trim person of under five feet all her life. Her son Reg used to tease her, taking advantage of her size and lifting her up onto the kitchen cupboard until she would shout to be put back down. She had short jet black hair.
The couple had two children in England, Ellenor, born in 1908, and Reginald, born on January 29th, 1911. In 1911 the family was living at 44 Spigumell Road, Lordship Lane, Tottenham.


Victor Brinsmead and Eliza Cook's wedding certificate.
Move to Australia
In 1913 Victor and Elizabeth decided to follow his brother Frank Hearn Brinsmead and emigrate to New Zealand.
They sailed from England in the New Zealand vessel Tienui, around the Cape of Good Hope. It was a long and difficult voyage. They sailed up the Derwant River in Hobart, Tasmania before the final leg of the voyage to New Zealand and realized they could go no further. The ship's manifest shows then as destined for New Zealand.

Ship's Manifest for the Tienui, departing London, England on Septemer 12th, 1912.
The family disembarked and made Tasmania their home, starting the Tasmanian branch of the Brinsmead family. They spent the first night at Inglehall in downtown Hobart, now owned by the National Trust in the downtown Hobart.
In 1913 the young family left for New Zealand to join Frank but stopped in Hobart. Their early addresses in Hobart, according to the directories were:
1914 Harold Street, Cascades
1915-1916 Store, 41 Adelaide Street
1917-1918 14 Napoleon Road, Battery Point
1919-1921 46 Scott Street, New Town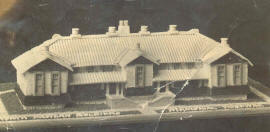 They also lived on Smith Street, North Hobart.
Victor worked as a baker and pastry cook with the Haywoods' Biscuit factory. He travelled a lot with the bakery trade around the state and judges cakes for the Royal Hobart Show. The picture is of a miniature cake he made and iced for a raffle in support of a hospital in Northern Tasmania - a replica of the hospital itself made 62 years ago and still kept as a prized possession by his son Mickey.
After 15 years with the bakery, Victor decided to go into business on his own behalf and opened a shop in the building once occupied by the oddly named hotel "Help me into the World" on Liverpool Street. He ran the business through the depression years, maintaining a good business despite helping out and forgiving the bills of those down on their luck in those tough times. After developing a hernia lifting bags of flour, Victor decided to sell the business to Flakemans who carried it on for many years. During the war years he worked for Tanner's Bakery in Kingston.
The family's next move was to Blackman's Bay, where they bought a lot of land. After that, the moved to Mount Nelson which at the time still involved a frontier existence. At that time only five or six families lived there. Victor built a stone cottage there and built a road connecting it to the Nelson Road intersection. The house burnt down in the 1967 bushfires.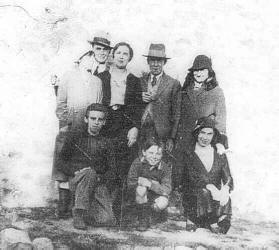 Brother Frank Hearn Brinsmead and his wife Queenie (Fanny Nichols Dench) visited with Victor and his family several times. This picture, taken at Mount Nelson, Tasmania in 1930 includes, top row left to right: Elizabeth and Victor  Brinsmead, their daughter Eleanor (Nellie) and Frank and Queenie Brinsmead from New Zealand, bottom row left to right: Victor and Elizabeth's children Douglas, Alfred Ernest (Mickey) and  Florrie.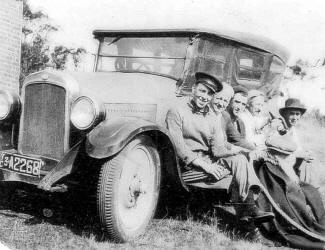 Reg Brinsmead owned the first car on Mount Nelson. This car was used for all manner of things including driving his dad places, his business as a refrigeration engineer and as the local ambulance. It was on one of these ambulance runs into the Royal Hobart Hospital that Reg met his future wife Irene Hepburn. Reg Brinsmead is on the far left and his father Victor Brinsmead on the far right of this picture taken in 1930 at Mount Nelson.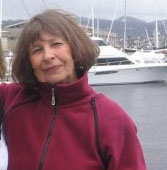 Much of the information on Victor and Elizabeth Brinsmead has come from their granddaughter, Joan Brinsmead. Joan, who still lives in Tasmania, has been a long time supporter of this family history website.