Howard Brinsmead
Howard Brinsmead was born on January 15, 1882, the son of Edgar William Brinsmead and his wife Annie Bailie. Edgar was a son of John Brinsmead and one of the "& Sons" in the piano business. Howard was the third of five children, born a year before his brother Horace Clowes Brinsmead. Both were born at  29 Adelaide Road, Hampstead, London. 
In 1891, the census shows him living with his parents at 8 Eton Road, also in Hampstead. The family had a cook and a housekeeper. By the 1901 census, the family had moved to 16 Fellows Road, Hampstead. The rest of the family are all there, but Howard is not. By that point he would have been 19.
We know Howard trained as a veterinary surgeon, but we do not know where. He served in the First World War, but his medal record is brief.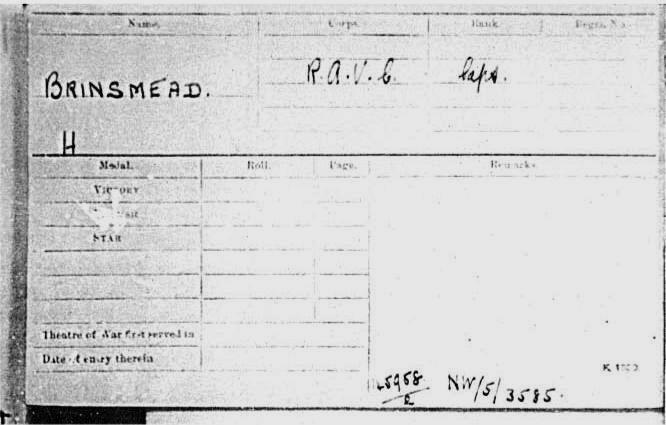 He appears from this British record to have been a Captain in the Royal Army Veterinary Corps.  We know from information provided to the inquest held into his death that he was badly gassed during the war and as a result was in receipt of a war pension of £84 per year.
At some point he married; his wife's name was Bertha Elizabeth but we do not know her maiden name. After the war, again we do not know quite when, Howard went to live in Melbourne, Australia where his brother Horace Clowes Brinsmead had moved once he received his appointment as Australia's Director of Civil Aviation.
Howard died of poisoning by medication on March 25, 1929 at age 47. He had been taking morphine for the medical problems, including asthma and insomnia, that lingered from his experience in the war, and it appeared an overdose led to his death. At that time Howard and Betha lived at 126 Barkers Road, Hawthorn, Melbourne, Victoria. He died at Allandale Private Hospital in East Melbourne, having been taken their after being found unconscious by his wife on the morning of the 24th.
According to his doctor bad health had prevented him from working over the previous year. He was described as five feet eight inches tall. His brother Horace described Howard as being in "indifferent health" when he last saw him 6 days before his death. Horace described him as a civil engineer. Howard's wife said, while he was a vet, he had in fact recently worked as a salesperson, although not for some months. The Coroner's verdict was of death by narcotic poisoning, but was inconclusive as to the circumstances. There was no evidence to suggest Howard had intended to take his own life.
Howard and Berth are believed to have had a son John, who married a Myra and had a child David.