William Brinsmead and Agnes Ross
William Brinsmead was born in 1834. He was christened in Northam, Devon, England on March 19th, 1834. His father was William Brinsmead, the son of Henry and Elizabeth Brinsmead of Weare Giffard and older brother of John Brinsmead the piano maker. William Brinsmead Snr. was a mariner working out of Appledore, an ancient fishing village just north of Weare Giffard. William Snr. married Mary Fowler on April 6th, 1829 in Northam and they had four children of whom William was the third.
Mary Fowler died on September, 1840 and was buried at St. Olaves, in South London so it may have been that the family moved there for a time. In 1842 William Snr. married Susannah Brinsmead (Way) his brother Thomas' widow. At the time of the 1841 census, young William (age 7) was staying with his grandparents at Wear Quay, which is the center of Wear Giffard village. We have no record of young William from the English 1851 or 1861 Census.
At some time prior to 1862 William left England for Australia. Our next record of him is his marriage (said to be at age 26), on October 15, 1862 to a 20 year old Scottish Immigrant named Agnes Ross. They were married at Wattle Flat in New South Wales, about 145 miles West of Sydney. Wattle Flat was one of the early gold mining towns but we do not know if it was gold that took William to Australia.
William and Agnes had a total of eight children. Louisa, the eldest, was born in 1864 in Ballarat, another gold mining town, in Victoria. The next child, Donald Ross was born in 1865 in a place abbreviated alternatively as Bull or Bung. He died at age 8 months. The next son, William Henry was born in 1870 in Bark (probably Barkly, West of Bendigo or else Barker's Creek, near Castlemaine, South of Bendigo and North of Ballarat). The next son, Alexander, was born in the same place in 1872. Another son John was born in 1875 but died at birth.
William and Agnes' Family Tree (in .pdf format)
By 1878 the family was living in Echuca, a little to the East of Bendigo on the Murray River. There they had their second daughter Florence Agnes (known as Agnes) in 1878 and son Arthur Angus in 1880. In 1885 they had their last child, Albert Charles in Collingwood, near Melbourne.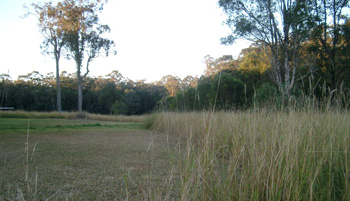 The approximate site of William and Agnes' land in Cooroy, Queensland, Australia.
In 1891 it appears that William, along with his wife Agnes and younger children Alexander, Agnes, Arthur and Albert all moved up to Cooroy, in Queensland, taking advantage of the government's selector scheme of land grants to willing settlers wanting to set up farms. Cooroy is an Aboriginal word meaning Possum. While there had been some settlement in the area before 1891, the completion of a rail link into Cooroy in 1891 gave settlement a boost. Pictured below is William's application to become a Selector of 160 acres.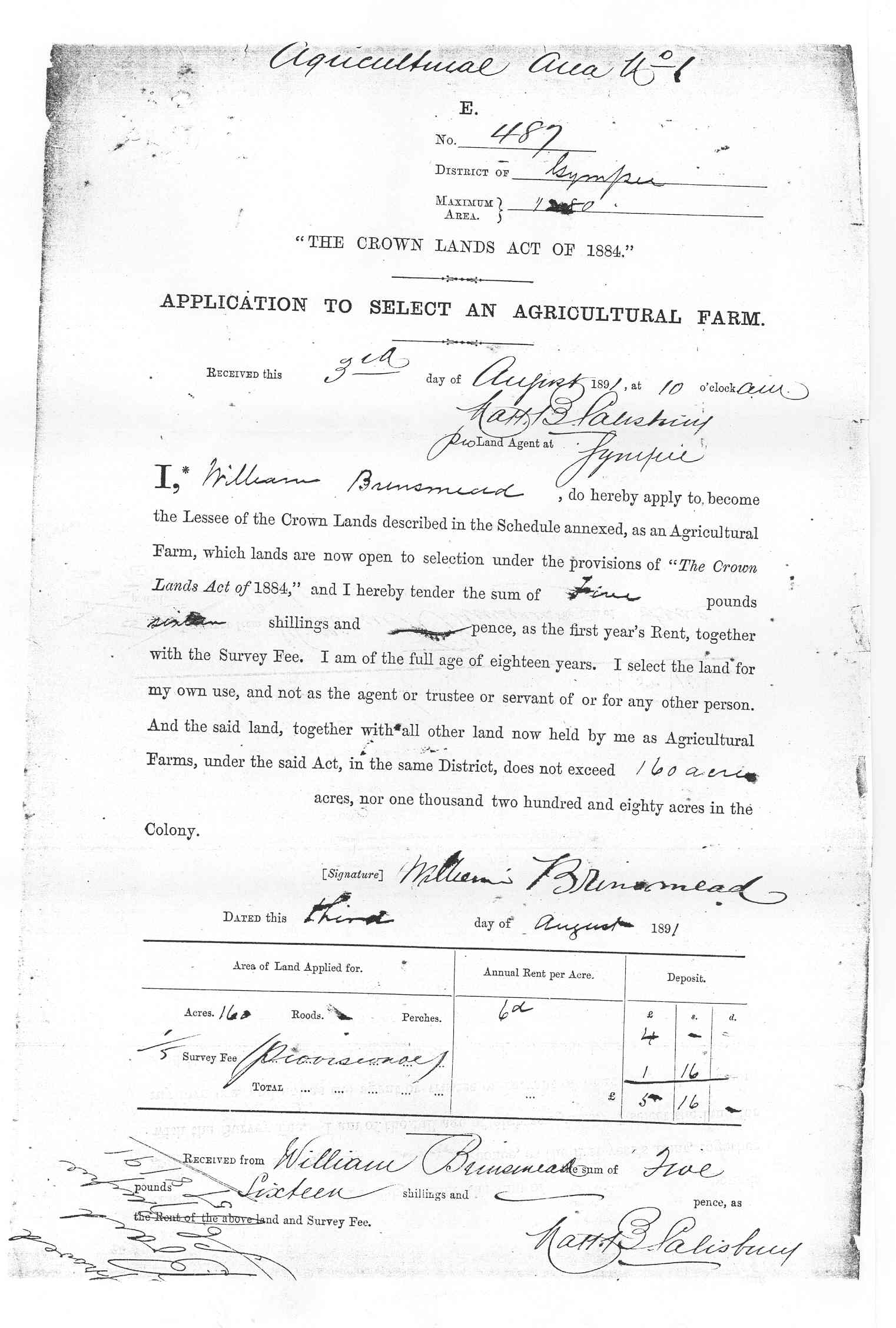 This proved to be a tragic phase of the family's history. About 9 months after leaving Melbourne William became sick, suffering from a cough and asthma and appearing very weak. At the same time, in March or April 1992 he became melancholy and downhearted and started absenting himself from the home. On May 9th, he went missing.
About two weeks later some timber getters advised of a smell in the bush and a search party was organized. Reports were published in the local newspaper, The Gympie Miner between May 20th and 26th.William's remains were found in the bush amid the ferns and the briar scrub, on the edge of his selection lands. The search party consisted of his son Alexander, a neighbour  John Foepel, and a police constable from nearby Tewantin named John Cahill. Their conclusion was that William had taken his own life, although his remains had later been disturbed by dingos. They buried him where he was found. A coroner's inquest, held on May 25th, 1892 came to the same conclusion.
Alexander told the coroner that his father was a Spiritualist and that this appeared to have a great hold on him. He was a sawyer by trade. He advised that his father had no quarrel with anybody.
This event appears to have had a devastating effect on Agnes, because on May 21st, 1892, she was admitted to the mental asylum at Goodna near Brisbane. She was described on admission as extremely weak in bodily condition and suffering from melancholia. After a month or two the acute symptoms of her mental condition subsided but she sank into a state of passive dementia which lasted for the last four years of her life. She eventually succumbed to pneumonia at about 10:40 at night on February 17th, 1896.
The reports to the Land Commissioner over the 1892-1893 show that William had erected a bare hut on the land, worth an estimated £5. However, after William's death, the land was reported as abandoned and the house and fences tumbled down and dilapidated.
Insight on what happened to the young family is available from the hospital files. They wrote to the neighbour Mr. Foepel, and to Alexander, to see if the family had any funds to support Agnes. Alexander wrote back on July 3rd, 1892 saying (spelling intact):
Dear Sir;

In answer to your letter which I received Friday last in regards to my mother I have studded your rules of the Asylum as reguard my age I was born in 1873 leaving me 19 years of age at present I have two brothers depending on me their age is one 7 and one twelve years of age the name of the eldest Arthur Brinsmead the youngest Albert Brinsmead also one sister aged 11 stoping with a friend of mine at Cooroy in regards to my occupation Im a general Labourer I have no standing wage through the same cause Im very sorry I cannot subscribe to my mothers support my fathers Death came on expectevely leaving us with bear sufficient means to pay our fares to Melbourne where I am stopping at present is my sister Mrs. L Greenway I hope this will find my mother on her way to recovery I would be very glad to receive all information concerning my mothers mind or at the extent of time she will remain in the Asylum from you I have the honour to be yours sir

Alexander Brinsmead - No 17 Lynch, Carlton - Vic Melbourne
The neighbour added some additional information in her reply. She described there being 160 acres of land, but with only one rent paid. It had one half acre of garden nearly fenced and a bark hut of no value. Alexander sold the furniture to take himself and his brothers to his sister's place in Melbourne. She described 6 children in all, 4 boys and 2 girls including a married daughter and two grown up sons. She believed Agnes had two brothers who were large farmers in Victoria, one of whom was named Alex Ross of Koorek, Victoria (this is probably Koorah, East of Bendigo).
William and Agnes' Children
As to the next generation, we know Louisa married Fred Greenway in 1887 and lived in Melbourne at 17 Lynch, Carlton in 1892. By 1903 they were at 89 Neill St, Carlton and stayed their until at least 1924. Fred was described as a labourer and Louisa as engaged in home duties. We have not found any record of children and Louisa died in Carlton in 1927. William Henry died in Cheltenham, Victoria in 1933 and we have no information about his life at all.
Alexander married Annie Susannah Hill in 1901. In 1914 they were living at 66 Bellair Street, Kensington; he was working as a driver and she at home duties. She died in Surrey Hills, Victoria in 1931 and he died in Heidlberg, Victoria in 1944. The had one daughter, Eleanor Jessie May born in 1903.
Agnes married a Thomas Meades in 1900 and died at age 32 in Melbourne East in 1910. There appear to have been four children of the marriage. The circumstances of her death were recorded in the Argus newspaper on August 31st, 1910, following an inquest. She died on August 24th, 1910 from pelvic peritonitis. The report described husband Thomas as a hotel worker, and said the couple had been married for ten years and had four children.