James and Harriet Brinsmead
James qualified as a pharmacist in Great Britain in 1868. James Brinsmead and his wife Harriet (nee Pyrke) left England for Australia in June of 1879, a few months after they were married. The undertook a 120 day trip from London to Melbourne on the  wool ship Mermerus run by the Golden Fleece Line. It only carried 15 passengers including James and Harriet Brinsmead.
James was born in St. Giles in the Wood in Devon in 1845. He was baptised Thomas James Brinsmead, the son of Thomas and Emily Brinsmead (nee Cock). We know little of his early life. He appears on the 1851 census, age 6, a scholar, living with his parents on the main street of St. Giles Village.  He apprenticed to a chemist in Great Torrington named Fowler in about 1862 and received his liscence to practice. Later correspondence tells us he spent seven years in Italy and "knew France from the Channel to the Mediterranean". In 1878, still a bachelor at 33 years old, he married Harriet Pryke, a 33 year old widow, (born in 1836 as Harriet Bury) in Lambeth, London, England. They were married at St. Matthews Church, Brixton. His residence is listed as Paris. By then he had taken his training as a chemist, because he is listed as such on the marriage certificate and on the ship's passenger's list shown below.
 

Once in Australia, James Brinsmead set himself up as a dispensing chemist. We have little indication so far of where James first settled. The Argus, from Melbourne, reported the approval of his registration as a pharmacist, based on his British registration, on July 11th, 1879. By 1883 he was himself appointed to sit as Examiner on the Pharmacy Board (Argus, 16 November, 1883). His address in 1885, according to the British Society's Register was 14 Andrew Street, Melbourne. We do know that he ran chemists shops in both Traralgon, a country town East of Melbourne, and in St. Kilda, just to the South of Melbourne. An account of Traralgon in 1908 speaks of the shop of James Brinsmead being located on the corner of Franklin and Seymour Streets.
James Brinsmead's chemist shop in St. Kilda, in the Ripponlea area, is said to have been built by him in 1913 and rebuilt as a showpiece in 1918 by a Frank Damyon. It is still an operating pharmacy, now known as S. Rosenblums. Brinsmead's Pharmacy was restored with the help of Heritage Victoria. They describe it as one of Victoria's finest chemist shops on account of its shop front and fittings. They say "Leadlight was a common feature of commercial retail buildings built early in this century but rarely was it deployed so extensively and  with such skill as in this instance."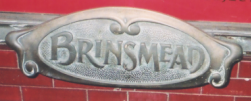 Fragments of Brinsmead's original signage and insignia remain and the leaded glass work is indeed magnificent.  The names is still laid out in tile on the front door, and a cast nameplate still identifies the original owner. A fragment of an old advertisement remains on the side wall, despite repainting and the inevitable efforts of graffiti artists.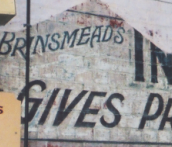 The appointments inside the shop are also true to period and well preserved, although we were unable to take photographs.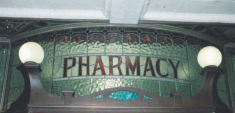 James Brinsmead wrote often to the newspaper, expressing his point of view on many topics, ranging from the origin of the name St. Kilda (Argus, 16 September 1884 - where he refers to an old friend writing from Torrington, showing he kept in touch with his roots) to Profitable Poultry (Argus, June 19, 1899). In 1903 he was advocating the use of English Starlings to curb the caterpillar pest (Argus, December 28, 1903). In 1909, he wrote to disparage the idea that Sicilians should be brought to Australia, describing his own 7 years in Italy, and the ills brought about by blackmailing secret societies like the Mafia.
Brinsmead's Pharmacy advertised extensively in the regional press. This advertisement appeared in the newspaper in Geelong about 100 kilometers away.  It suggests James may have acquired a few languages in his time. Like other pharmacies of the time, Brinsmeads also used their own glass dispensing bottles which, today, are collectors' pieces.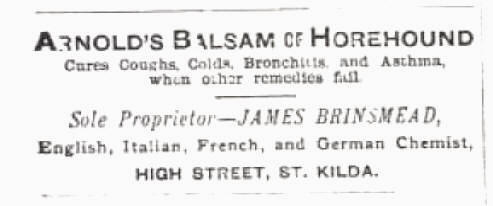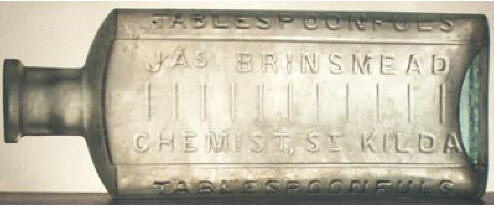 By 1907, James Brinsmead was serving as a Justice of The Peace in Traralgon.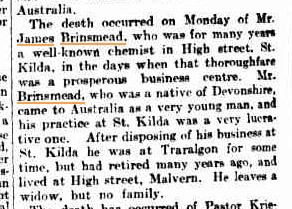 Death Notice in the Argus, May 25th, 1916.
James Brinsmead died in 1916 in Fitzroy South, Victoria (Victoria Great War Index, 1916 Reg. No. 5853). Harriet died in October, 1921 in Malvern East (Victoria Great War Index, 1921 Reg. No. 14658, Age 85). There were no children. At the time she lived at Denton, High Street, East Malvern. Her estate was divided between her four nieces (Argus, December 20th, 1921).