Brinsmead Migrations to Australia and New Zealand
New Zealand
Australia
Coming Soon
Reuben and Louisa Brinsmead
Henry and Jemima Brinsmead
CJ and Laura Brinsmead
The Barker Family
John Brinsmead from Exeter
More Australian Brinsmeads
Frank Hearn Brinsmead
Frank Hearn Brinsmead was the fourth child of Thomas Edward Brinsmead, a piano maker who at one time worked in the James Brinsmead and Sons. factory in London. He was born in 1873 in St. Giles, Middlesex, England in North London. On the 1881 census, at age 8 he is a student living with his parents at 36 Ashdown Street, St. Pancras. In 1900, at St. Pancras, in London, he married Fanny Nichols Dench born 1875 in Brighton, in Sussex, England.
In the 1901 he is listed at  4 St. George's Rd, St. Pancras as a baker and bread maker. The bakery business obviously did not go as well as it might, because on January 11th, 1905 the Times of London reports that he was adjudged bankrupt. His address at the time is listed as Stibbington Street, Clarendon Square, Somerstown, London N.W.
At some point between 1905 and 1913 Frank Hearn Brinsmead and his wife Fanny decided to emigrate to New Zealand. We know the latest possible date because we know he encouraged his younger brother Victor to join him there. Victor and his wife left England in 1913 planning to go to New Zealand but disembarked  in Hobart in Tasmania and settled there instead.  They did however visit each other as shown in this picture of Frank and his wife, known as Queenie (back row couple on the right), in Tasmania with his brother's family in 1930.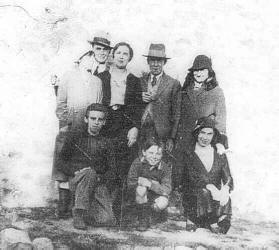 During World War II, Frank was enlisted in the Second Reserves, and lived in Manurewa, Manuau. New Zealand Cemetery Records show that Frank Hearn Brinsmead died on September 7th, 1934 and he is buried in the Church of England Cemetery at Purewa, Auckland. His wife Fanny died on August 18th, 1964 and is buried in the same place as Frank. As far as we know, the couple had no children.