Rev. Keith Brinsmead
THE DAILY TELEGRAPH −SATURDAY, JANUARY 22, 1994

THE REV. KEITH BRINSMEAD, who has died aged 87, was awarded a DSO in September 1943 at Salerno, where he commanded a battalion of Royal Engineers in the assault.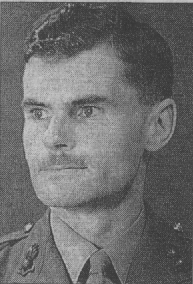 While the battle was in progress, and there was a chance that the Allies might not be able to consolidate their landing, Brinsmead was astonished to be approached by the mayor and council of Salerno, who insisted on surrendering the town and port to him. Brinsmead protested that, as a major, he was hardly the right man to accept responsibility for some 150,000 people, but his arguments were to no avail.

A year earlier he had been mentioned in dispatches when commanding 573 Field Company Royal Engineers in the battle of Alamein. His unit was required to clear a 16-yard-wide gap in the German minefields so that tanks and infantry could pass through.

The Germans, aware that a British attack was impending, had buried a variety of mines in front of their positions. The sappers crawled forward in the dark, hoping that the moon would not betray them to the German snipers, and then delicately poked in the sand until the mines could be lifted out.

Underneath some of the mines others were buried, primed to explode when the upper ones were disturbed.

Lifting them out required nerves of steel, sensitivity of touch and considerable technical knowledge. The cleared path was marked by white tapes and shaded lights.

Periodically the whole area was swept by enemy fire, killing the sappers and destroying the markers. At the height of the barrage one of Brinsmead's men crawled up to him and said: "I hope it doesn't thunder, sir, or I'll be really frightened." Brinsmead recalled it did wonders for his morale. The team finished their task ahead of schedule.

Keith Brinsmead was born on May 3 1906, into a well-known piano-making family, and after education at Uppingham and Imperial College qualified as a civil engineer. He then worked for the railways on bridge- making projects. A Territorial since 1930, he was called up into the Royal Engineers in 1939 and then fought in North Africa and Italy.

After the war he returned to civil engineering, working for what had become the nationalised railways, and took a prominent part in fighting the floods in East Anglia in 1953.

In 1978, at the invitation of the Bishop of Salisbury, he was ordained; he ministered to the parishes of Ebbesbourne Wake, Fifield Brabant and Alvediston, in Chalke Valley.

He married, in 1940, Nance Golden, who died in 1990; they had one daughter.