Lt. Col. John Charles Brinsmead
John Charles Brinsmead was the sixth child of William and Andrea Brinsmead. He was born on November 27, 1910 at Fort Robinson, Nebraska, USA. His father William was a senior officer in the US Military bands (Chief Musician, 8th US Cavalry Band). John Charles served in World War Two, and enlisted once again in 1947 for the Korean conflict. He was killed in action in Korea, at the Naktong River, near Anshu, on September 27, 1950.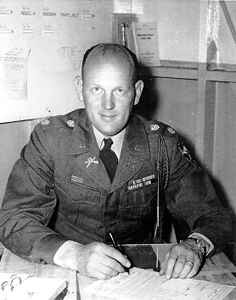 In 1920, John was living with his family at Woodman, Jefferson County, Washington. In 1930 he was still at home, living in Port Townsend, Washington. John attended the University of Washington, in Seattle, in 1936. There he enrolled in the ROTC program.

Early in his career, John worked in the restaurant industry, managing restaurants for the Manning Co. and the Green Apple Restaurant. It was in this capacity that he met Blanche Missiaen. Her sister Alice worked as an employee of his while attending business college. She introdued John to her sister Blanche.

Blanche Missiaen was born in Winnipeg, Manitoba, Canada on January 18, 1913, one of seven children. He family moved to Bellingham, Washington where he graduated from Whatcom High School. She took training as a nurse at the Virginia Mason School of Nursing where she continued to work as a nursing supervisor prior to her marriage.

John and Blanche were maried in Seattle on June 10, 1941. The couple had three children; Alice Ann, Andrea and John. They lived in the Beacon Hill area of Seattle.

Like his father before him, John Charles decided to join the army. He was called into active service in June, 1941 and assigned to infantry training at Fort Benning, Georgia. There, he received a promotion to the rank of Major.
In the Korean war, he served in the 23 Infantry

Regiment, 2nd Infantry Division. His service number was O-0042715. He was awarded the Silver Star and the Bronze Star. During that tour of duty he achieved the rank of Lieutenant Colonel.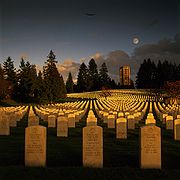 John Charles Brinsmead is buried in the Veterans' Memorial Cemetry in Washelli, Seattle.

Blanche Brinsmead did not remarry. She was active with her children and grandchildren, and was a member of the congregation of St. Peter's Parish and, later in life, St. James' Cathedral. She died on September 16, 2000 after a long battle with cancer.