Life in London
The largest contingent of Brinsmeads in America stem from the decision of William Brinsmead to leave London with two of his sons, William and Arthur. They appear to have left London after some family tragedies, and William Senior did not fare well in New York.
William Senior's father, Henry Brinsmead, was born in Weare Giffard, Devon, the son of Henry and Elizabeth Brinsmead. He was the older brother of John Brinsmead. Grandfather Henry Brinsmead moved to London where he entered the piano trade. Younger brother John followed, and for a year they worked as partners. They split, somewhat acrimoniously, and each went their separate way, each making "Brinsmead" pianos. There can be no doubt that John was the more vigorous entrepreneur.
The elder brother Henry had four children; three by his first wife Charlotte Hancock (Mary Ann, Henry and William) and one by his second wife Mary Ann Gladstains (Alice). Charlotte died in 1858 when their son William was 18.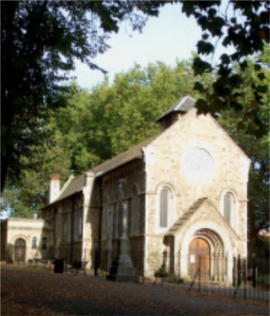 Son William, born 1840, married Mary Ann Williams at St. Pancras Old Church in 1866. Together they had six children: Henry, born 1868, William, born 1869, Arthur, born 1871, Ella Mary, born 1873, John Charles, born 1876, and George, born 1879.
The tragedy began when Mary Ann and George died in 1880, as a result of complications of childbirth. William Senior was left with five young children ages 12 - 4.
In the 1870's in an effort to acquire sole use of the name Brinsmead in connection with the sale of pianos, the partnership of John Brinsmead & Sons had purchased the interests of Henry Brinsmead and obtained a commitment that he no longer manufacturer or market pianos using the family name. Henry retired to the South Coast.
Emigration to New York
William decided to leave England for America. He took the two young boys, William and Arthur, with him. The other three children, in the 1881 census are living with their Grandparents, Henry and Mary Ann Brinsmead in Holdenhurst, Hampshire. Little is known of William's time in New York but he appears have died in 1882. Son William, many years later, wrote the following about what happened.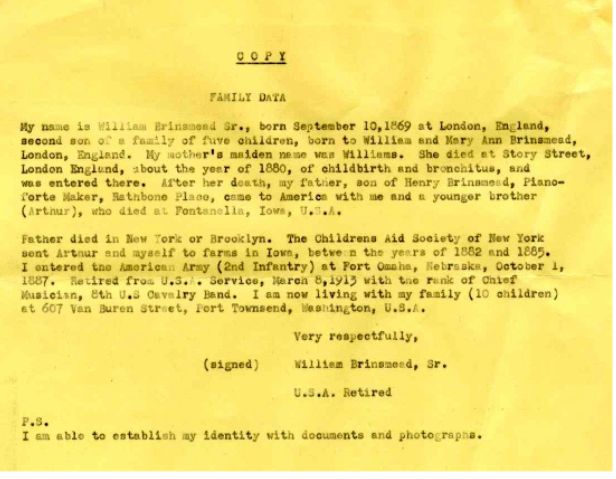 Brian Huseland, a great-grandson of William, wrote to the Children's Aid Society of New York to find out what records they had about both William and Arthur. They were able to say that William Brinsmead attended at their New York Headquarters on November 15th, 1881. At the time he was living at 121 3rd Avenue, New York. He signed consents to have the boys sent on the "Orphan Trains" to families in middle America. There replies tell the following stories.
Arthur Brinsmead
(1871-1894)
The Society provided the following information on Arthur's life and untimely death:
Arthur Brinsmead, 10 England, H.Q. Goes West with E. Trott. Placed with J.A. Moore – Fisk P.O., Adair County, Iowa. Visited February 28, 1882 and on April 29, 1882, Mr. Moore writes that Arthur is going to school and is very happy. The (CAS) visitor wrote on July 20, 1883 that Arthur was well, going to school and is well satisfied. He would like to hear from his father. Visited by Mr. Fry (CAS staff member) February 1884, who reports Arthur is still in his place and is doing well. February 27, 1884, Arthur writes that he is well and likes his home very much. W November 19,1885 W February 28, 1889.
On March 13, 1889 Grant G. Oliphant, Fisk P.O., Iowa writes that Arthur is now making his home with Mr. M. Tiffany's family, in Fontanella, Iowa. Mr. Oliphant also states that Arthur was seriously hurt while jumping from a horse on Monday, March 11th. The horse was running and Arthur in some way came in contact with a tree. He crushed his parietal bone on the right side very badly and also cracked his skull around to the base. Death may result at any time.
Mr. and Mrs. Tiffany are very fine people and are doing their utmost for him as far as kindness, treatment, etc. are concerned. Any aid that kind friends with willing hearts and money can bestow are given to him. Arthur has many warm friends who are willing and anxious to render any needed comfort. Mr. Oliphant wishes us to inform him of Arthur's people. April 22, 1889. See attachment of William on page 153.

Arthur has recovered and is farming, March 12, 1890. William writes that Arthur is doing well. W. April 21, 1891. Letter of April 12 returned on May 15, 1891. Wrote May 10, 1894. August 25, 1894 Mr. D. Moyer of Fontelle [sic], Iowa, writes that Arthur died on the 22nd of August of diabetes. He was sick but 24 hours. During the last summer, he hauled milk to the creamery and lived with Mr. Moyer at the time of his death.


William Brinsmead
(1869-1936)
William's life, once he entered the US Army, and that of his family, is
described on another page
.
As with Arthur, the Children's Aid Society of New York was able to provide some early details of William's life: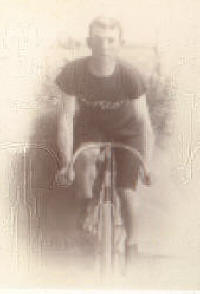 [William] g

oes West with E.H. Trott (CAS staff member who took children to homes in the West). Placed with L.F. Morical, Sidney, Freemont County, Iowa. A home visit was made on January 14, 1882, and the initials of a CAS local visitor appears before July 20, 1883, meaning a home visit was made again. A letter was written December 5, 1889 and another on March 19, 1889 [sic]. (We don't know if William wrote to CAS or visa versa).
On April 22, 1889, Mr. Morical wrote from Stuart, Iowa that William is a soldier and a musician in Company D, of the 2nd infantry at Fort Omaha, Nebraska. He enlisted for five years, has served two, and is well satisfied. He heard from Europe that his father is dead. William came to see his brother who was hurt, but has since recovered.
March 20, 1890, William writes that he is in the Army and likes it very well. He says any young man can do well if he behaves himself. Plays in the band and get(s) $13 per month. Says his brother is doing well.
W. October 20, 1891. W. November 12, 1895. Again, we don't know who wrote, William or CAS. We suspect that William wrote to CAS to inform us how he was doing.
That is the extent of the record [for William].
William's Other Children
As noted above, William left three other children in England with his parents in Hampshire.
Henry Brinsmead, born 1868, stayed in England and married Rose Phoebe Martin in 12892. Phoebe died in 1897 and Henry remarried, to Elizabeth Harriet Harpham in 1898.
Ella Mary Brinsmead, born 1873 also came out to America. In 1891, at age 17, she is located at the Brixton Orphanage in Lambeth, Surrey, England. However, by 1895 she is in Munroe, Iowa. In 1906, Ella married L. Lewis Baker in Page County, Indiana. She died in the US in 1957. Ella's life is described on another page.
John Charles Brinsmead, born 1876 emigrated from England. In 1906 he is living in the small prairie village of Antler, Saskatchewan, Canada. We have been unable to discover what became of him after that.