English Childhood
Ellen (Ella) M. Brinsmead, born October 26, 1873, was the only daughter of William Brinsmead and Mary Ann Williams. Her mother, Mary Ann, died of bronchitis and complications of childbirth when Mary Ann was just seven. Shortly after that, her father left England for America, taking two of her brothers, William and Arthur with him.
Mary Ann and her two other brothers, Henry and John Charles, were left with William's parents Henry and Mary Ann Brinsmead who lived at Ada Villa, Holdenhurst, Hampshire. Henry died in 1886 and Mary Ann died in 1890. The census in 1891 lists Ella as living in the Brixton Orphanage in Lambeth, Surrey, England.
Move to America
At that time, her two brothers in America were both doing well on farms in Iowa. We do not know exactly when and how she travelled, but according to the 1900 census, Emma arrived in America nine years earlier (1891). The return says she arrived in 1901 but, on a 1900 return, that can only be a mistake. The 1910 census suggests she arrived in 1896, but this conflicts with the Iowa census of one year earlier.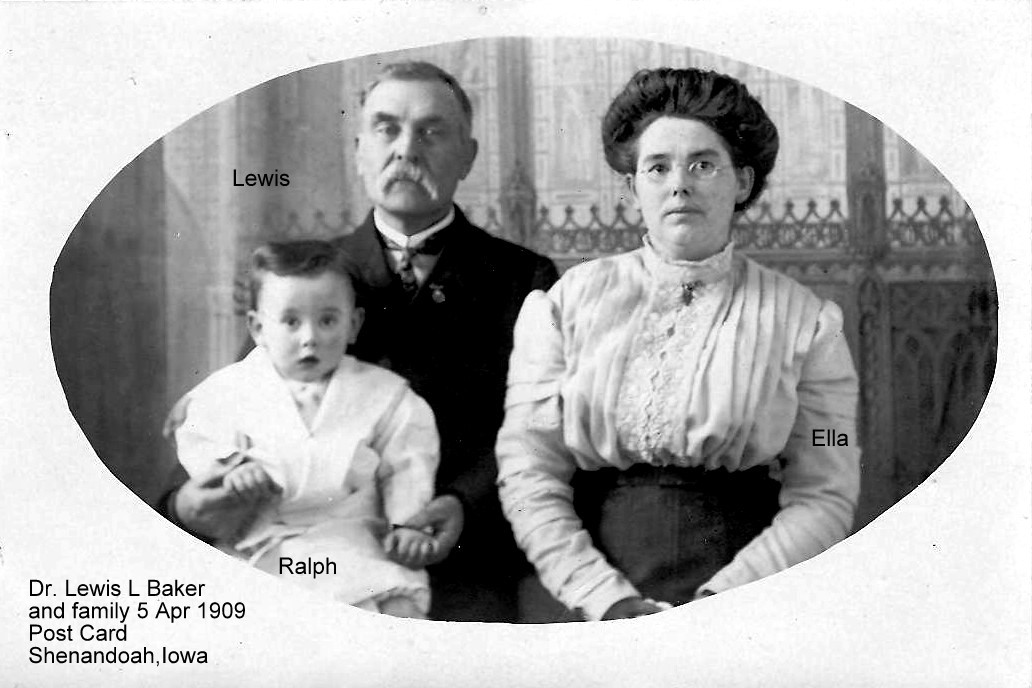 The 1895 Iowa census shows Ella living in Munroe, Iowa. In 1897, Ella married Dr. Lewis L. Baker. He had grown up in the area and was about 20 years her senior. Ten years later they had a son Ralph Marlen Baker, born at Imogene, Iowa, on April 5, 1907.
Dr. Lewis L. Baker
Lewis Leland Baker was born in Canton, Illinois on June 5, 1854, the son of Robert Nevel and Pruella Rose Baker. He had two brothers, Levi and Mattias. In 1867 his family moved to Shenandoah, Iowa where they engaged in farming at Tarkio, just a few miles south of town. In 1892, Lewis graduated from the Northwestern Medical college in Chicago with an MD and began practicing as a physician.
He practiced medicine in Imogene, Silver City and Shenandoah. At one point he took up the practice of homeopathic medicine. An account by a younger family members suggests that he gave up the practice of orthodox medicine when he was unable to save his brother Levi when he suffered a heart attack and died.
Death and Descendents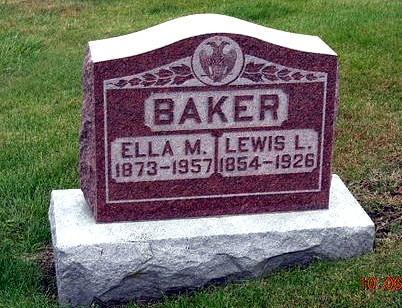 Census Records show that in 1910 the family lived at Maier Street, Monroe, Fremont, Iowa and that Dr. Baker ran a family practice. On the 1915 Iowa census they are in Silver City, Mills, Iowa and Dr. Baker is listed as a homeopathic medical doctor and MD. In 1920 they are at Shenandoah, Ward 1, Page County, Iowa.
Lewis Baker died on March 26, 1926, in Shenandoah. In 1930, Ella is living in the same location, but with her son's young family with her. Ralph M. had married a woman named Palme, of Swedish origins but born in Nebraska (apparently the state, although there is a Nebraska Iowa). They has a son, Ralph L. who was 19 months at the time of the census. At age 84, Ella died on December 18, 1957, in Columbia, Missouri. She is buried with her husband at the Rose Hill Cemetry, Shenandoah, Iowa.