The Village of Weare Giffard, Devon, England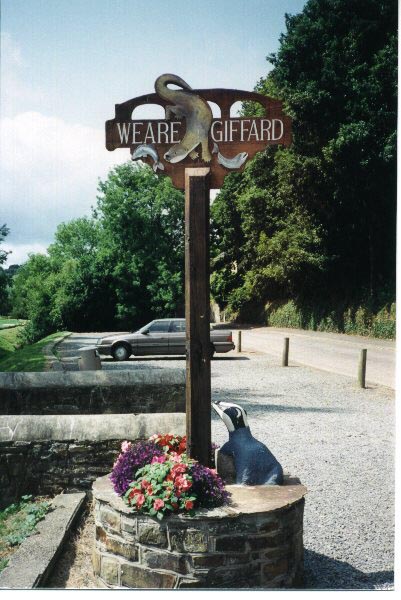 The Weare Giffard sign post next to a park by the river that runs along the length of the village. This sign marks the village as part of the Tarka Way, a scenic walkway extending throughout the North Devon area.
Weare Quay is a part of Weare Giffard village. In earlier times, the quay played a major part in the life of the village since the river could be navigated from Bideford down to Weare Giffard. Later, with the building of the Rolle Canal, boats could carry goods on down to Great Torrington. For 32 years, Robert Brinsmead was the managing clerk on the Canal. See the article in The North Devon Journal.
We have copies of the census records for Weare Giffard for 1841, 1851, 1861, 1871, 1881 and 1891. Please e-mail us if you would like us to check an entry.
The Brinsmeads ran a public house in the Village called the Anchor, sometimes the Blue Anchor in the 1820's. It is no longer standing. It is said to have been shut down, along with other public houses, as a result of poaching for salmon in the river. The Brinsmead family farmed at the far north end of the village at a farm called Allspill. They also burnt lime, and the kilns can still be seen.
---
Hugh Brinsmead - Hugh's Family - The Canadian Family Tree - West Country Roots - Meeting the Relatives - John Brinsmead - Guest Book - Links - Home - Site Map
---