Thomas Edward Brinsmead
The most prolific line of Brinsmeads remaining in England consists of the descendents of Thomas Edward Brinsmead and his wife Mary Ann Stanley. Thomas Edward Brinsmead was born in Bideford, in Devon, in 1840, the eldest of two children of George Brinsmead and Mary Howe. George was a younger brother of Henry Brinsmead and John Brinsmead who went to London to make pianos. George was a sailor and moved from Weare Giffard to nearby Bideford.
Thomas Edward was born on June 9, 1840 and until at least age 12 lived with his mother at 87 Honestone Lane in Bideford where she carried on business as a flour dealer. His father George had become bankrupt and apparently desserted the family home.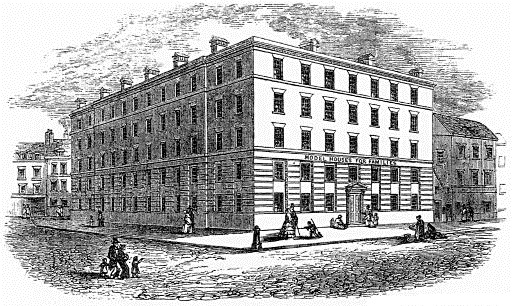 Thomas Edward had moved to London by 1861. The census for that year records him living at 14 Russell Place, St. Pancras, with his Uncle and Aunt Edward Walter Holman and Jane (nee Brinsmead) and their family. Jane was a younger sister of his father George, and thus a sister of John and Henry Brinsmead who were already in London and in the piano trade. Edward Walter Holman was a piano manufacturer in his own right, operating, perhaps with a brother, on Grafton Street, Fitzroy Square. Thomas, by then age 21 is listed as a piano maker, presumably at the time with uncle Edward Walter.
In 1868, Thomas Edward married Mary Ann Stanley at St. Martins in the Fields. Mary Ann came from the village of Winchfield, near Hook, in Hampshire.
Sometime during the 1860's Thomas Edward obtained work in his uncle John's piano works as a mechanic working on the wooden components of the pianos. At the time of the 1871 census, Thomas and Mary Ann where living with their two young children, Edward, age 2 and Carolyn, aged 11 months, in the New Model Lodgings on Streatham Street, Bloomsbury. These Model Lodging Houses have an interesting history, built by philanthropic organizations for the benefit of the working classes.
At the time of the 1881 census the family lived at 36 Ashdown St, St. Pancras. By then they had six school age children and two infants. Ten years later, by 1891, the family had moved to 19 Weedington Road, St. Pancras to what was to become the family home for many years thereafter. By then, the oldest son Edward George Stanley Brinsmead had married his wife Agnes Jane Abraham and she too was living with the family.
Thomas Edward Brinsmead (1840-1917) and Mary Ann Stanley (1856-1926), married in London in 1868. The pictures are circa 1909.
The 1890's were a devastating decade for the family. The full story is too complex to be told here, and details can be found elsewhere on this site. Basically, father Thomas Edward along with sons Edward George Stanley and Walter Sydney were all summary dismissed from the John Brinsmead and Sons firm where they worked. Thomas Edward's cousin Thomas James accused the three of them along with a fourth man, Albert Joseph Willcox, of making pianos on the side to sell for their own benefit. They denied this was true, maintaining that they only made two pianos on their own time and for their own use.
Out of work, the four of them set up a small piano manufacturing shop and went into business, calling their firm "T. Brinsmead and Sons." The John Brinsmead firm took exception to their use of the name and obtained an injunction in the High Court. Not long after, with the involvment of a couple of people from the investment world, "Thomas Edward Brinsmead and Sons" was incorporated.
Advertisments were taken out in several newspapers offering shares in the newly incorporated firm. Even though the firm had only a few hundred pounds worth of assets, shares amounting to £100,000 were put on the market at £5 each. Many people subscribed, including a James William Rchardson. Richardson had been put up to buying shares by the John Brinsmead firm who believed the incorporation and sale was a sham, implicitly holding out to potential investors that it was the old and established firm in which they would be investing. The John Brinsmead firm applied for a further injunction limiting the use of the Brinsmead name. Richardson took steps to have the Thomas firm wound-up and eventually put into bankruptcy. Much litigation followed between 1896 and 1899.
As a result of all the litigation and the facts thus revealed, the Crown commenced criminal proceedings against those involved in the promotion and sale of the shares in the Thomas Edward Brinsmead and Sons Limited company. In 1896 fraud charges were laid against Thomas Edward Brinsmead and the financial people involved; Ernest Ainsworth, Henry Bernard, William Kaye, Francis Jordan and Edwin Ballantine. These people operated two firms; Consolidated Contracts Corporation and Consolidated Exploration and Finance Company. The matter was taken so seriously by the Crown that when the tiral opened on May 8, 1898, The Solicitor-General Sir R.B.Finlay Q.C. appeared in person to conduct the prosecution. On May 7, 1898 the jury found all the defendents guilty but recommended the defendents Brinsmead and Jordan to mercy.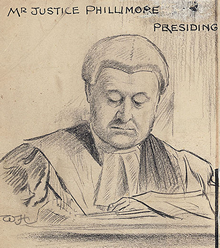 Mr. Justice Phillimore, in passing sentence, suggested that Thomas Edward Brinsmead had been guilty of allowing his name to be used to decieve the public and injure his former employer, "he did not appreciate fully the whole fraud in which he took part". He sentanced Thomas Edward Brinsmead to six months' imprisonment with hard labour, while the instigators if the fraud each received five years' penal servitude.
It is said that, as John Brinsmead lay dying, he summonsed his nephew Thomas Edward to make peace with him, but that Thomas refused to go. He remained broken and embittered by his treatment at the hands of his Uncle and Cousins for the rest of his life. Members of Thomas Edward's family urged him to go but he refused. Thomas Edward Brinsmead died on April 29, 1917. Mary Ann lived to be 83. She died in 1926, still living at 19 Weedington Road along with her daughter Caroline.
Thomas and Mary Ann had twelve children, of whom eleven were still living in 1911. Two died in WWI and three emigrated, one to New Zealand, one to Australia and one to Canada and then Hawaii. Two daughters did not marry. For those with descendents, we have included privatized "mini-trees" since this branch the family is so large. We invite additions and corrections.
Edward George Stanley, born 1869
Edward George Stanley Brinsmead was the couple's first child. He grew up in the family homes in St. Pancras. Once he left hom, he went to work in the John Brinsmead & Sons piano factory. In 1890, he married Agnes Jane Abraham. Along with his father and brother he was dismissed in October, 1894 after which they set up making pianos on their own account.
The couple had five children; Stanley (1892), Albert Edward (1894), Florence (1896), William George (1899) and Frank (1907). Agnes Jane died in 1909. In June the next year, Edward, obviously left with a family the youngest of which was only two, remarried, this time to Agnes' younger sister Edith Annie Abraham. By 1911, Edward's mother-in-law Jane Abraham was also living with the family in Crouch End.
Edward's son Stanley went into the piano trade making his own brand of Brinsmead piano's. The youngest son, Frank became estranged from the family in his teen years. He left home and from then on used the name Frank King. As far as we know he never had contact again with his family.

Carolyn, born 1870
Carolyn worked as a dental tooth maker. She remained single all he life, living with her step-mother during her widowhood at the family home at 19 Weedington Road. After her mother died her sisters Mable and Violet moved into the house. At the end of her life she lived at the Islington Institution.
Sydney Walter, born 1871
Sydney Walter, the second eldest son, was born in 1871. Like his brother before him, once he left school, he went into the piano trade at Brinsmead's. Also like his father and brother, he was summarily dismissed in October 1894 (at age 23) and joined them in the new family venture. He too became caught up in the lawsuits and charges that followed. In 1897, Sydney Walter married Annie Elizabeth Barton. They moved into a house just a couple of doors down from his parents at 23 Weedington Road, St. Pancras where she had lived prior to marriage.

Frank Hearn, born 1873:
Frank Hearn Brinsmead trained as a baker. He married Fanny Dench in 1900. As far as we know they had no children. After experiencing bankruptcy in London, he and his wife emigrated to New Zealand. Their story is recounted on a separate page.

Thomas Henry, born 1875:
Thomas Henry was for many years the most elusive of Brinsmeads. He lived with his parents at the time of the 1881 and 1891 census He married an Annie King in St Pancras Regn. District (Jan 1/4, 1896 1(b) 204).   However, Thomas Henry is not to be found in the 1901 English Census records.  Annie Brinsmead is living with his parents at 19 Weedington Road, St. Pancras.  She is listed as their daughter-in-law.  Also living there are two grandchildren, Frank Brinsmead (age 4) and Beatrice A. [Annie] Brinsmead (age 3) Beatrice was the daughter of Sydney Walter. Young Frank died in 1902. It is perhaps significant however that when Edward George Stanley's son Frank left home in his teens, he changed his name to Frank King.
Thomas Henry in fact left England for Canada in 1905. At first he tried without success to cross into the US. He later found work as a lumberjack in British Columbia. He then left Canada and spent the rest of his life in Hawaii. His life is detailed in the pages dealing with US migrations.

Alfred Ernest, born 1877
Alfred Ernest married Florence Smith. A trained aviator, he was killed in the last few weeks of World War One, leaving a widow and six children; Lillian, Ernest, Alfred, Arthur, Harold and Edith. Alfred Ernest Brinsmead is featured in a "Brinsmead Biography".

Cecil John, born 1878
Cecil John Brinsmead was born in Bideford, Devon, in 1878 although his birth was registered in St. Pancras.. He lived with his parents in St. Pancras until he went to sea at about age 18. As a result, he is not to be found in either the 1901 or 1911 census returns although his service, at least until the war, was intermittent. His maritime record described him as 5ft. 5 1/2" with brown hair and light blue eyes. He served on the Pembrooke II, The Gibraltar, the Actacon and the Cyclops. He was demobbed on April 1st, 1919, having served throughout WWI. On July 20, 1916, he married Ada Elizabeth Banks (previously named Muller; perhaps through a name change since she appears not to have been married before).
The couple had three children; John Cecil, born 1899, May Constance, born 1911 and Lillian Dorothy born 1914. He worked at times as a gardener and at other times as a woodworker. In 1914 the couple were living in Hornsey, at 5 Preston's Court. They later lived at 90 Myddelton Way, also in the Hornsey Harringay area of North London. By 1933 the couple had moved to 13 Rathcoole Avenue, East Hornsey. Cecil John died in 1944 and his wife Ada Brinsmead died in 1951, at age 70.
Daughter Lillian married Fred Clark who was killed at Arnhem in WWII. Lillian then married Ronald Monk and they moved to Australia. John Cecil married Lillian Chapman. May Constance married John Pearce. All three children have passed away but leave living relatives in the UK and Australia.

Frederick William, born 1881
In his early years, Frederick William worked as a French Polisher in the piano trade. On February 3, 1901, when he was 21 years old, Frederick William signed up for the Army, enlisting in the 3rd Battalion, Royal Fusilier. He was described as of sallow complexion, 5' 4 1/2", 120 lbs and brown eyes. Later in 1901, as a Private, he was living in the Hounslow Barracks in London. On April 1, 1901 he was posted to South Africa for the Boer War returning to England for his discharge on June 17, 1902.
He married Florence Mary Lavender in 1903 at St. Martins Church, Kentish Town. They had at least two children; Irene, born 1907, who later married William Pasby and Violet, born 1909, who later married Frederick Pilgrim. In 1911, the family lived at 22 Alcroft Road, St. Pancras N.W. and he worked once again as a Pianoforte French Polisher. For the First World War, Frederick William was enlisted as a Lance Corporal in the Royal Fusiliers and was killed in action during World War I's Battle of the Somme. On Christmas Day, in 1917, his widow Florence married Thomas Moseley, a 41 year old Munitions Worker.
Violet, born 1884
Violet married Stephen Rook in 1908. They had five children, two before the war and three after; Christine Violet, StanleyBrinsmead, Edna B, Eric S. B. and Kenneth B. In the late 1920s the family lived with sisters Carolyn and Mabel at the family home at 19 Weedington Road. Kenneth died at age ten. The other four siblings all married.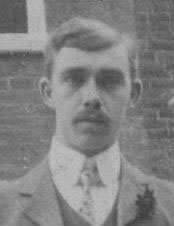 Victor, born 1887
Victor initially hoped to become a lawyer, but became disillusioned with the law after witnessing his father's experiences. He trained as a baker and, in 1907, married Elizabeth Cook. At the urging of brother Frank ,the couple decided to emigrate to New Zealand. However, when their ship arrived in Tasmania, Elizabeth had gone far enough and they decided to stay and settle in Hobart. Their story is told on a separate page.

Mabel, born 1890
Mable remained single. She lived with her older sister Carolyn at the family home at 19 Weedington Road in the 1930's. She died in the Watford Registration District in 1974.