George Brinsmead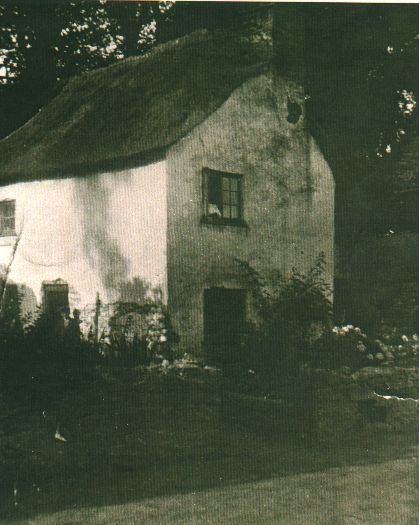 The Brinsmead Home in Wear Quay
George was the son of Henry and Elizabeth Brinsmead of Weare Giffard. He was born in Weare Giffard (Wear Quay) in 1817 and baptized in the Parish church on February 16th 1917. He fell about mid-way in a family o eleven children. His father Henry was the publican for an establishment called "The Anchor" and "The Blue Anchor". Henry also had a farm and a lime kiln located further up in the village, closer to Bideford. The pub is no longer standing and is reputed to have been closed down after a dispute with The Rolle Estate over illegal fishing in the nearby river. The family home is still present, although significantly renovated.
George's life is something of an enigma. We know that George was a sailor, and at one time captained a merchant vessel out of Bideford. George appears to have married twice, but with no record of an intervening divorce. George thus gives rise to separate lines of Brinsmeads.
Two Marriages
George married Mary Howe in Weare Giffard in 1838. That couple has a son, Thomas Edward Brinsmead, and a daughter Emma Howe Brinsmead. Thomas Edward produced a large family and has many descendants. He also figured prominently in Brinsmead family history as the major protagonist in a law suit with his Uncle John. George's second marriage, to Elizabeth Randal, produced the Liverpool Brinsmeads. They produced three children; Thomas Weare Brinsmead, Elizabeth Brinsmead and George Brinsmead.
Marriage to Mary Howe

Extract from the Exeter Flying Post - Wednesday, October 3, 1838. Marriage held on September 25th, 1838.
On September 25th, 1838, at age 21, George married Mary Howe, the daughter of Richard and Mary Howe, in Weare Giffard. Son Thomas Edward was born on June 19th, 1840 at their house on Honestone Lane, which is directly off the bridge over the River Torridge. In 1841, the couple are still living at Honestone Lane. George was listed as a Mariner, but he also worked as a flour dealer. In 1842, the couple had a second child, Emma Howe Brinsmead. We have found nothing about Emma and conclude that she must have died at a young age and that her death was never registered, something not uncommon at the time. By September, 1843, George had gone into bankruptcy. The official notice read:
1843.10.3 GEORGE BRINSMEAD of Bideford, Devon, Retailer of flour, Ship Owner, Dealer and Chapman, bankrupt. Fiat dated 18th September 1843. Mr. G.W. Turner, 14 Castle Street, Exeter.
An article, not long after advised:
George Brinsmead, late of Bideford, shipowner, a bankrupt. This was the day for the last examination of this bankrupt, but he did not surrender, and at three o'clock in the afternoon,( the time specified by the Act) was proclaimed an outlaw. It was stated that Brinsmead has quitted the country, leaving behind a wife and family under circumstances of great cruelty and hardship. Mr. Hirtzel informed the Court, that the creditors had obtained possession of all the bankrupt's property, excepting a quantity of coals; and it was understood there is sufficient to pay 20s. in the pound.
After that, we find no further record in George in the Bideford or nearby. By the 1851 census, only Mary Brinsmead and son Thomas are on the record. They are still living in the same place, and Mary is listed as the head of the household and also as a wife and flour dealer. Thomas, by then aged 10, is listed as a scholar. George is nowhere to be seen. The 1861 census found Mary, still living at the same house, and still carrying on as a flour dealer. However, she is by then listed as a widow, age 46. We know from the Liverpool census that George had died by then, which may indicate some communication between them or at least knowledge of his whereabouts and fate. A Mary Brinsmead died in Bideford in the first quarter of 1862, which we presume is her since there is no further record of her after that date. Thomas Edward's life and descendants are the subject of a separate page.
Marriage to Elizabeth Randal in Liverpool
By 1848, however, there is a George Weare Brinsmead who shows up getting married in Liverpool. The bride is Elizabeth Randal, formerly Davies, a widow. As the marriage certificate shows, George Weare Brinsmead lists himself as a Bachelor. They live at Bridgewater Street, close to the Liverpool Docks. They were married in the Liverpool Parish Church on February 7th.

On November 26th, 1848 they baptized their first child, Thomas Weare Brinsmead at St Peter's Church, Liverpool. On February 19th, 1850, they had their second child, Elizabeth who was baptized later that year on October 20th at St. Peter's. By then they have moved a mile or so South to Dantzick Street, Toxteth Park, still near the docks. A third child, George Brinsmead arrived on September 3rd, 1852.

It appears likely that George and his wife used the names Brinsmead and Weare (sometimes Ware) interchangeably; Grace's death in 1919 is recorded under both names. There is a death recorded for a George Weare in September 1853, and we assume this is George the father not George the son, since, as we describe below, we believe young George later died at sea, along with his step brother.
Elizabeth's Life after George Died
We know, in any event, that by the 1861 census, George (the father) had died, since Elizabeth is listed as a widow. Elizabeth in fact survived him for a further 43 years, finally passing away in 1904 in Birkenhead, at age 90. Throughout the rest of her life she remained close to her son from her first marriage, Edward Randal, and at least two of her children by George, Thomas Weare and Elizabeth.
The census records tell us where she was living, and with whom. She apparently made a living as a ship's chandler. Retail business like this were a common and essential feature of dock areas of the type around the Liverpool Docks at the time. In 1861, she is living at 12 North Shore, Liverpool with her son Edward Randal, plus two of George's children, Thomas, age 13 and Elizabeth, age 11, both scholars.
Daughter Elizabeth married Martin Wallace in the later portion of 1869. By 1871, Elizabeth and her two children, Thomas now age 22 and a blacksmith and Elizabeth Wallace, now 21 and married, are living in Candia Street, Kirkdale, Liverpool. Also living with them are niece Mary Phillips and great niece Elizabeth H. Phillips. Since they were both born in Lancashire, we doubt very much that they are related to the Phillips married to George's niece by his older sister Elizabeth.
In 1881, Elizabeth, by then aged 67, was living at 13 Anderson Street, Everton. Her son Edward, a Master Mariner, is still single and living with his mother, as was daughter Elizabeth Wallace and now grandson George Ware, aged 7, listed as a scholar.
By 1891, Elizabeth moved to 38 Old Chester Road, Birkenhead. Son Thomas is there with her, shown as married, but with no wife present, occupation ship labourer. Daughter Elizabeth is also there, now a widow, age 41 and a professional nurse. Lastly, there is a granddaughter, Mary Brinsmead, a scholar of 12. By 1901, aged 87, Elizabeth is living with her daughter Elizabeth an her second husband Mark Middleditch and granddaughter Mary, aged 22.
The Next Generation
What happened to George and Elizabeth's family? The fate of George, born 1852, is a complete mystery. We have found no record of him after his baptism.
George Brinsmead's Baptism Record
Thomas Weare Brinsmead became a blacksmith. He marred Grace Muirhead Rice in late 1871 in Liverpool. The couple had at least one child, George, who was born on May 22nd, 1874 and baptized at St. Peter's Church in Liverpool on August 2nd. We believe they also had a daughter Mary, born in 1879, but cannot be sure. We suspect she was registered as Mary Ware. Mary married Frederick Stam in 1908. She died in 1950 and he died in 1952. We do not know if they had any children.

Mark Middleditch's Probate Calendar Entry.
Elizabeth married Martin Wallace in 1869. We know little of him except that, by 1891, he had died. She trained as a professional nurse. In early 1892, Elizabeth married Mark Middleditch who was the same age as her. His occupation is listed as general labourer in 1901 and as a retired engine fitter in 1911. We know of no children by Martin Wallace, nor by Mark Middleditch. Elizabeth appears to have carried on her grandmother's Chandlers shop business. Mark Middleditch died in 1913 and Elizabeth in 1934.
Deaths at Sea - On the Per Ardua
Elizabeth Brinsmead's son Edward Randal was a sailor; the Master of the Per Ardua. The shipping list from that time shows it as a 178 foot 788 ton iron framed vessel built in 1871 sailing out of Liverpool.

The Shipping List Entry for the Vessel
Per Ardua
- Edward Randal, Master.
Edward took his nephew, young George Brinsmead to sea with him. He is listed on the ship's crew list from November 19th, 1890 to April 20th, 1891. The vessel went down about May 13th, 1891, off Staten Island rounding Cape Horn, George died as presumably did Edward. A tug was sent out to try to help the vessel, but it returned being unable to do anything. For some time we believed the George that died on the Per Ardua was one of the Exeter Brinsmeads. We now doubt that to be so, unless the Liverpool family took young George from Exeter in at some point and they are in fact the same person.