HOME
Thomas Henry Brinsmead in Loverna

Thomas Henry Brinsmead, the eldest son of Hugh Brinsmead and Ellen Pacey was born in 1862.

He lived in St Marys with his parents until 1883. He learnt the printing trade working in the offices of the St Marys' newspaper, The Argus, under the direction of J.J. Crabbe.

From St. Marys, Thomas Henry moved to Toronto, where he worked as a mechanical superintendent in a large printing job office - the Imrie firm of 31 Church Street, Toronto.

In Toronto, he married Matilda McMaster of Orangeville, Ontario. They had six children:
THOMAS MCMASTER BRINSMEAD, b. 1886.

PERCIVAL TAUNTON BRINSMEAD.

DAVID HORACE ALEXANDER BRINSMEAD.

ISABEL BRINSMEAD.
Matilda McMaster Brinsmead, Robert Gordon Brinsmead, Thomas McMaster Brinsmead, Percival Tanton Brinsmead, David Horace Alexander Brinsmead and Thomas Henry Brinsmead.,

The move west began in 1910 when he and his brother William moved to Webwood, a small town in Northern Ontario. Webwood is located on the CPR trans-Canadian railway line. It is situated between Sudbury and Blind River. In Webwood, the two brothers established a printing shop and published a weekly newspaper, the Divisional Journal. It was during his four years there that the Spanish River train wreck took place, and his articles on this major disaster were given wide circulation.
One of his sons has "gone West" so, in 1914, the family moved west again, this time to Loverna, Saskatchewan, a small town on the Saskatchewan - Alberta border. A relative wrote an account of their time there. There he ran the Boarderline Budget.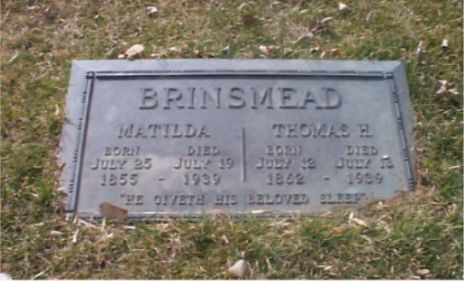 In 1934 he and his wife retired to Camrose, Alberta to live near his son Robert. Thomas died on July 19th,1939 and his wife Matilda died six days later on July 25th. They are buried in the cemetery in Camrose.
---
Hugh Brinsmead - Hugh's Family - The Canadian Family Tree - Devon Roots - Meeting the Relatives - John Brinsmead - Guest Book - Links - Site Map
---