Robert Gordon Brinsmead and I were married in 1929. We lived in the McCauley house in Loverna until 1933. At the southeast corner of Loverna where we lived, we had many fine neighbours. Among others, the Hasells, Isaac Wrights, Vic Johnsons, Nurse Lawson, the Jim Arthurs, Hamiltons, McLeods, Godfreys, Gilmours, Elsdons, and Banks. The last three families lived in the United Church Manse at different times.
Alison and Rona were born in Nurse Lawson's nursing home.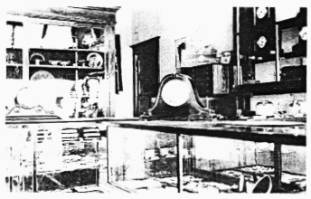 Bert, before the First War, had been in the Jewellery business in Loverna with uncle Will Brinsmead. After the war Uncle Wi1l moved to Consort, and Bert took over the store and helped get out the Loverna Borderline Budget. This he continued to do until Tom and Edna Brinsmead came hack to Loverna from the East. It was through Walter Mattson that we learned about an opening in Camrose. Bert started up on Camrose Main Street in August and on Armistice night, 1933; Tom drove the girls and I to Coronation where Bert met us. On the way to Camrose Bert said, ''We are coming to the Battle river.'' When I saw the small frozen stream, I was not too impressed. He with his usual ability to quip, explained that it was a sham Battle.
As the years passed, Wendy Marian and David Horace Alexander, brought our family up to six. The children all went through high school in Camrose. Alison attended Mount Royal in Calgary for a year, worked in Denver and then went to Uranium City. There she met Otto Laiss, formerly of Onoway, Alberta. They live in Edmonton and have two children, Jane and Barry, who are in their teens. Rona married Ernie Collette of Wetaskiwin, became a nurse, and they make their home in Stony Plain, Alberta.

Wendy graduated from Manitoba in interior design, was with Eaton's for a number of years, and then went back to University. She now practices law in Edmonton. David, the youngest, named after his uncle Horace, has a degree in business administration, and lives in Calgary. He is with Calgary Power there. He married Rita Urban of Regina and they have a small son, Gavin Robert. Bert through the years was active in community affairs. He was an elder in the United Church, sang in the choir, was a member of the Board of Trade, the legion, the Elks, and was a Past Master in the Masonic Lodge. He never lost his love of curling. For some years he was on the Camrose Town Council, and when Camrose became a City he served as an alderman. He was active in business in the Jewellery store until his death in 1966. After the children left home I went back to school. For seven years my job was teacher - librarian in Camrose Composite High. Several times I Went to Italy and Greece with a class from the University of Alberta. The house on 48th Street has been my home since 1939. Camrose is a lovely little city and we are proud of it, yet for a long time Loverna was ''Down Home''.