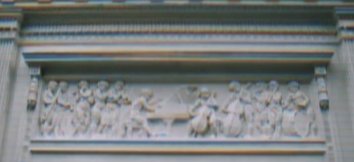 Music motif on the building at 1 Wigmore St. London
While it was the firm of John Brinsmead and sons that became the most famous, there were in fact several Brinsmead piano firms, all run by family members. Follow this link for details:
The John Brinsmead and Sons firm capitalized on the rising popularity of the piano as a form of home entertainment in the age before radio and television. John Brinsmead used the media to good effect in promoting his business and entered many international competitions winning prizes that in turn promoted his product.
The Brinsmead piano businesses (there were several) all derived from the same family, but the Brinsmeads engaged in their share of disputes as the history of the piano business shows. Beyond dispute, however, is that the company of John Brinsmead and Sons was the most successful and earned John Brinsmead the title of "Father of the English piano trade"
At the height of its success, the John Brinsmead company maintained sales offices in London's fashionable Wigmore Street, home of several piano showrooms and the famous Wigmore Hall concert hall. It is just around the corner from Wimpole Street, made famous as the home of "The Barretts of Wimpole Street".
After the turn of the century, the firm suffered many of the challenges of British industry in general. It faced stiff competition from Europe. The first world war created a devastating shortage of skilled labour. After the war, strikes and labour unrest forced the company into liquidation.
We have a copy of the John Brinsmead Piano Catalogue from about 1915 (scanned by George Brinsmead). It does not give prices or serial numbers. Information on such matters are better found on web sites dealing specifically with pianos.
Click on the pictures below for full size pictures of the two buildings that housed the John Brinsmead company piano showrooms.
Return to John Brinsmead
Return to Home Page
Return to Site Map