Noel John Brinsmead
Birth in Australia
Noel J. Brinsmead was a younger son of
Horace George and Alice Brinsmead,
the fourth of seven children, and a grandson of John Brinsmead the piano maker. He was born on December 15th, 1895 in Waverley, New South Wales, Australia, a suburb of Sydney. This was just about the time when his father was being enticed back to England to join in the management of the piano firm given John's proposed retirement. Horace travelled a lot through Australasia over the next few years and then the family returned to England. Noel's brother was born in Blackheath, in London, in 1901.
Move to England
At the time of the 1901 census, Noel, aged five, was living with his family at 32 Stanley Gardens, Hampstead, in London. In 1905, four of the younger children; Noel John plus his older brother Cecil Horace, younger brother Eric Sydney and younger sister Una Pines, were christened, at one ceremony on July 27th, at St. Mary the Virgin Church in Primrose Hill, London. Three years later, when Noel would have been thirteen, his father Horace committed suicide following ill health and news of financial distress.
By the time of the 1911 census, Noel was living at Shortbread and Sons' premises at 112 Gower Street, where he was listed as a Draper's Apprentice. This appears to have been a big commercial warehouse that employed very many young men and gave them board and lodging as part of their pay.
Move To Canada
In 1912 Noel Brinsmead came out to Canada as part of an East-Ender party of Home Children, sailing on the SS Laurentic from Liverpool to Portland, Maine, and then Halifax and into Montreal (The Achieves Canada records list the ship as the SS Canada, but this seems incorrect). This was four years after his father's death.
Noel J. Brinsmead's Attestation Papers for the Buffs (East Kent Regiment), 1914.
Noel in the First World War
The passenger records for the SS Hesperian show that Noel returned to England on November 14th, 1914, sailing from Montreal to Liverpool. He listed his occupation as "Seaman" although at that point that may have been more ambition than reality. He listed Canada as his country of permanent residence. Presumably, he returned to England to sign up for the war effort, since on November 27th, 1914 in London, he signed up for the Buffs (The East Kent Regiment). His service abroad began in France on April 21st, 1915 and he served until October 5th, 1916 when he was discharged because of his wounds, believed to have been inflicted at Ypres in May of 1915.
Noel then returned to Canada. However, on March 15th, 1917, he signed up for WW1 once again, this time with the Canadian Army, and went back to fight in Europe. His Attestation Paper lists him as single, staying at the Grand Central Hotel, Montreal, lists his mother, of 16 Norton Road Wembley, Middlesex, as his next of kin, and say he had already served two years in the Buffs (The East Kent Regiment). He was assigned to the 79th Battery, of the Canadian Expeditionary Force. There is a Noel J. Brinsmead listed in the Canadian Expeditionary Force with Regimental Number RG 150. The archive Reference Number is Accession No. 1992-93/166, Box 1073-8.
Noel returned to Canada in November 1917 on the SS Olympic, sailing from Liverpool to Halifax, carrying soldiers returning from the war as medically unfit for service. He once again listed his occupation as farmer. He was discharged as a corporal.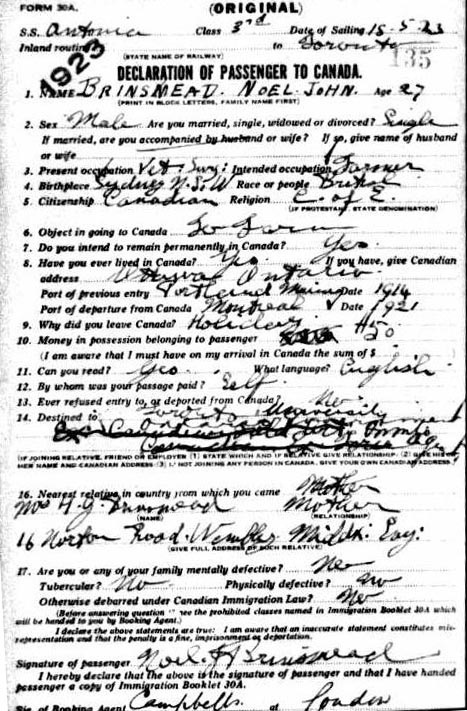 Noel's Return to Canada in 1923.
In 1923, at age 27, Noel sailed back to Canada, travelling third class on the SS Antonia. His entry declaration lists his occupation as Veterinary Surgeon, his intended occupation as Farmer, and his intention being to permanently live in Canada and farm. It suggests that he had previously been in Canada, living in Ottawa, and that he had returned to England for a holiday, leaving Montreal in 1921. A portion of the form is illegible, but suggests he might have gone to, or be going to The University of Toronto.
Marriage in Exeter in 1958
We have found no other trace for Noel until 1958,when he married, apparently for the first time, to Alice Gladys Stinson, in Exeter, Devon, England. She had been born in Bramley, Yorkshire, England in 1897. Apparently they continued to live in the Exeter area as Alice died there in early 1972 and Noel in early 1977.