The Village of Alverdiscott
Alverdiscott is a small but pleasant village about half way between St. Giles in the Wood and the north coast of Devon, four miles or so South-east of Bideford. It is located on the old coach road between Barnstable and Torrington.
Peter Keir Brinsmead Sims and David Nicholas Brinsmead Sims outside All Saints Church, Alverdiscott.
The Brinsmeads have two main connections to Alverdiscott. Henry Brinsmead, born 1836, married Elizabeth Brooke, who appears to have been from that village and moved there. For a time, his younger brother Thomas and Thomas' wife Sussanah (Meddledon) Brinsmead also lived in the village. Their first two children were baptised at Alverdiscott: Henry on November 28th, 1773 and Thomas on June 15th, 1777.
Henry was the village blacksmith. He married Elizabeth Brooks on July 27th, 1774 in a ceremony witnessed by Thomas and Sussanah Brinsmead. They had one daughter, Mary, christened on October 23rd, 1776. Mary went on to marry a husbandman of the parish named John Puddicombe on May 14th, 1795. There is a large family of Puddicombes descended from Mary and John, some in England and others in Canada.
Henry and Elizabeth acted as witnesses for virtually every wedding conducted in the Alverdiscott church during their lifetimes.
At the time of his death Henry lived at Stone Crofts. His wife Elizabeth died earlier, being buried on March 7th, 1804. The churchyard holds only one Brinsmead grave, that of Henry Brinsmead who died in 1817 at age 81.
Henry's daughter Mary Puddicombe acted as his executrix and she probated his will in Barnstable in March, 1818. It read: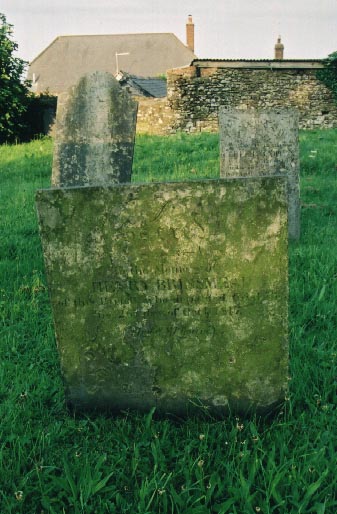 Henry Brinsmead's Grave - Alverdiscott
In the Name of God, Amen. I Henry Brinsmead of the Parish of Alverdiscott in the County of Devon, Blacksmith, being at present (Thank God) of sound mind and memory and understanding but calling to mind and seeing daily instances of the Uncertainty of Human Life do make and publish this my last will and testament in manner and form following (That is to Say) First, I give and bequeath unto my grandson William Puddicombe my two Little Tenements or estates known by the name...Stone Cross and (illegible) both in the same parish to Hold the same and every part and parcel thereof unto the said William Puddicombe for and during his natural life if he lives Should so long live and Likewise I give the said William Puddicombe all my Household Goods and Chattels and Wearing apparel and I give and bequeath unto my grandson Henry Puddicombe son of John Puddicombe the sum of ten pounds of Lawful Money of Great Britain and to be paid by his brother William Puddicombe within Twelve calendar months of my Decease and my will is that the said William Puddicombe is to have the Goods and Chattels and the Profits arising from these two little Estates above mentioned Immediately after my decease whereas I have chosen his father John Puddicombe to be his guardian and trustee till such time as he is of age. And my will and desire is that my Executrix hereinafter named shall pay and discharge all my debts and funeral expenses and lastly as to all the rest reserve and remainder I give and bequeath unto my daughter Mary Puddicombe what is a little Estate in the Parish of St. Giles known by the name of Clarks Dodscott now in Possession of Mr. Thos. Brinsmead and the Tenement of Alverdiscott known by the name of Church house in the possession of Wm. Alvorde Wherefore I hereby appoint sole Executrix of this my Last Will and Testament witness whereof I have unto set my Hand and Seal this twenty sixth day of January one thousand eight hundred and twelve.