In Summary:
1814 Born in Weare Giffard, Devon
1830 Apprenticed as a cabinet maker in Torrington area, Devon
1835 Moved to London and worked as a piano maker. Went into partnership with his elder brother Henry
1836 Went into business on his own account
1837 Married Susan Brown
1863 John took two sons into partnership. John Brinsmead and Sons firm opened studios at 18 Wigmore Street
1878 John Brinsmead and Sons purchase the goodwill of Henry Brinsmead
1894 Embroiled in a series of lawsuits over the use of the Brinsmead name
1900 Firm incorporated
1907 Susan Brinsmead died
1908 John Brinsmead died
A life in summary
Childhood in Weare Giffard
John Brinsmead was born on on October 13th, 1814 in Weare Gifford in North Devon, the seventh child of Henry and Elizabeth (nee Beer) Brinsmead. Henry was the son of the blacksmith in the nearby village of Alverdiscott and moved to Weare Giffard when he married Elizabeth. There they operated a public house called the Blue Anchor, farmed at the far west end of the village, and operated lime kilns.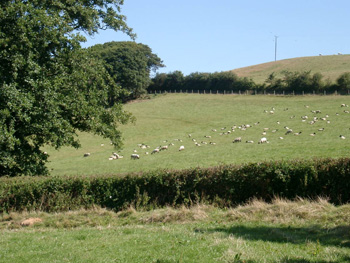 Sheep in the fields behind the Brinsmead farm
As a young man, John Brinsmead, among other activities, raised sheep on the family farm. He was said to be quite an entrepreneur, even at an early age, selling coal and importing lime for his family's kilns by boat from Wales.
John chose to apprentice as a cabinet maker in general area around Torrington. While there is no record to that effect, he may well have apprenticed to one of the Squires who were carpenters in Torrington at the time and closely related to the Brinsmead family. Several Squires also moved to London to enter the piano trade.
Move to London
At age 21, John Brinsmead arrived in London to enter the piano trade. His older brother Henry was already there. The piano trade in those early days was concentrated in a small area around the Tottenham Court Road. It is likely that he spent some time apprenticed to another piano maker, perhaps a Thomas Scotcher and perhaps with the Broadwood firm, although there is no proof of either of these.
Henry and John formed a partnership, but soon had a falling out and went their separate ways. Henry kept producing pianos in his own name for many years, which became significant in later years when the Brinsmead name became a valuable commodity.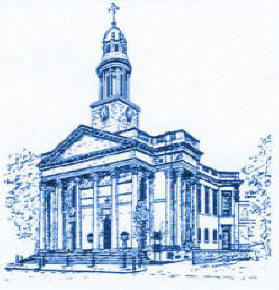 St. Marylebone Parish Church
Marriage
In 1837, during the same month as the young Queen Victoria ascended to the throne, John married Susan Brown, the daughter of an officer in the 92nd Highlanders Regiment. The ceremony took place at the Parish Church of St. Marylebone. They went on to have a large family, discussed on a separate page.
The business grew, in the later years with the involvement of several of the children. The original location on Windmill Street grew too small, and was replaced, over time, with resplendent showrooms in Wigmore Street, and a large factory in Grafton Road, Kentish Town. The progress of the firm and its Brinsmead competitors, are detailed on separate pages.
John's family grew and prospered. The family home moved to the Albert Road, immediately North of the Paddington Ship Canal, and adjacent to the London Zoo, of which John Brinsmead was an early supporter. The house is shown briefly in a scene from the John Cleese movie "A Fish Named Wanda". John was a Liberal, albeit an independent minded one. He took an active part in local politics and for several years was the Chairman of the Board of Guardians of St. Pancras. The census trail for the family is set out on a separate page.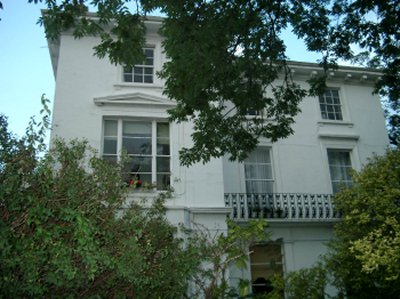 The Brinsmead home adjacent to Regents Park
Success in Business
The Brinsmeads used a variety of methods to promote their business; concerts, trade shows, advertising and hire purchase. They became very jealous of the name and, in the 1890s began vigorous litigation to protect its use. This alone is a fascinating story, eventually involving an early and complex commercial fraud as some unscrupulous financial dealers used relatives to exploit the name.
The firm faltered in first years of the 20th century. Son Tom left, due to failing health and family disagreements. Youngest son Horace George took over the management for a short time, but was replaced by a son-in-law. While his wife Susan's health faltered, John remained vigorous into the early 20th century. The couple celebrated their 70th Wedding Anniversary in 1907. Susan passed away in December 1907 and John, soon after, on February 17th, 1908. Newspaper accounts of these events are included on other pages.