MR. JOHN BRINSMEAD
An article published in the May, 1901 Piano, Organ and Music Trades Journal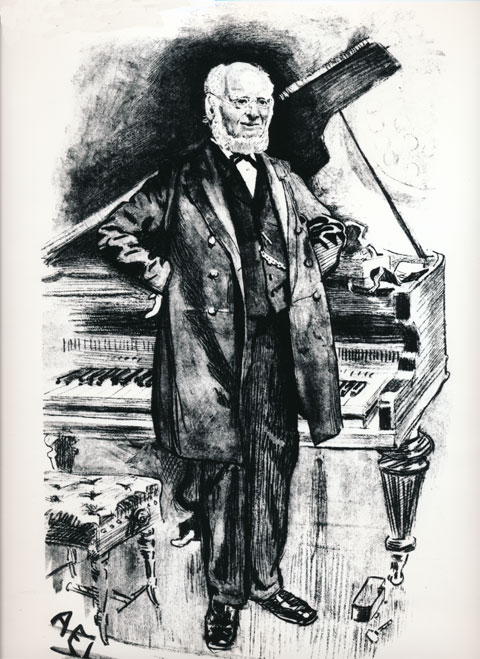 John Brinsmead in 1901
It is with much pleasure that we present to our readers with the May number of the "Piano, Organ, and Music Trades Journal" the portrait of the gentleman whom we think we may justly describe as the doyen of the piano trade. Mr. Brinsmead is, and always has been, essentially a practical man, notwithstanding his advanced age — he is, in fact, in his eighty-seventh year — he still himself tunes and regulates many of the pianos turned out by the firm.
Mr. Brinsmead began business in the metropolis as far back as 1836, in days when the pianoforte trade was in its infancy, and the piano of the period was crude to a degree. The evolution oi the finished instrument of the present day, from the rough and ready article on which our forefathers were content to strum, involved creative faculties of no mean order; and the name of Brinsmead will always rank honorably among the two or three names associated with the transformation of this not very hopeful material into one of the most perfect vehicles of musical sound that the world has known. Half the secret of Mr. Brinsmead's success lies in the fact that he is a master of that peculiar accomplishment of "voicing," without due attention to which the tone of no piano would be able to stand the test of criticism.
The high price that Brinsmead pianos obtain when resold — a fact to which the universal testimony of auctioneers bears witness — proves how little they are liable to deteriorate from age and use.
The subject of our sketch is a native of Devonshire. His family, many years ago, owned land in Devon, Somerset and Middlesex, and the site of the firm's London Works is on or closely adjacent to land possessed a century or more ago by his ancestors.
In appearance and manner Mr. Brinsmead is kind, quiet and sympathetic; a dear old gentleman, if he will pardon our saying so, whose one ambition has always been to make the best possible piano, and whose greatest pleasure is always to benefit everyone with whom he comes in contact.