John Charles Brinsmead
Life and Family in England
John Charles Brinsmead, born on, August 2, 1876, was the youngest surviving son of William Brinsmead and Mary Anne Williams.
There were five siblings. Their mother had died in childbirth, when John Charles was only four. Things must have been desperate for William because, from August 25, 1880 until September 10, 1880, William and the youngest four children were admitted to the Infirmary in Islington (the Poor House).
Soon after, father William Brinsmead and two of the older brothers, William and Arthur, moved to the USA. William senior died in Brooklyn and gave up his two sons to the Children's Aid Society. Their history can be found on the USA Brinsmeads page. Presumably thought to be too young to travel, John Charles did not go to America with his father. Instead, he stayed in England in the care of his grandparents. The 1881 English census, taken after William and his two sons left for the New York, John Charles and his remaining siblings were living with their grandparents, Henry and Mary Brinsmead, in Holdenhurst, Hampshire, on the South Coast.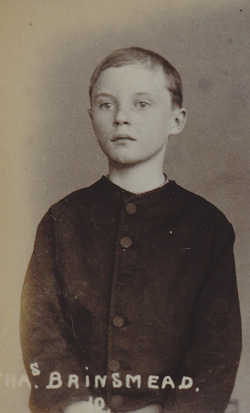 John Charles Brinsmead, age 10, before he left England for Canada.
Unfortunately, grandfather Henry died in 1886, when John Charles was 10, leaving him and his sister Ella Mary with his grandfather's second wife, Mary Ann Gladstains. It appears that the oldest brother, Henry, was left to fend for himself on the streets of London. She was, by then, a penniless widow, herself in poor health following a stroke. Ella Mary went into service and John Charles was surrendered to the care of Dr. Barndardo's Homes where he lived for about a year.
Until recently we knew little of the fate of John Charles. Now we have discovered, through the Canadian records of Barnado's, that he emigrated to Canada as a young boy and later took a land grant to farm in Saskatchewan.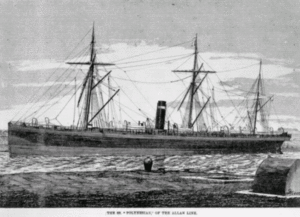 SS. Polynesian in which John Charles Brinsmead travelled from Liverpool to Halifax in 1888.
A Home Child sent to Canada
On March 2th, 1888, aged 11, as part of a Dr. Bernardo's party, he left Liverpool, England, aboard the SS Polynesian, bound for Halifax in Canada. He was just one of a party of 205 boys.
After an early fosterering in Toronto, he was sent to live with a farm couple named William and Mary Ann Donnelley, in Innisfil, Ontario . The 1891 Census shows John Charles living with the couple, adopted, and working as a farmer age 14. In 1899 he was still living in Innisfil, Ontario, by Lake Simcoe, and was planning on moving to the North West (at that point Saskachewan and Alberta were simply part of the Northwest Territories - Provincial status only came in 1905).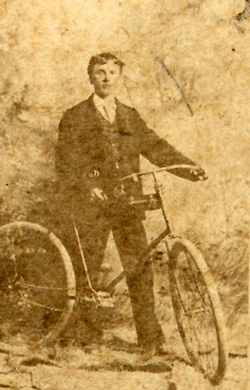 John Charles Brinsmead in Barrie, Ontario (near Innisfill)
We have recently received confidential records from Dr. Barnados in England that detail his stay in the Innisfill and Churchill area.
In 1899, then 23 years old, John Charles decided to take up the offer of free land in the NorthWest Territories.
Settlement in Antler, Saskatchewan
Antler, Saskatchewan at the time John Charles Brinsmead settled there.
There is an entry for John Charles Brinsmead in the 1906 Census of Western Canada. He is shown as having emigrated to Canada from England in 1888. Further research shows that he received a Dominion Land Grant to a quarter section of land (160 acres) on December 3rd, 1903. The land is legally described as the NE part of Section 34, Township 6, Range 30, West 1st Meridian. This, and the census, place it near the small village of Antler, Saskatchewan. He would have arrived there just as the railway came to the area. We have obtained a poor copy of his land grant as well as his supporting affidavits which tell us he arrived in the Antler area in June, 1900.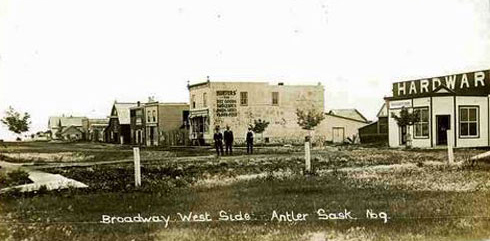 Another view of Antler, Saskatchewan, Canada, located very near the Manitoba border in the South West corner of the Province.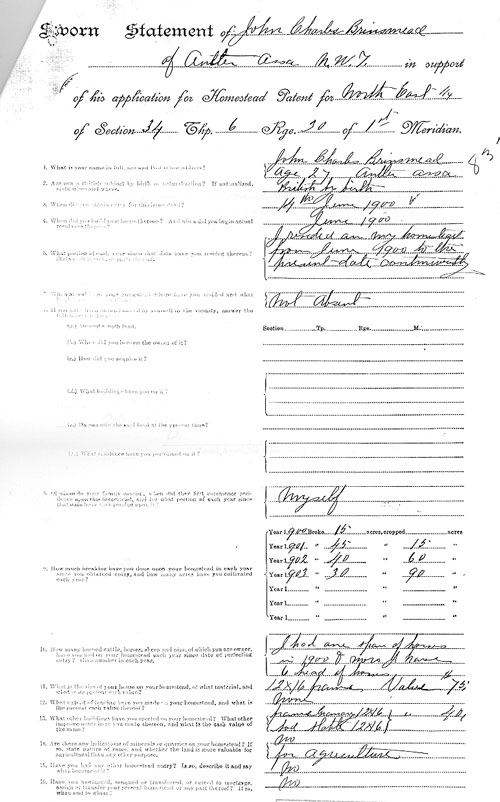 John Charles Brinsmead's Affidavit for a Land Grant based on settlement since 1900.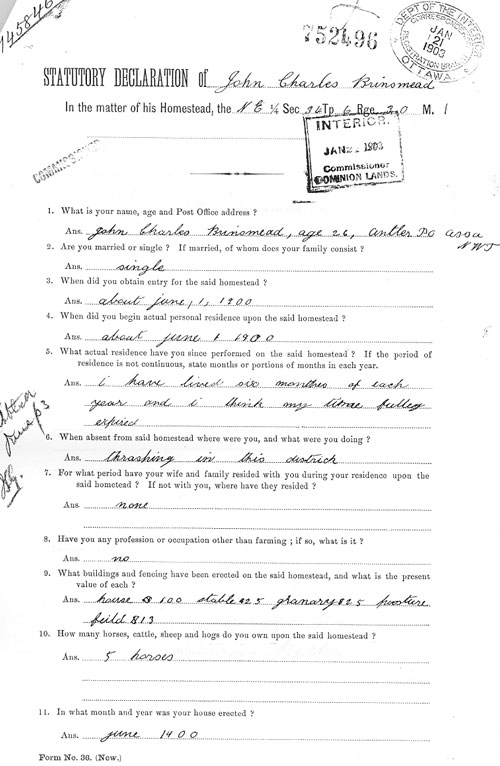 John Charles Brinsmead's Declaration form in support of a land grant.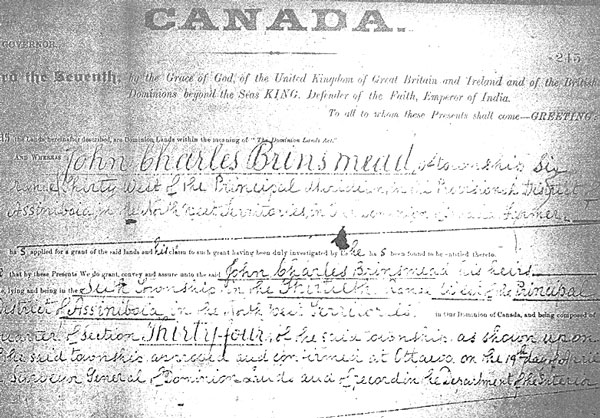 John Charles Brinsmead's Land Grant.
These documents tell us that he built his 12 foot by 16 foot house in 1900. He broke 145 acres of land and acquired six horses. When he was not working his own land, he went thrashing for others. He was single with no family.
We are trying to find out what happened to John Charles after 1906.